4 Days in San Francisco: An Amazing San Francisco Itinerary
Ah, San Francisco. San Francisco holds a special place in both of our hearts. First of all, we met in San Francisco, which should probably count for something. But beyond that, many of the milestones in our relationship took place in the City by the Bay.
We went on our first date in San Francisco (our first three dates were great – a picnic at Dolores Park, a SF Giants game, and a boozy minigolf session). We moved in together in San Francisco. We got married in San Francisco. And we decided to quit our jobs to travel the world together in San Francisco (in 2020 – bad timing on that one, but it all worked out in the end!).
We don't live in San Francisco anymore (that ish is expensive, y'all – too expensive for travel bloggers, anyway), but we spent just shy of a decade exploring the city and the surrounding area in Northern California together. We've done everything that we recommend below in this San Francisco itinerary, and plenty more. We're as close to experts as it gets without having grown up in the city.
We're here to help you plan an incredible San Francisco itinerary – we've written a detailed guide to spending 4 days in San Francisco, though we also have ideas (read: strong opinions) about spending more and less time in the city.
With that preamble out of the way, let's talk about what you're going to find in this guide.
Some tips and tricks about San Francisco that we learned over the course of our decade in the city that we think will be helpful.
A detailed 4 day San Francisco itinerary, with a day-by-day structure to help you organize your trip and our thoughts on what to do and see in San Francisco.
Our recommendations on what to do with more and less time in San Francisco.
A few important logistics – getting around, getting to and from the airport, etc. – that you need to know to avoid speed bumps.
Sound good to you? Grab a cup of coffee / glass of bubbles – this is a long one (but we think it's a good one!).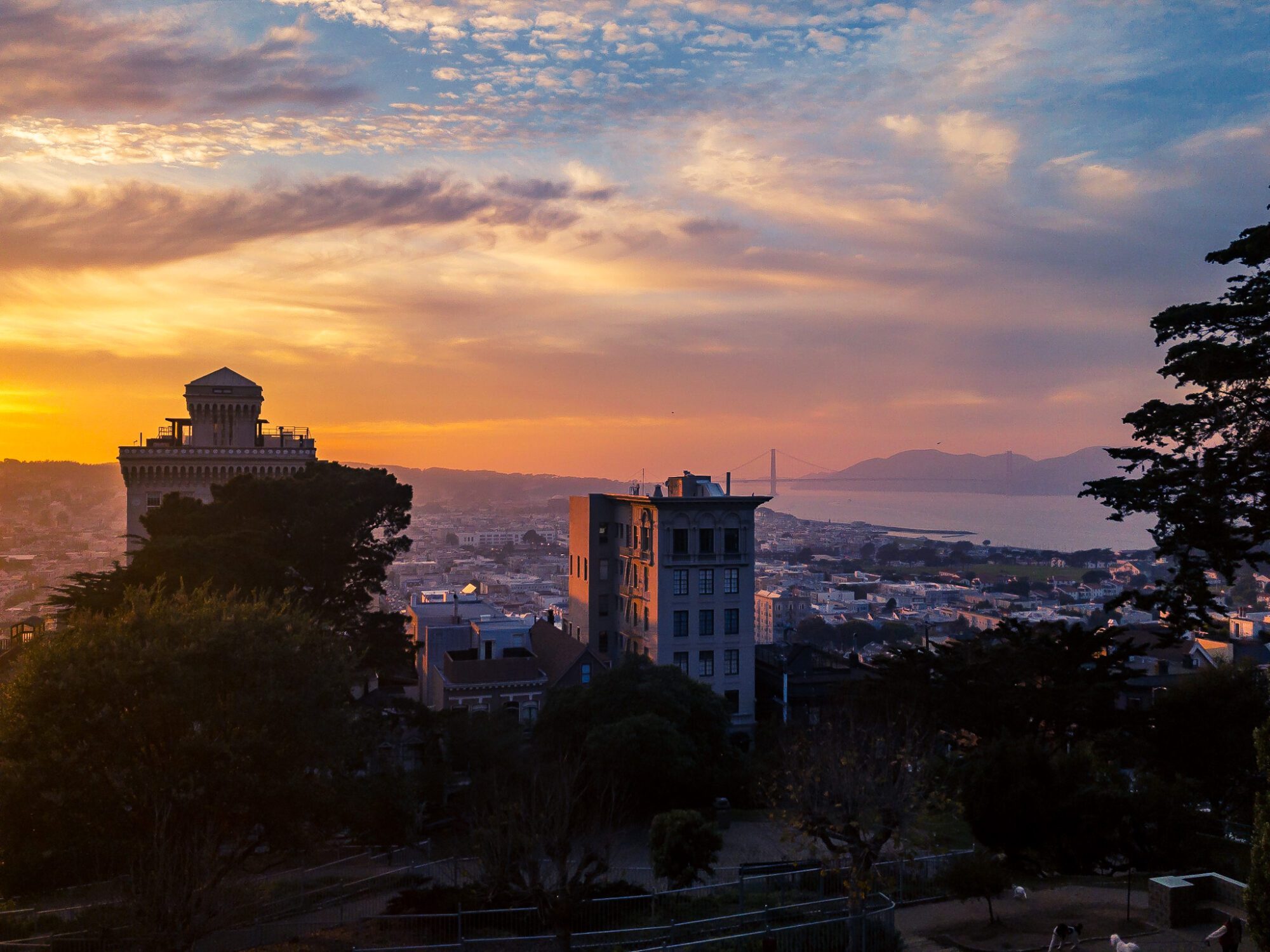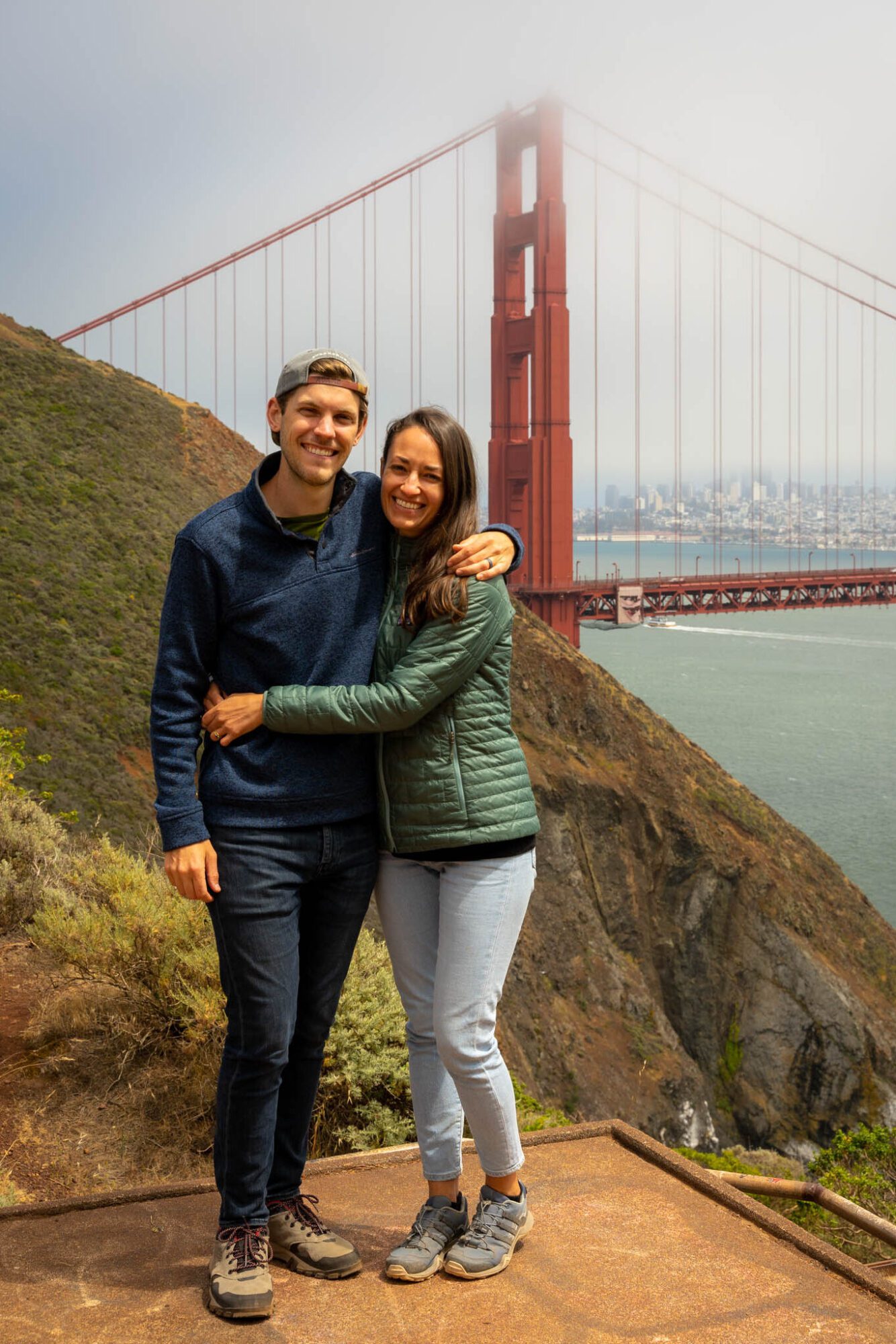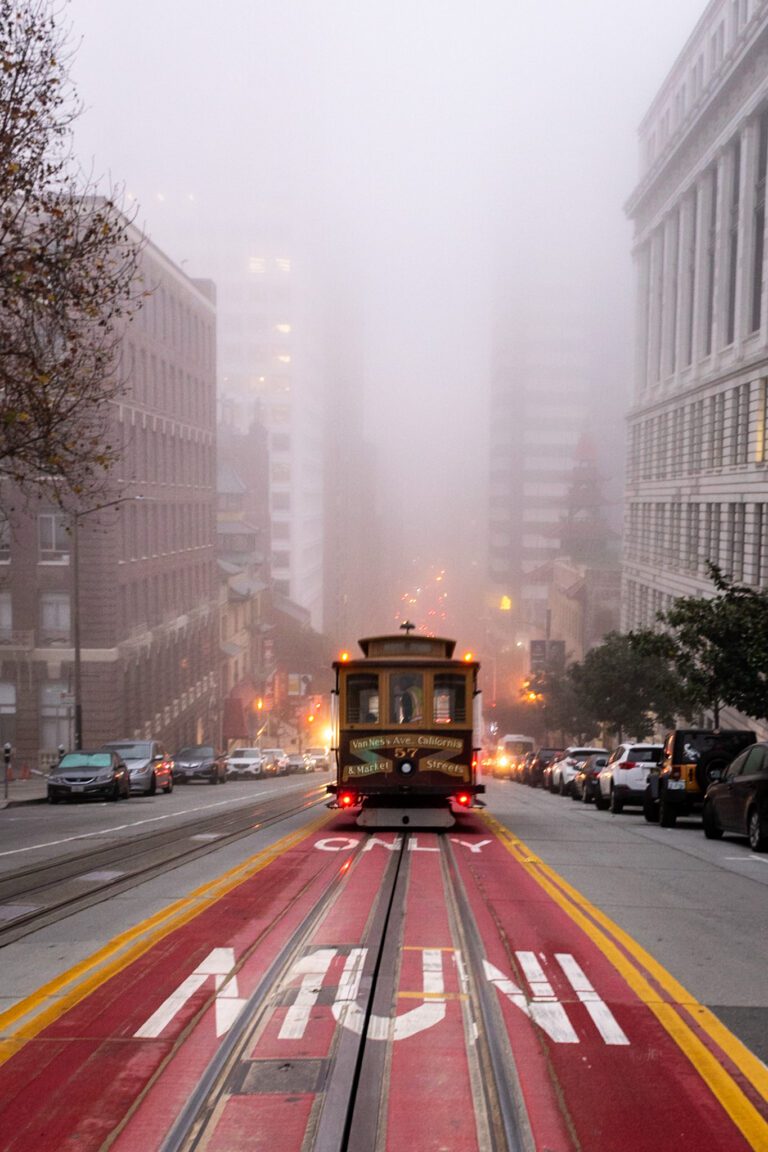 Disclaimer: Some of the links in this post, like hotel links, are affiliate links, meaning at no additional cost to you, we make a little bit of money if you click through and book. That being said, we would never recommend something to you that we don't stand behind 100%.
What Can You See with 4 Days in San Francisco
Look, we spent just under a decade exploring San Francisco together, and we still have places that we haven't quite made it to. It's a big city with tons to do and see, and you won't be able to tackle it all on your first or second trip.
However, four days gives you a nice amount of time to dip your toes in and immerse yourself in the city to see what makes it special and captures the hearts of so many visitors. There will certainly be things, bars, restaurants, and places that you'll have to save for your next trip (which you'll probably already be planning on the trip home).
With four days, we think you should spend three days in the city itself, exploring vibrant neighborhoods, experiencing San Francisco's amazing food scene, and doing some exploring on foot. On the last day, get out of the city on a day trip to explore one of the many cool areas within an hour of the center of the city. We'll give you three options to choose from, depending on what you're into.
Over the course of your time in the city, you'll have time to do a mix of the main tourist attractions – things like the Golden Gate Bridge, Golden Gate Park, Alcatraz, and the Ferry Building – while also saving some time to explore some of our favorite neighborhoods in San Francisco.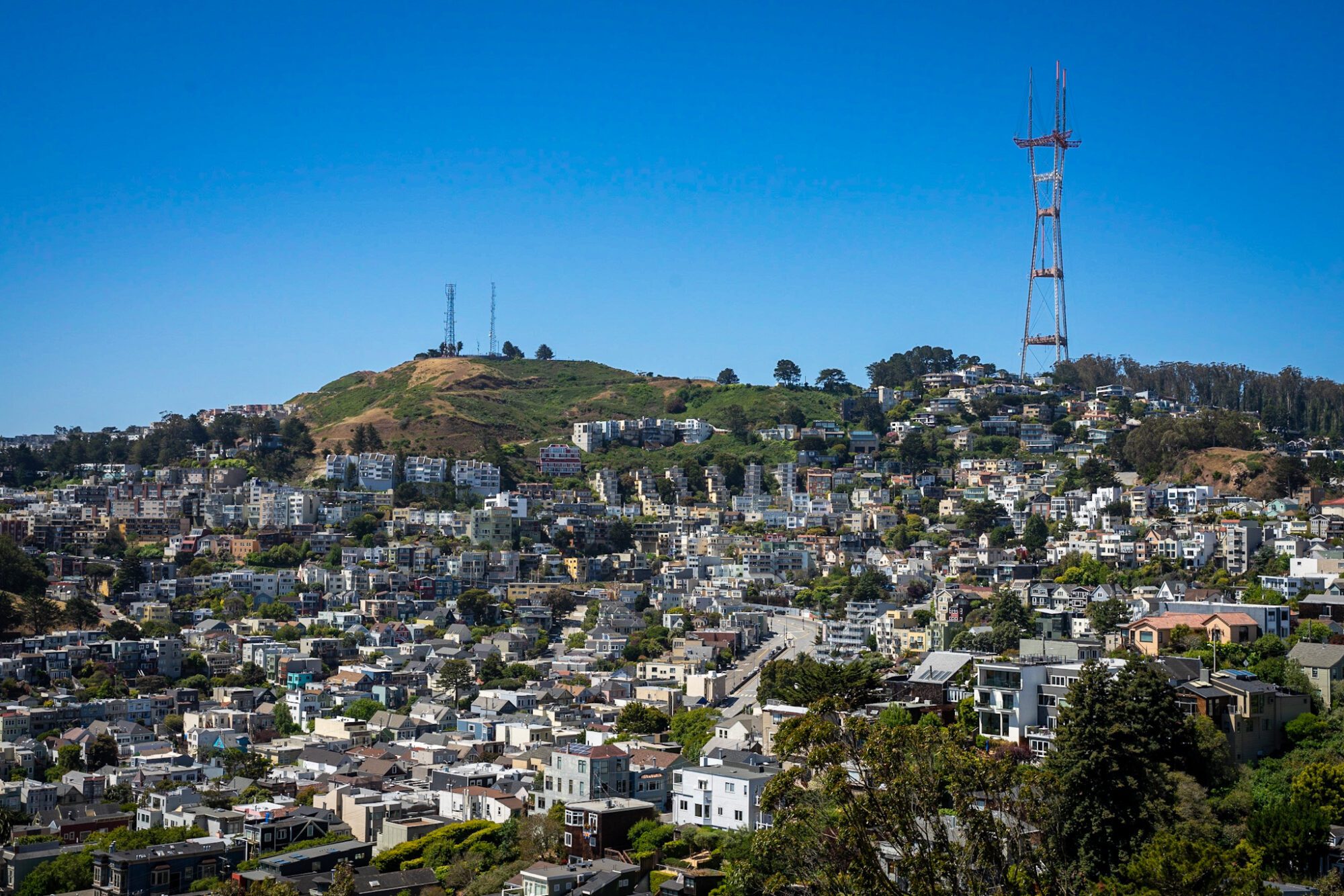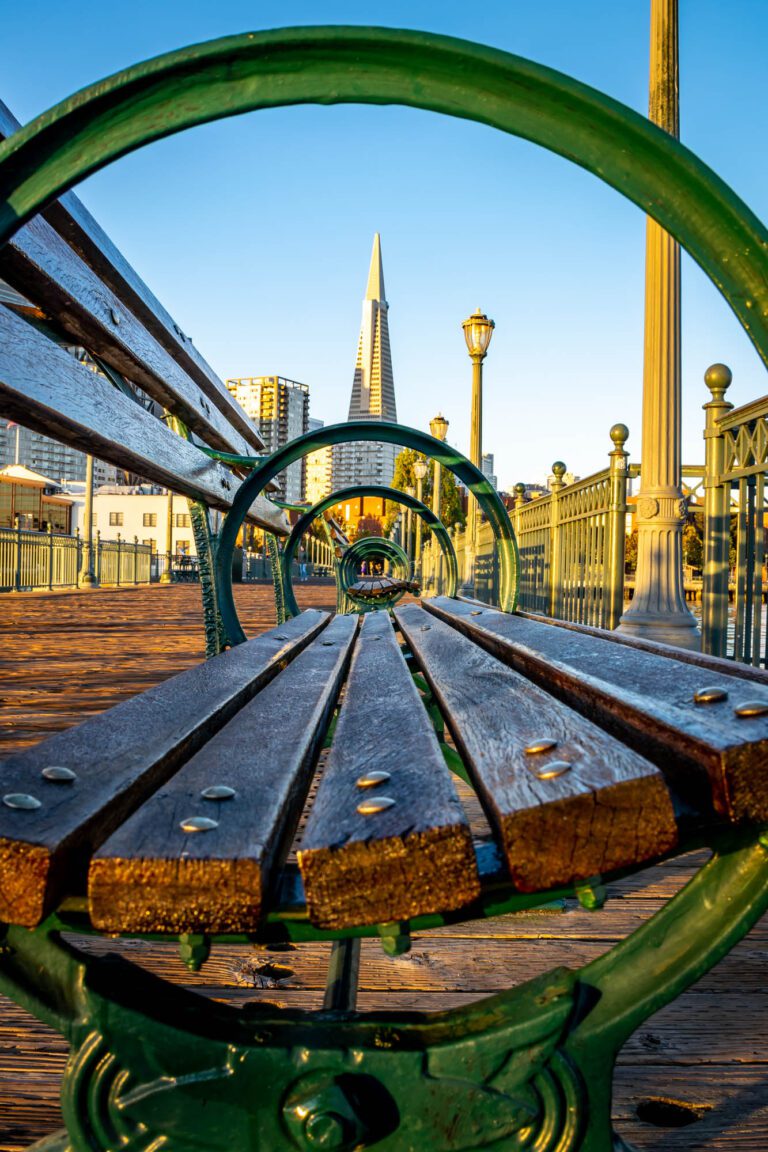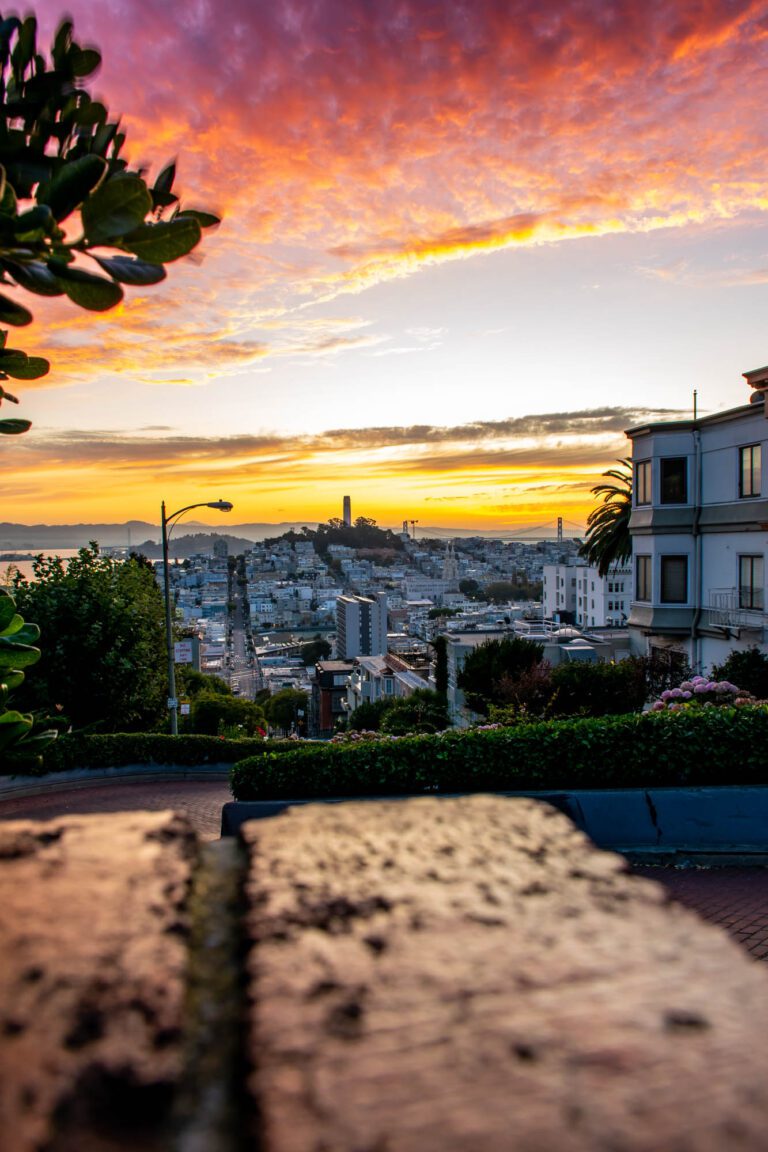 Do You Need a Car in San Francisco?
No. Definitely not. In fact, when we lived in the city, both of us opted to either get rid of our car, or leave it somewhere else because parking in the city is a nightmare. Seriously, you might be tempted to drive from place to place during your day in the city, and we're here to tell you NOT to do that.
If you do have a car and choose to drive it around the city, you'll need to plan on either paying for parking, or spending 15-20 minutes at each stop trying to find free parking (and potentially paying for parking tickets).
If you're renting a car and using San Francisco as a jumping off point for a northern California road trip, we have a few tips.
If it is at all possible, we'd strongly recommend renting a car AFTER you stay in San Francisco. For example, if you fly into San Francisco and are planning on spending a day in the city before heading out, we'd rent the car starting on the day you're leaving. Of course, if San Francisco is the end point for your road trip, just reverse it and drop it off at the airport before staying in the city.
An alternative would be to park your rental car in a covered, secure lot. If you're staying overnight and your hotel has parking, we'd choose to pay for it and plan to use Lyft / public transportation to get around.
We lived in San Francisco for almost a decade, and are intimately aware that car break-ins are a common occurrence, especially for cars that don't have California license plates (which are more likely to be tourists and have stuff in the car).
Where to Stay in San Francisco
We would STRONGLY recommend staying somewhere other than Fisherman's Wharf or the Financial District.
Even though that's where most of the big hotels are.
Sure, you'll be super central, but Fisherman's Wharf is extremely un-charming and packed wall to wall with tourists, and the Financial District is DEAD over the weekend.
Since you have 4 days, you don't need to be too concerned about staying somewhere super central so you can cram all of the tourist attractions in – you've got the gift of time!
For a longer trip (4-5 days), we'd recommend staying in one of two neighborhoods: Nob Hill (our former home!) or Union Square. We have a mini overview of each, complete with some cool places to stay, below.
Hotels vs. Vacation Rentals in San Francisco: Which to Choose?
One thing we do want to touch on is vacation rentals in San Francisco.
San Francisco, like most major cities in North America, is in the midst of a full-fledged housing crisis that is primarily driven by demand for housing being much, much higher than supply. While we wouldn't point to vacation rentals (like Airbnb) as the primary cause, they're certainly a contributing factor.
I have mixed feelings about staying in vacation rentals in cities.
On one hand, as a traveler who has Celiac Disease and usually needs access to a kitchen, they are a godsend that has allowed me to travel to places that just would not have been easy to visit if I had to stay in a hotel, where I MIGHT get a mini-fridge.
On the other hand, in cities where there's a housing crisis driven by a lack of supply and surging demand, vacation rentals contribute to the problem by taking long term rental units off the market since the landlord can usually make more money by renting it out for a weekend at a time.
There are certainly pros and cons to staying in vacation rentals. To be a more responsible traveler, our recommendation would be to choose hotels in San Francisco.
Nob Hill: Charming, Central, and Beautiful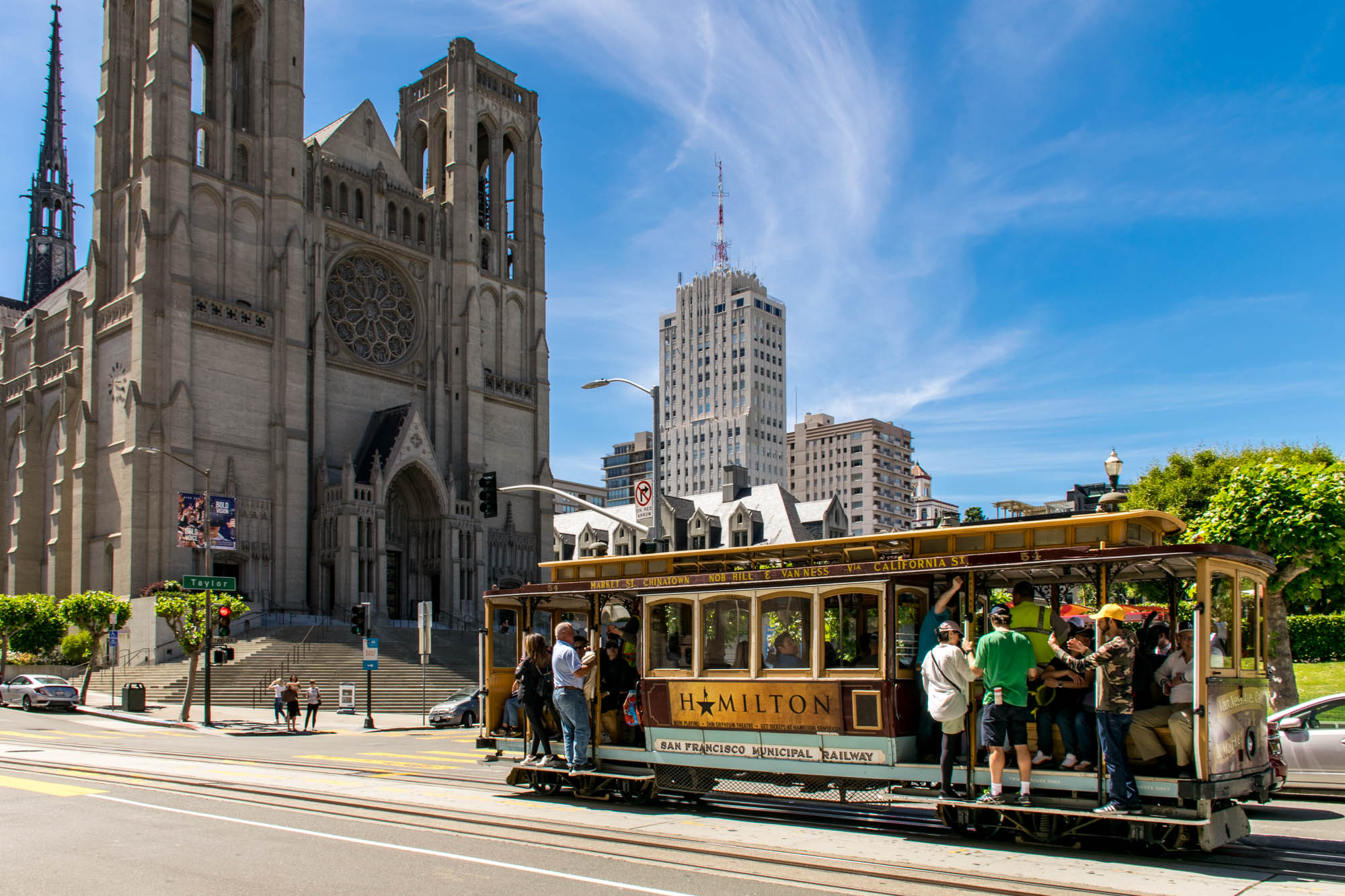 Nob Hill is where we lived for our last three years in San Francisco. It's leafy, charming, and super central, which is why we love it.
There's tons of good food and drink options along Polk Street, and a walk down the hill to the north takes you into North Beach, the historically Italian stronghold in San Francisco that is one of the best neighborhoods to explore on foot (but I wouldn't recommend you stay there).
Places to Stay in Nob Hill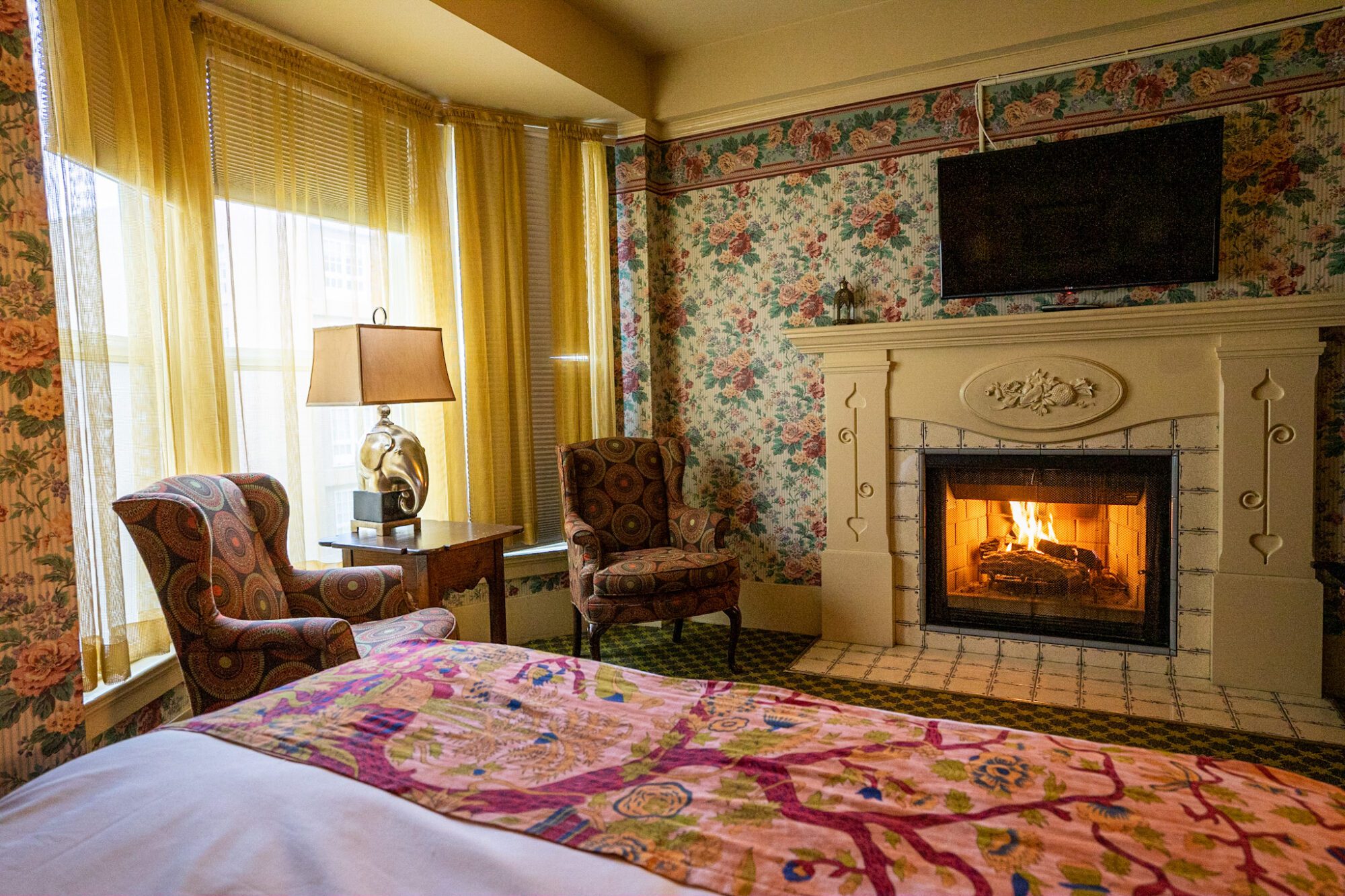 Petite Auberge: After we moved out of the city, we decided to do a quick staycation and return to our old stomping grounds in Nob Hill. We chose Petite Auberge because, along with the sister hotel next door – the White Swan Inn – it feels like the most charming hotel in the area. In fact, it's much closer to a bed & breakfast than a hotel. They describe it as part bed & breakfast, part boutique hotel, which seems accurate based on our experience. The rooms are very French-feeling, with floral print wallpaper and wooden furniture. Some rooms have a fireplace, which we very much enjoyed.
White Swan Inn: The Sister Hotel to Petite Auberge, it's just a few doors down and has many of the same characteristics. Except the theme here is the English countryside, and you'll find tartan patterns instead of flowery wallpaper.
Stanford Court Hotel: Both of us have passed by this boutique hotel in Nob Hill – which has recently been renovated – countless times on our way to and from work (often on the cable car, which is without a doubt the best commute ever). It's in a great location, especially if you're in San Francisco for work because of its proximity to the Financial District, and it would make a great home base for a visit to the city.
Union Square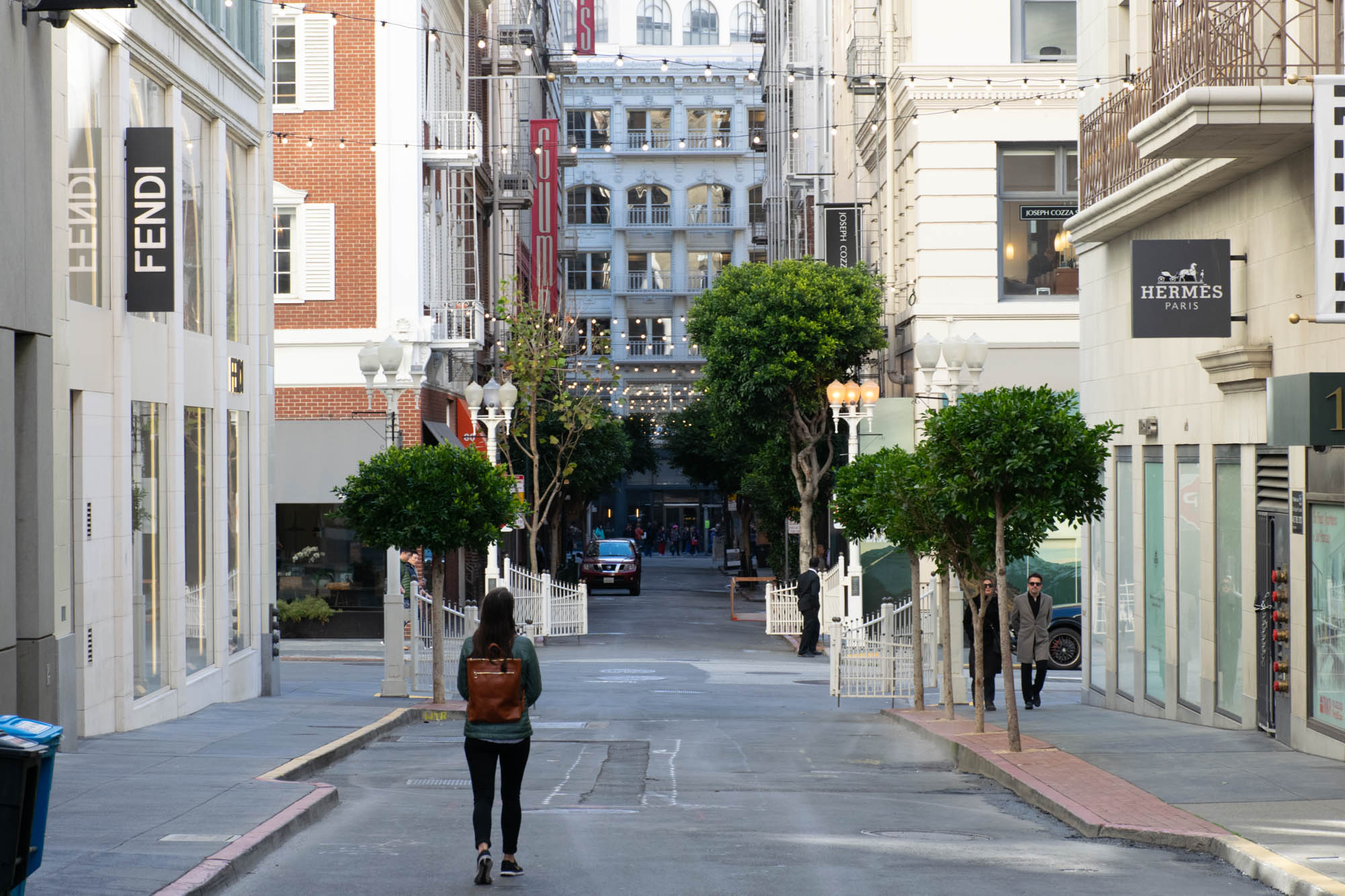 Look, Union Square is not the sexiest neighborhood in San Francisco. It's probably not even in the top 10. It's touristy, packed with chain retailers and skyscrapers, and is essentially missing every bit of charm that has made us, and many people like us, fall in love with San Francisco over the years.
However, it DOES have the best selection of hotels in the city. And it's not close. If you look at the pros and cons list for Union Square (which, by the way, you can find in our guide to the best areas to stay in SF), it basically comes down to "it's well-connected and central with tons of hotels, but it kind of sucks so plan on exploring elsewhere."
Places to Stay in Union Square
CitizenM: Look, we love CitizenM hotels, and this hotel in the heart of Union Square is almost exactly the same as their other hotels around the world. They basically took the entire concept of a luxury hotel, scrapped all preconceived notions (like there has to be a bellhop and a huge soaking tub) and built an affordable boutique hotel from the ground up. The rooms are meant for sleeping, which means they're small (even for San Francisco standards), but they have huge comfy king beds, blackout curtains, and soundproofing to make sure you get what you're paying for – a good night's sleep. And they've shifted the in-room amenities like coffee machines and ironing boards to common areas, so the cost of the room is lower. For more detail on why exactly, read about our experience staying at the CitizenM Seattle.
Palihotel San Francisco: Another hotel brand that we've been consistently impressed with is Palisociety, an L.A.-based hotel chain focused on great service and impeccable style. The location of their San Francisco hotel is great because it's on the northern edge of Union Square, which is basically Nob Hill. They have the usual queen / king hotel-style rooms, along with bigger suites and two bedroom suites, which have two separate bedrooms (I don't know that I've ever seen that in a hotel before, unless you count adjoining rooms).
Planning a Trip to San Francisco? We're Here to Help!
Heading to San Francisco? Don't miss our other SF travel guides. They're written by us, two SF locals (at least for the past decade or so).
4 Days in San Francisco: Our Version of a Perfect 4 Day San Francisco Itinerary
Now that we've got some important logistics covered, here is how we would spend your time in San Francisco as a first-time visitor.
And, to be clear, the best locals-approved abbreviation for San Francisco is "SF" ("ess-eff").
We're going to assume that:
You don't have a car, so you won't have to worry about parking or moving it.
You've never been to San Francisco, so you'll want to see all the touristy sights.
You're a fan of walking and exploring the best neighborhoods in San Francisco on foot.
What to Book in Advance: In general, there's not a whole lot of sights in the itinerary below that you'll need to book in advance. The exception is Alcatraz. You'll want to book your visit to Alcatraz several months in advance. It does sell out, and if it's a must-do for your trip, book 2-3 months in advance. A couple of weeks or a month in advance, consider booking things like walking tours or cooking classes.
Here's an overview of the 4 day itinerary you'll find below:
Day 1: The Ferry Building, North Beach, and Alcatraz at Night
Day 2: Golden Gate Park, the Lands Ends Trail, and the Golden Gate Bridge at Sunset
Day 3: NoPa and the Mission District
Day 4: Choose Your Own Adventure – 2 Day Trip Options
Below the detailed itinerary, you'll find some suggestions on what to do with more or less time on your trip to San Francisco, including options for compressing this itinerary into one, two, or three days.
Day 1: The Ferry Building, North Beach, and Alcatraz at Night
Spend your first day on the eastern end of the city, exploring three great neighborhoods (North Beach, Chinatown, and Nob Hill) before ending with an evening trip out to Alcatraz Island.
The Ferry Building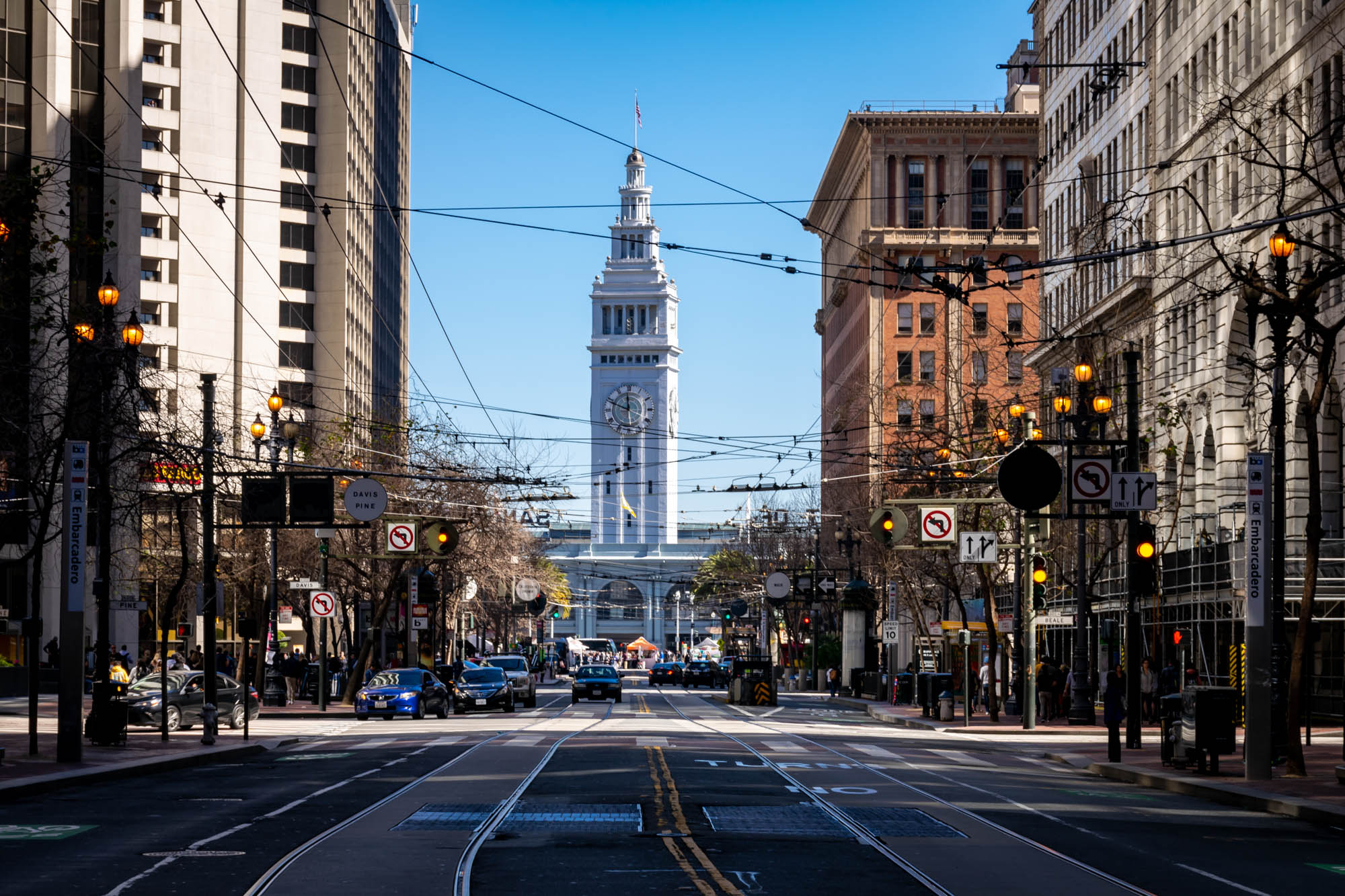 Kick off your trip to San Francisco by heading to one of our favorite spots in the entire city – the Ferry Building.
If you're lucky enough to be in town on a Saturday, make sure this day falls on Saturday. There is an awesome farmers market that takes place at the Ferry Building with a combination of farm-fresh produce from all over Northern California and cool local food brands with a variety of ready-made foods. More information here.
There's also a new "Fog City Flea Market," which is a makers / vintage market that happens on Sundays. More information here (you'll have to find it on the events page).
The Ferry Building is essentially one big collection of various local businesses, each with their own stall or storefront. Most places here have bigger locations elsewhere in the city, but have a stall here to cater to the thousands of tourists a day who make their way to the Ferry Building.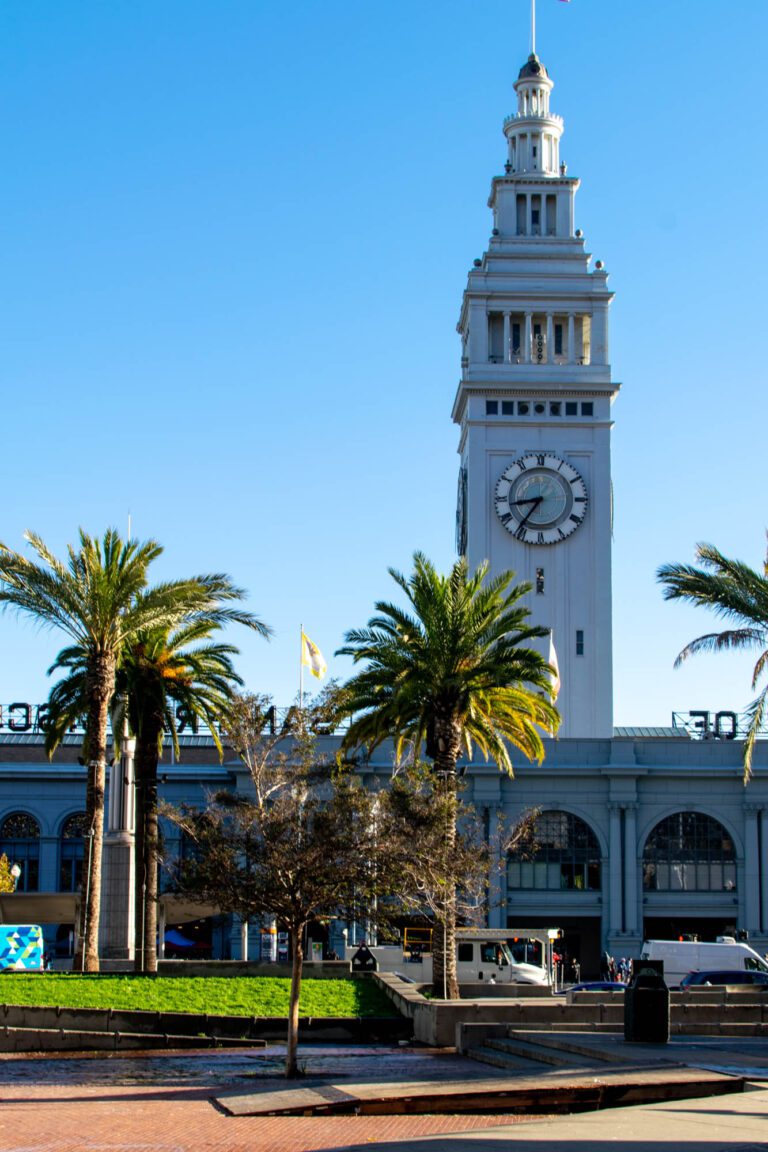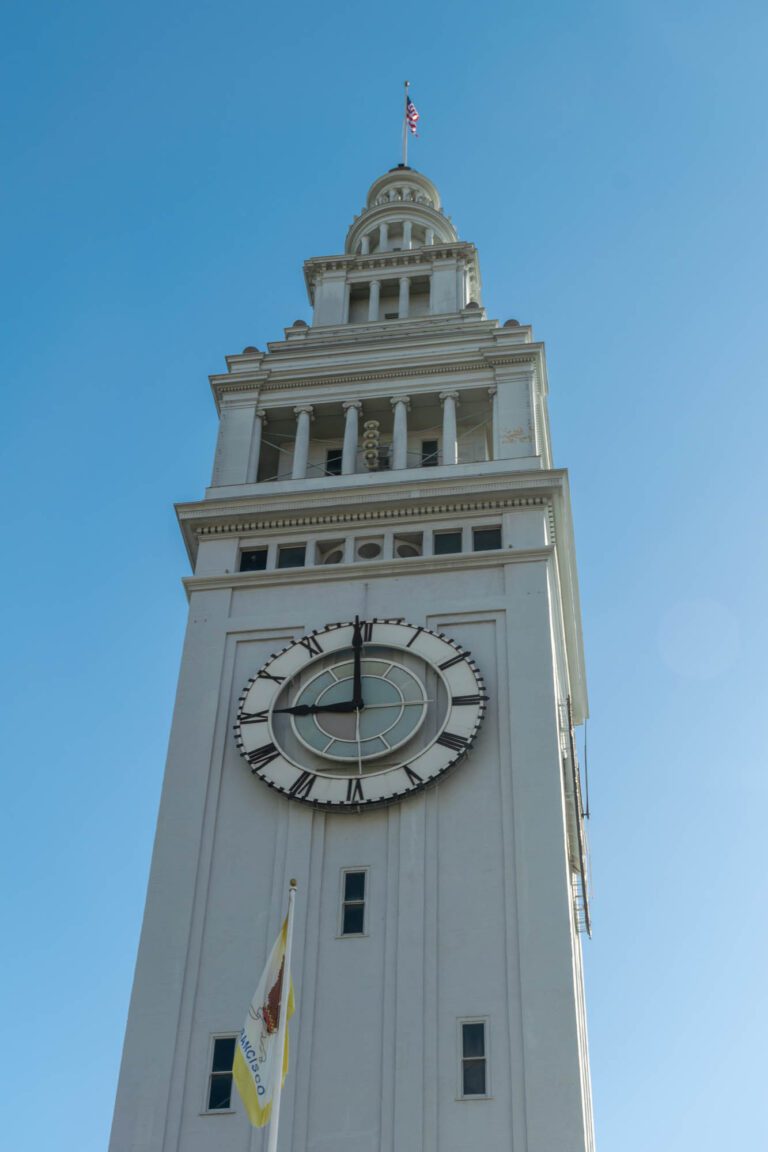 Here are some of our favorite spots at the Ferry Building.
North Beach and Chinatown
From the Ferry Building, you're within walking distance of a few of San Francisco's iconic neighborhoods – North Beach and Chinatown. We'd recommend doing a little afternoon stroll that incorporates the highlights of both of them.
If you're up for some walking, this walk is about as beautiful as it gets. However, it does have some hills – you're in San Francisco, after all!
Start by walking north up the Embarcadero, which is the wide street that runs along the water just outside the Ferry Building. It's worth stopping at Pier 7 (here on Google Maps), which has one of my favorite views of the city.
Chinatown
Walkable from the Ferry Building and North Beach is San Francisco's Chinatown, one of the biggest in the country, and it is well worth exploring if you have the time.
Before you go, make sure to read about what Chinatown is and what it represents, which isn't exactly a light read. Widespread racism against Chinese immigrants in the 1800's and laws that excluded them from other neighborhoods (sound familiar? It's a common playbook) led to the creation of these communities that still exist today. It's more than just a place to go to check out the Fortune Cookie Factory.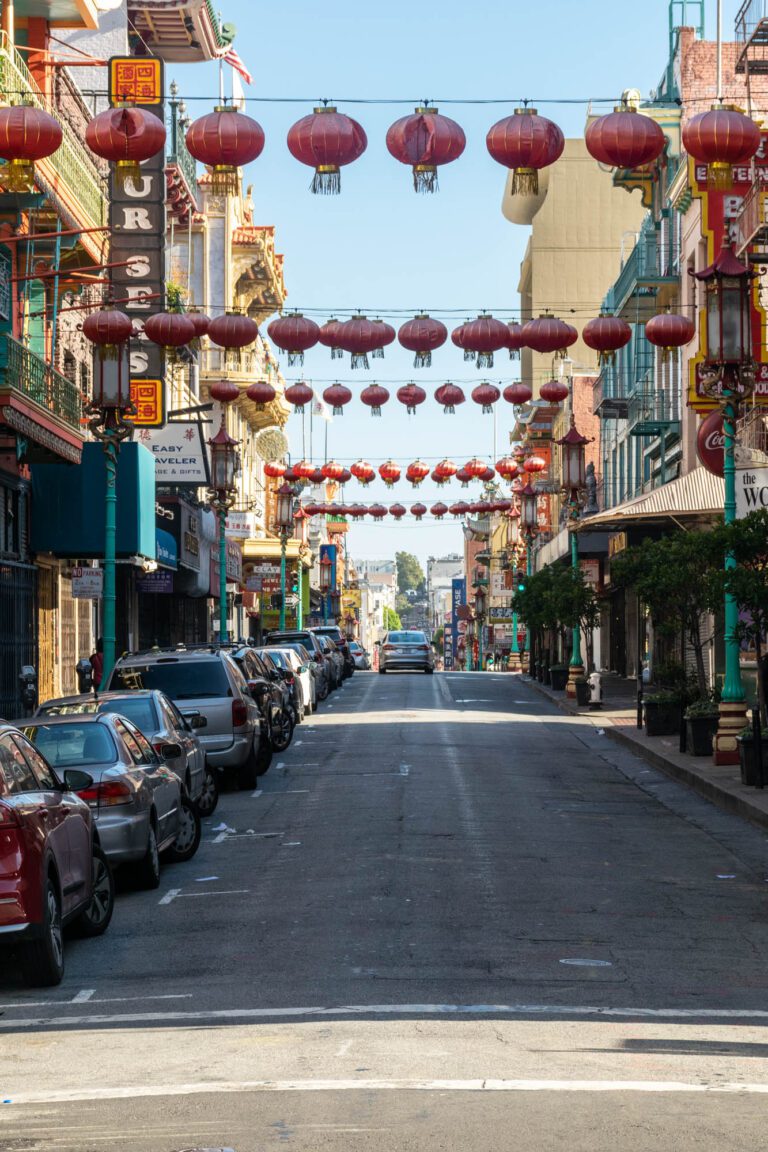 With that context in mind, it's a fun neighborhood to explore. Unfortunately, I'm not the right person to help you explore the food, since I have Celiac Disease and can't eat gluten (which is omnipresent in most Chinese dishes I've come across). Here's a good guide to eating in Chinatown.
An even better option would be to take a walking tour of Chinatown, which is a great opportunity to learn about the history of Chinese immigration in California, eat some delicious food, and get some insider tips on where (and what) to eat in the area.
China Live, a big light-filled food hall (it's kind of similar to Eataly for Italian food) that is part restaurant, part home goods store, all with a laser focus on Chinese food and culture. If you're short on time and not really hungry, that's a good stop to make.
We'd head to the Dragon's Gate and the area around Grant Avenue, where you'll find all sorts of shops and restaurants.
North Beach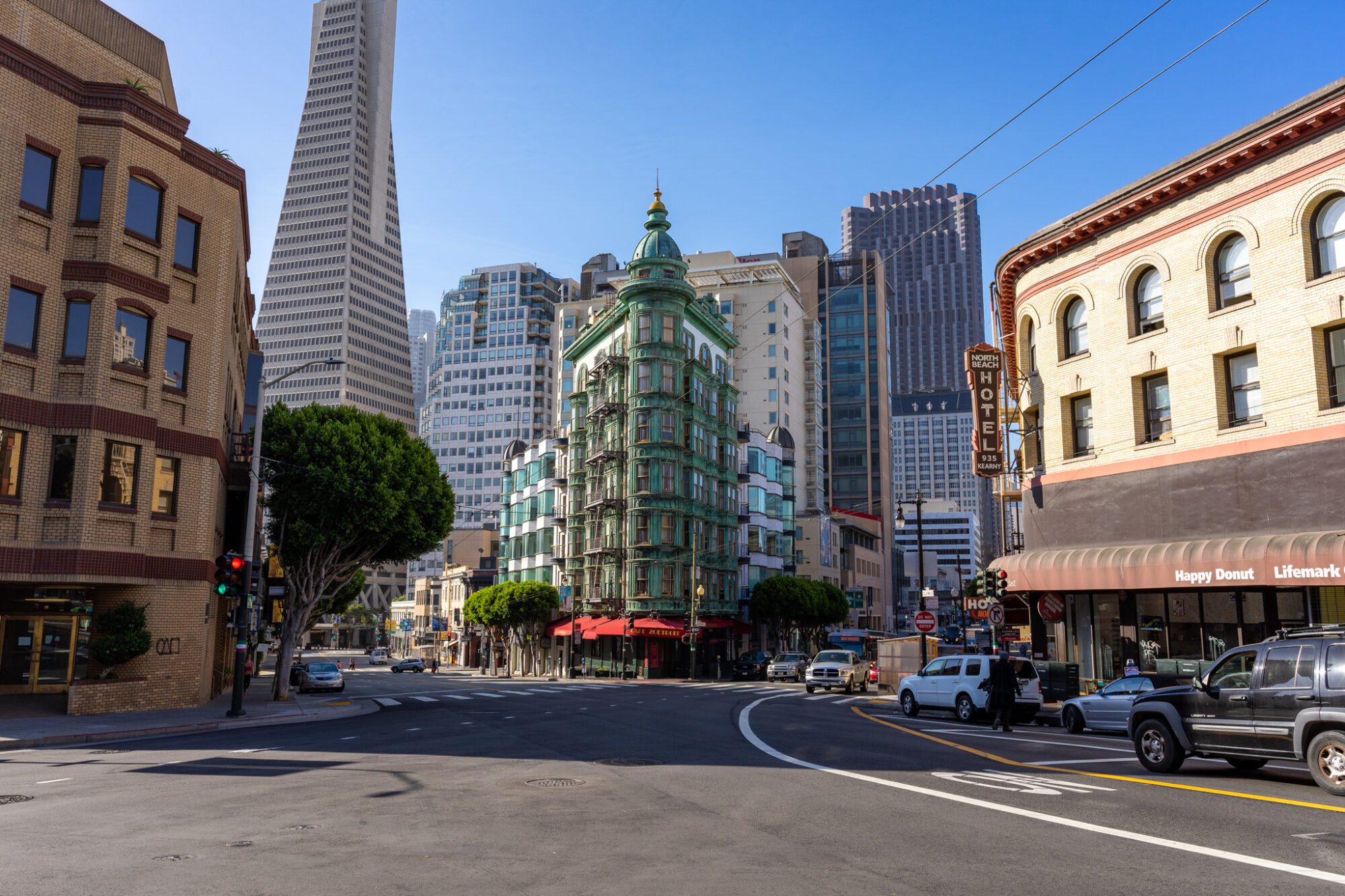 North Beach is at San Francisco's northeast corner, and is a historically Italian neighborhood. The Italian community in San Francisco settled here, and you'll notice their impact on the area as you walk by one Italian trattoria after another.
North Beach today is also a nightlife hub, and the area along Broadway is full of light-up signs that come on after dark, advertising everything from theaters to gentlemen's clubs.
The area we'd focus your time on is the stretch along Columbus Avenue, which runs diagonally through the center of the neighborhood.
On the south end of Columbus Avenue in North Beach is City Lights Bookstore, one of the best independent bookstores in California. SUPPORT INDEPENDENT BOOKSTORES. They're particularly famous for their role in activism in San Francisco.
If you're in the mood for a drink, 15 Romolo is one of our go-to cocktail spots in the city (especially if we're waiting for a table at Tony's). It's also one of the only places we know of in San Francisco where you can try Sherry, which we discovered on our recent trip to Spain.
Tony's Pizza Napoletana is one of our favorite pizza spots in the entire world. They've won awards in Italy for their pizza, which tells you everything you need to know, really.
They don't take reservations, and there's a line out the door from open to close. Don't be surprised to find yourself waiting for two hours on a weekend afternoon or evening. Obviously, you might not be hungry just yet, and we've got plenty of food lined up for you later in the afternoon. But if you're wanting to sample the pizza, they have a pizza-by-the-slice spot next door.
We'd walk from City Lights up to Washington Square, which is a nice park where you'll find all sorts of characters hanging out in the San Francisco sun.
Once you've taken in the sights and sounds of the park, head up the hill to Coit Tower.
Coit Tower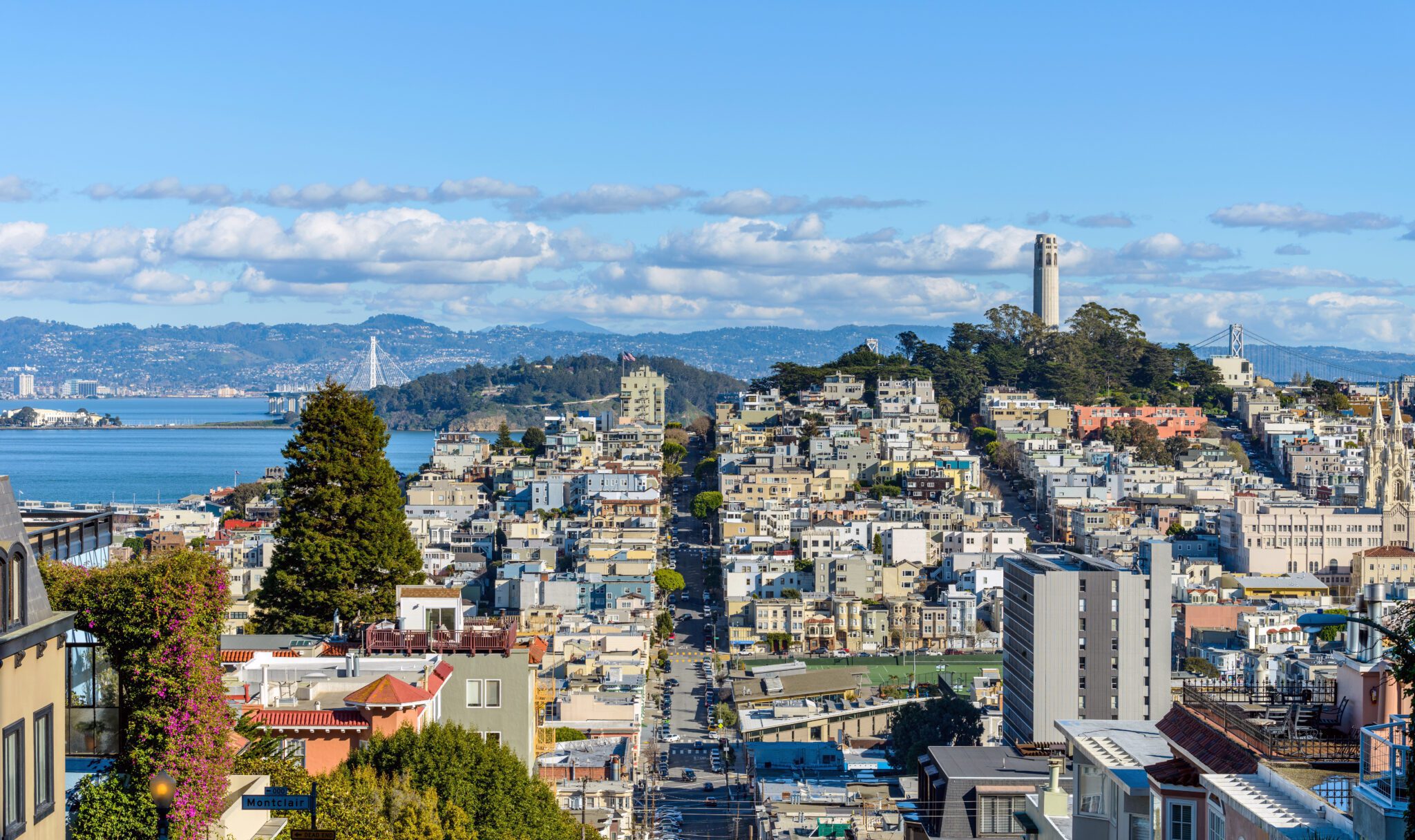 Your next stop is Coit Tower, which involves some climbing no matter which way you slice it.
Coit Tower was built in the 1930's at the top of Telegraph Hill as a monument to a San Francisco firefighter who died in 1929 and left a nice chunk of money to the city. There are some really cool murals inside the tower that focus on the city during the Great Depression, and the view over the San Francisco Bay from the base is nice, and includes the Golden Gate Bridge.
It's free to visit the ground floor murals, which is where most of them are found, but you'll have to take one of their guided tours to see the murals on the second floor.
You can also go all the way to the top of the tower by taking the elevator, where you'll have even better views of the city. It is fairly expensive at $11 per adult, and we'd probably skip it if we were you, given that the views from the base of the tower are nice.
Both guided tours and elevator tickets can be booked here.
One of my favorite views of Coit Tower is from the top of Lombard Street. Well, really, it's from the top of one of the streets in Russian Hill adjacent to Lombard – Filbert Street (here on Google Maps).
The Alcatraz Night Tour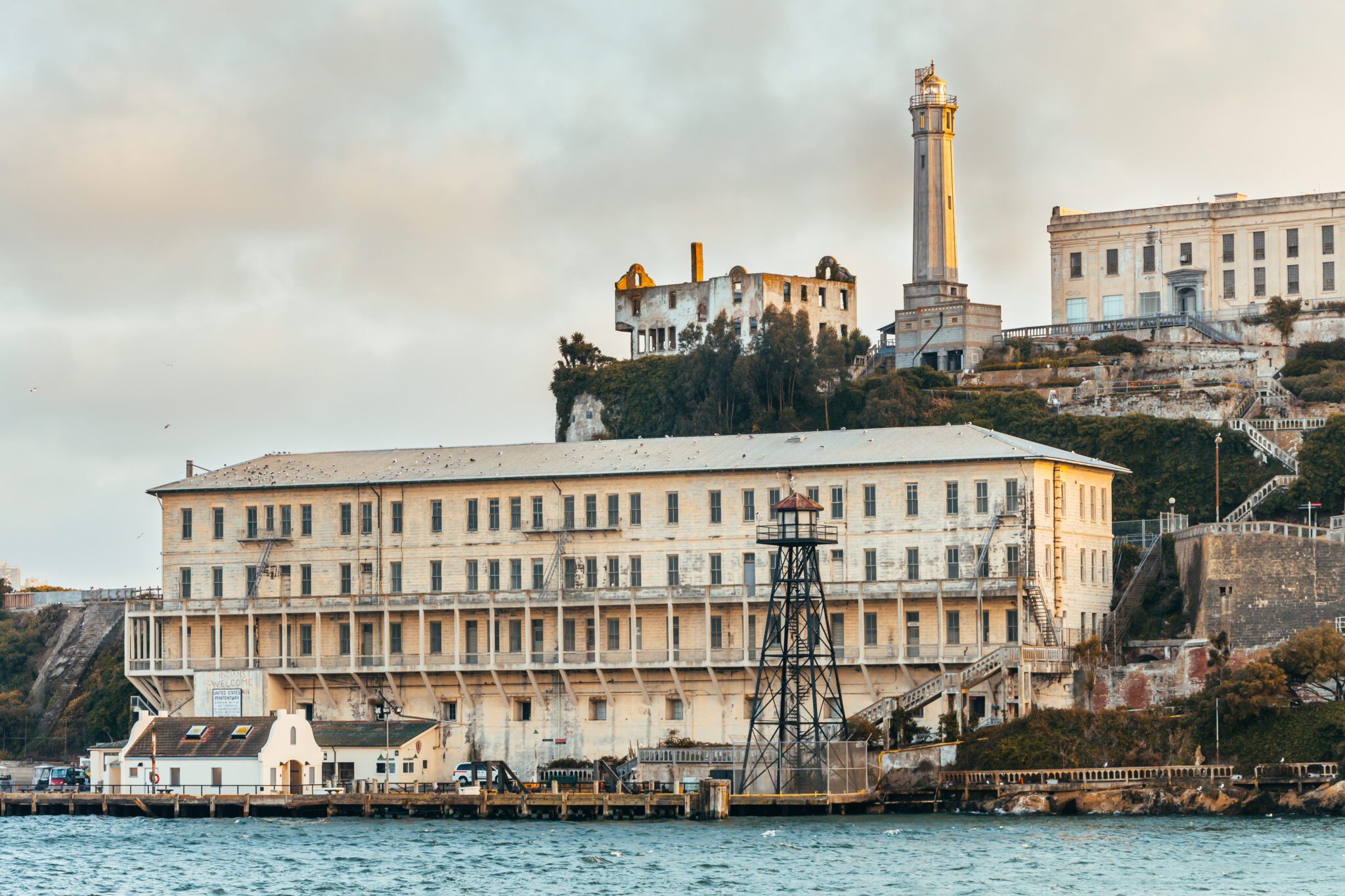 Visiting Alcatraz is one of those things that every tourist visiting San Francisco wants to do, but most locals haven't thought about all that much. That's certainly true for Alysha, who spent her whole life in the Bay Area and only made it to Alcatraz for the first time a few years ago.
Alcatraz is a former federal prison that sits on an island in the middle of the San Francisco Bay. My earliest memory of Alcatraz is seeing it in The Rock, a fantastic "escape from Alcatraz" movie featuring Sean Connery and the legend, Nicholas Cage.
It might not look like it when you watch the likes of Cage and Connery do it, but the currents and freezing water make it nearly impossible to escape from Alcatraz. It was a fully operational federal prison until the 1960's, and has since become one of the most popular tourist attractions in the city.
If you were smart, you booked your Alcatraz Tour WELL in advance. They sell out months in advance. We'd highly recommend doing the night tour if you can – it's spooky, and you get views of the city lit up at night, which is breathtaking.
We have only been to Alcatraz once, and it was for the night tour. It's a super cool experience because you get UNBELIEVABLE views of the city from the island.
If Alcatraz tickets are sold out by the time you get around to booking them, you've got one option for getting there, and that's taking a guided tour. Take a guided Alcatraz tour with Take Walks.
Day 2: Golden Gate Park, the Lands Ends Trail, and the Golden Gate Bridge at Sunset
On your second day, move your focus to the western end of the city, with a morning brunch and a stroll through Golden Gate Park before ending with the best hike in San Francisco that ends at the Golden Gate Bridge.
Brunch at Zazie
Start your day with brunch. For whatever reason, people in San Francisco absolutely adore standing in line for brunch. Pick any Saturday or Sunday, drive around the city, and you're sure to see people milling around outside the trendiest restaurants in the city waiting for their turn to sit down and enjoy a leisurely breakfast / lunch.
Since you'll be exploring around Golden Gate Park today, it makes sense to head straight to one of our favorite brunch spots – Zazie.
We've legit waited for two hours for brunch here, and we'd do it again in a heartbeat. It's also a good spot for dinner, for what it's worth. There are no reservations, and you put your name on the list and they'll text you when the table is ready for you. It's worth it for the benedicts.
Make sure to see if you can sit in their lovely backyard patio.
One other note – no tips here, they pay their employees a fair wage and it's priced into the cost of your meal.
Stroll through Golden Gate Park
Golden Gate Park is a huge stretch of land on the western side of the city that stretches all the way to the ocean. On Sundays, they close the park to car traffic, making it a walker's paradise.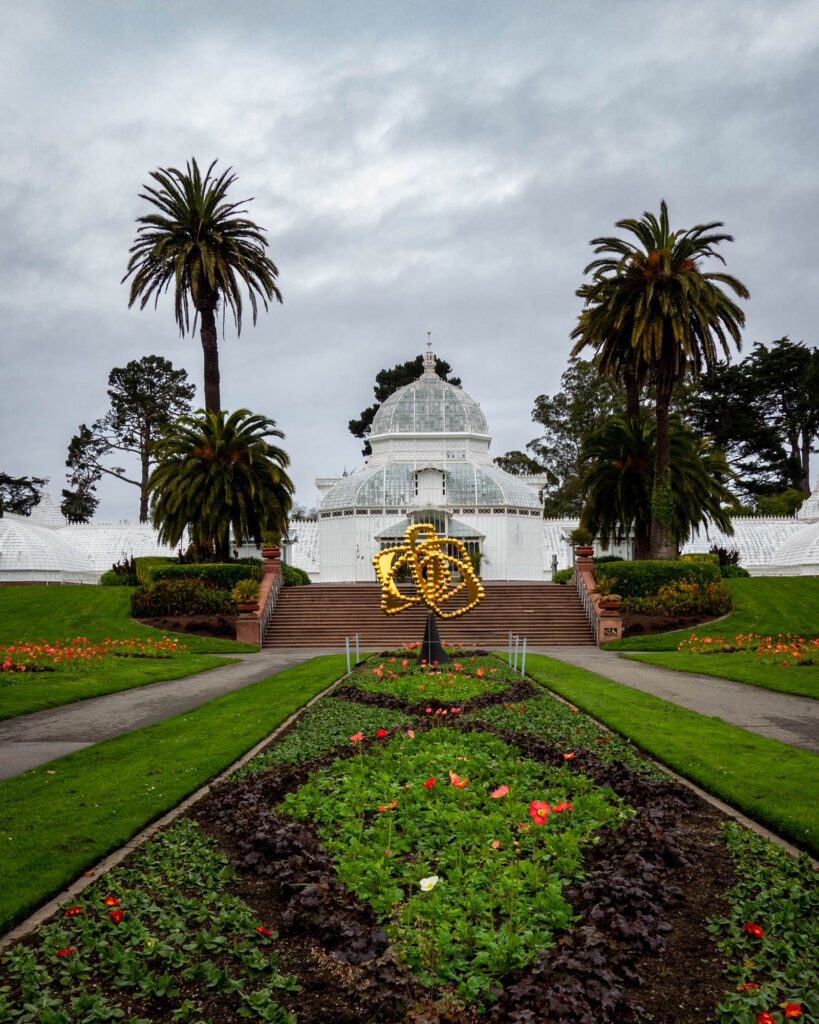 My first apartment in San Francisco was on the northern edge of the park, and early in our relationship, long walks through Golden Gate Park were a weekend morning staple for Alysha and I.
There are a few things to check out in Golden Gate Park, which is sure to be one of the highlights of your San Francisco 4 day itinerary:
The Japanese Tea Garden is a place that I have memories of visiting as a kid on school field trips. It's a beautiful little oasis in the middle of Golden Gate Park, and they even have a tea house where you can enjoy a nice cup of tea in a beautiful, serene setting.


The De Young Museum is one of the better art museums in the city, with expansive collections of American and African art (among others), though we're not huge art museum people.


The Botanical Garden is great in the spring and early summer (and is free to SF residents!).


The Academy of Sciences which is my favorite museum in SF and is great for kids (and adults on Thursday nights at Nightlife, when the museum is open but turns into a nightclub with drinks, music, and events for the 21+ crowd. It's a blast!).


Stow Lake where you can rent pedal boats and troll around the small lake.


They have bison! Yes. Real bison. Find them here.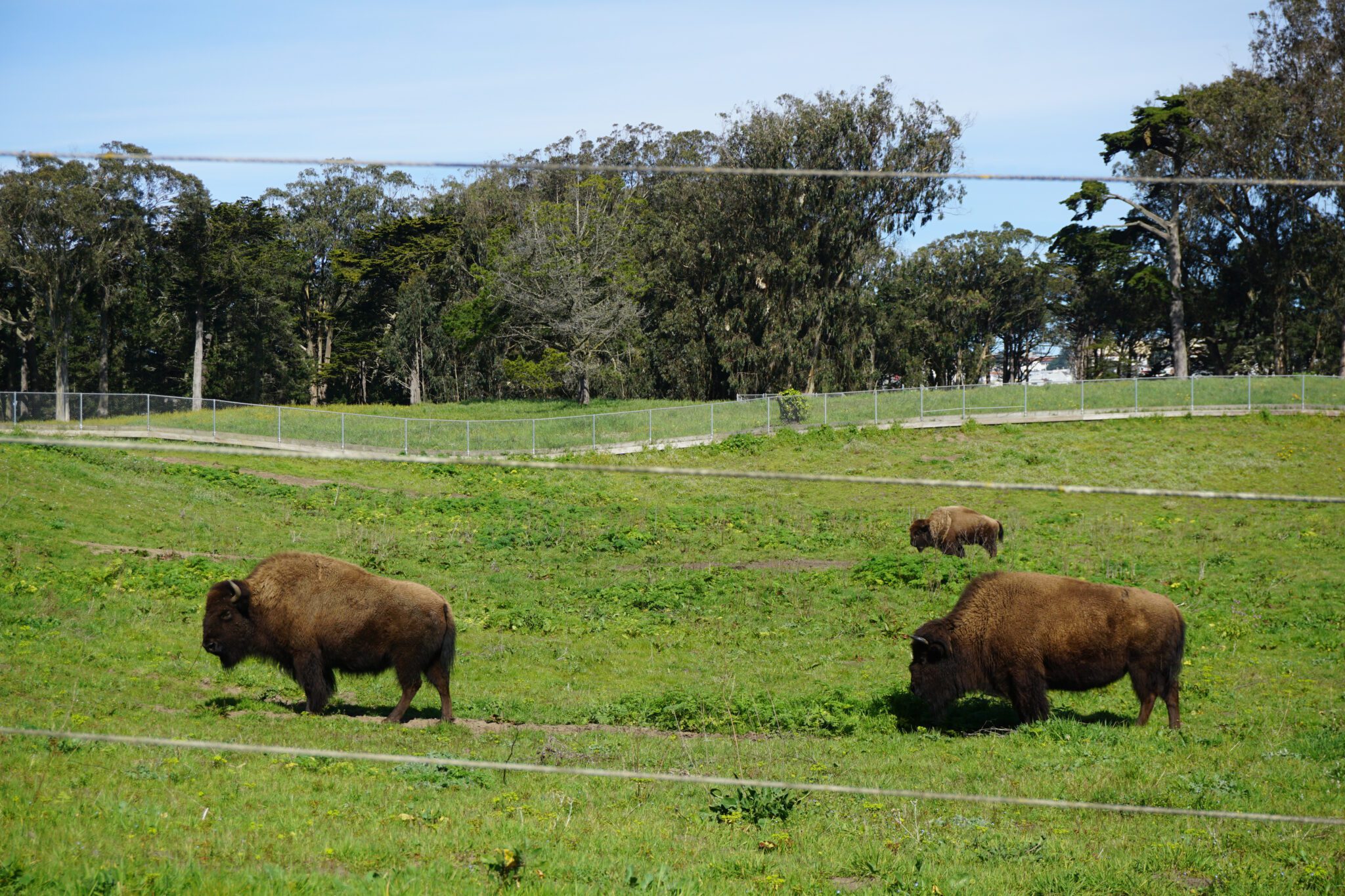 You probably don't have time to do all of the museums / gardens, so we'd pick one and save the rest for your next trip. And we'd probably choose either the Botanical Garden or the Japanese Tea Garden, if it were us.
Here's a walking route we'd recommend if you want to go from one end of the park to the other.
Ocean Beach & Sutro Baths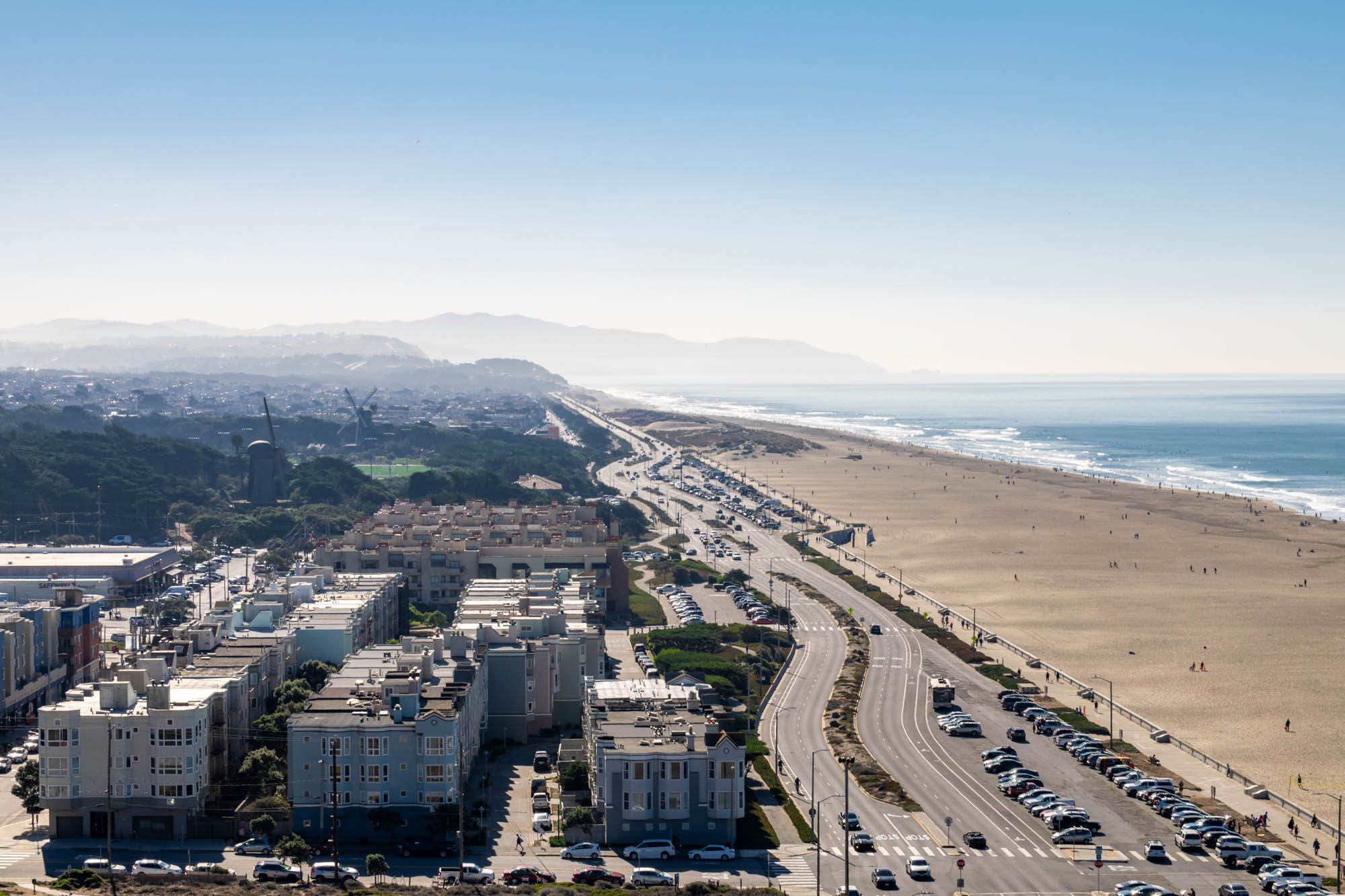 Your next stop is Ocean Beach, also known as the Pacific Ocean.
You can either take the scenic route through the park and make some stops, or grab a Lyft from the last destination in the park and head straight out to the beach.
The beach itself isn't particularly special. And, to be frank, it's usually foggy and/or windy and cold. So don't go into it expecting your picturesque southern California beach where it's warm, sunny, and full of people in swimsuits. Instead, it will likely be cold, windy, foggy, and full of people in puffers and hoodies.
We do really like the view from Sutro Heights Park (roughly here on Google Maps) where, on a rare clear day, the beach stretches out for miles to the south.
The other place we really love in this neck of the woods is Andytown Coffee, which is simultaneously some of the best coffee in San Francisco and also some of the hardest to get, since their two locations are way out here near the beach. Whenever we're nearby, we make sure to stop in, and think you probably should too if you want a quick caffeine hit before starting your hike.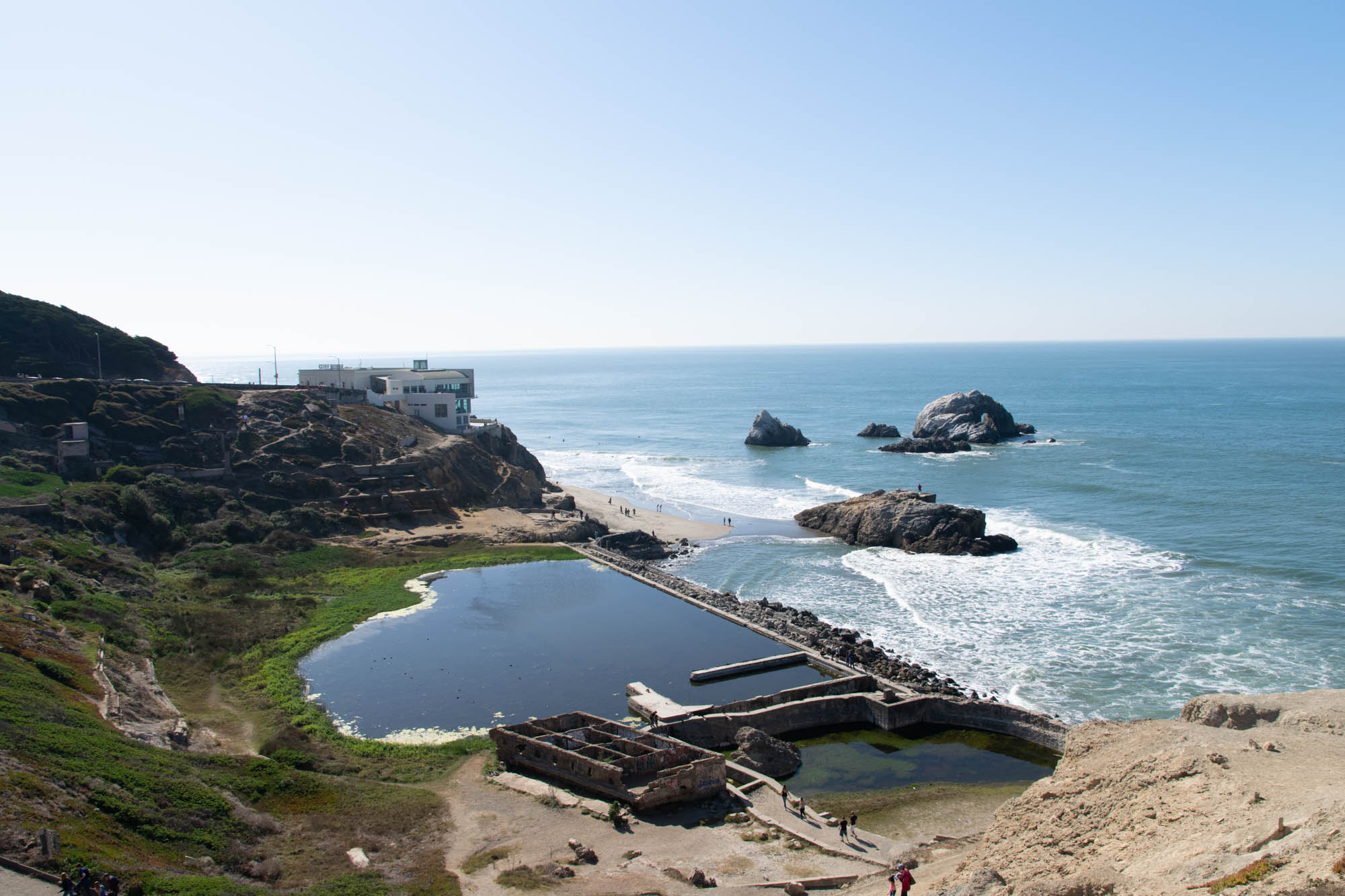 Trouble Coffee is another good spot nearby, more for their thick toasts topped with all sorts of delicious… uh, toppings?
Once you arrive at Ocean Beach, you're going to start what might be the best urban hike in the nation, Lands End.
The Lands End Trail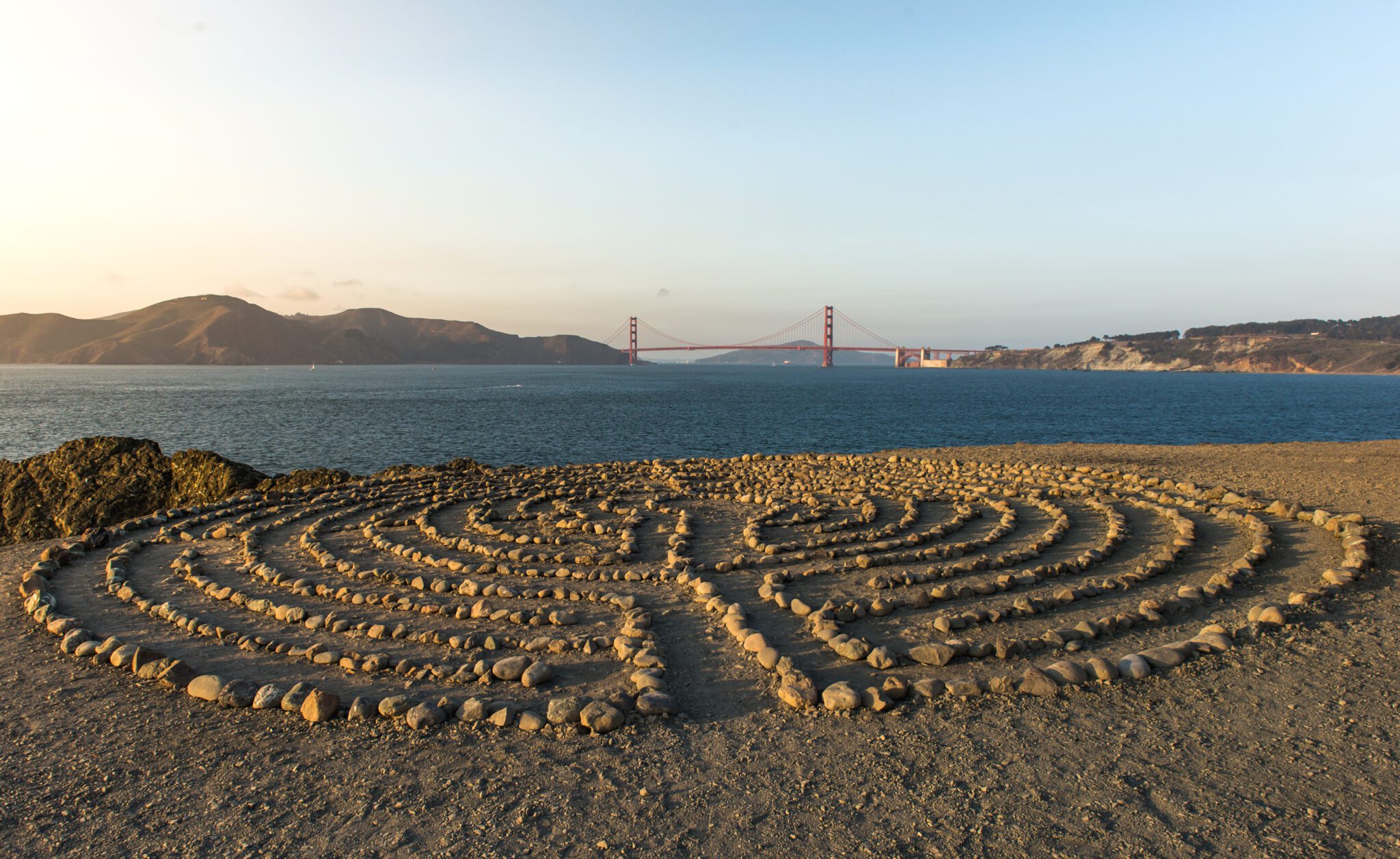 Start at Sutro Baths, the ruins of a former bathhouse on the coast that was destroyed to build high end apartments (that were never started – read about the history here) and start on the Lands End Trail.
Take a second to walk down to the baths and admire the view. Then head up the hill on the north side and start on your hike.
You'll wind around the coast and be rewarded with stunning views of the Golden Gate Bridge from all different angles. We'd definitely do it from west to east, starting at Ocean Beach and ending at the Golden Gate Bridge, which will mean the bridge is in front of you the entire way.
Follow the trail to Baker Beach, where you can pause to enjoy the views of the Golden Gate (and watch out for the naked people at the north east end!).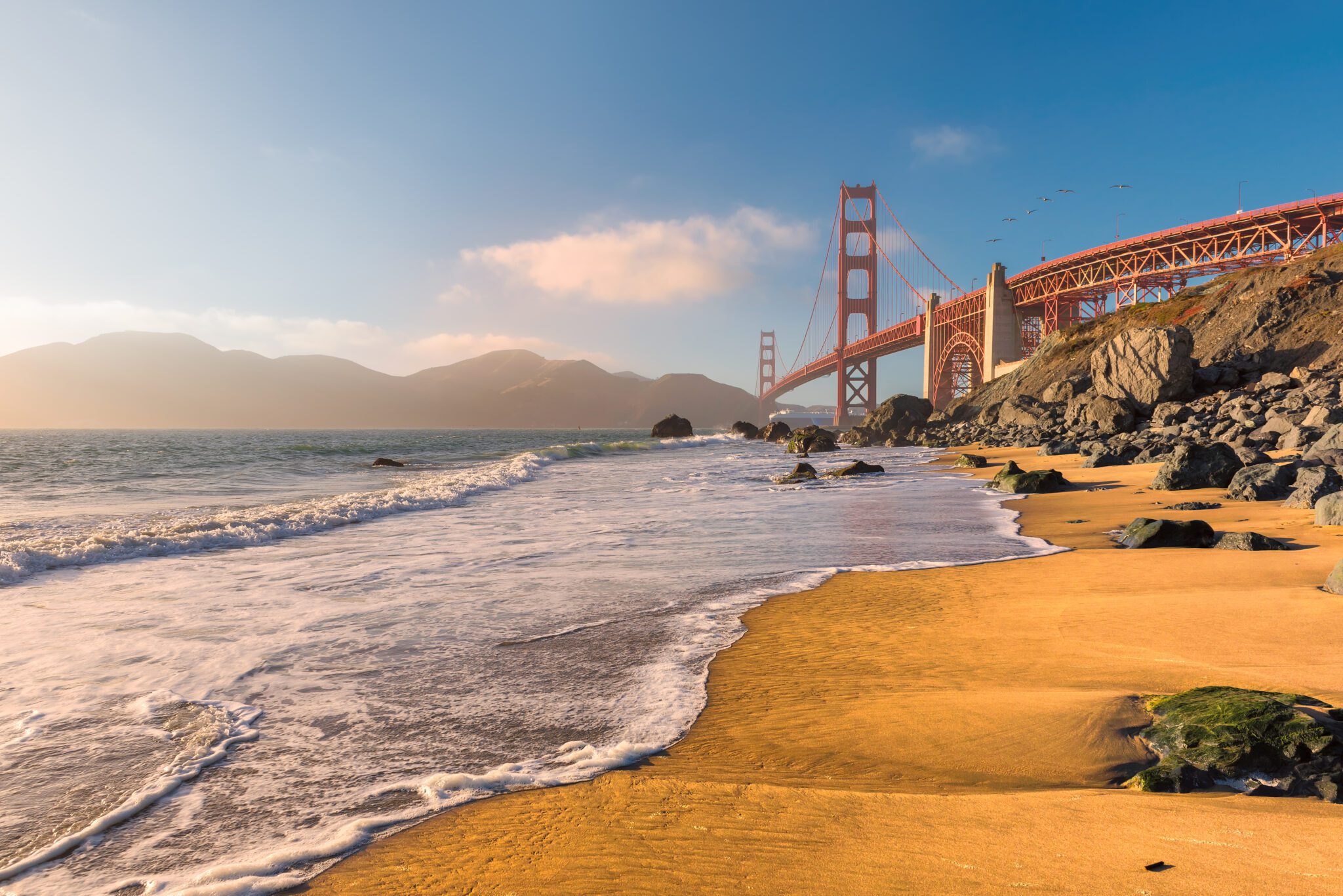 Then make your way to Marshall's Beach for an up close and personal encounter with the Golden Gate Bridge (seriously, watch out for the naked people). Finally, continue to the Golden Gate Bridge Welcome Center, where you can choose to walk across the bridge and back if you please.
Here's a map of the route. It's going to take you several hours. Take your time and enjoy the endless coastal beauty that the walk has to offer.
You could also walk across the bridge and into Sausalito to window shop and grab dinner at Copita, a 100% gluten free Mexican restaurant with phenomenal margaritas. Fun fact: they catered our wedding!
Sunset at the Golden Gate Bridge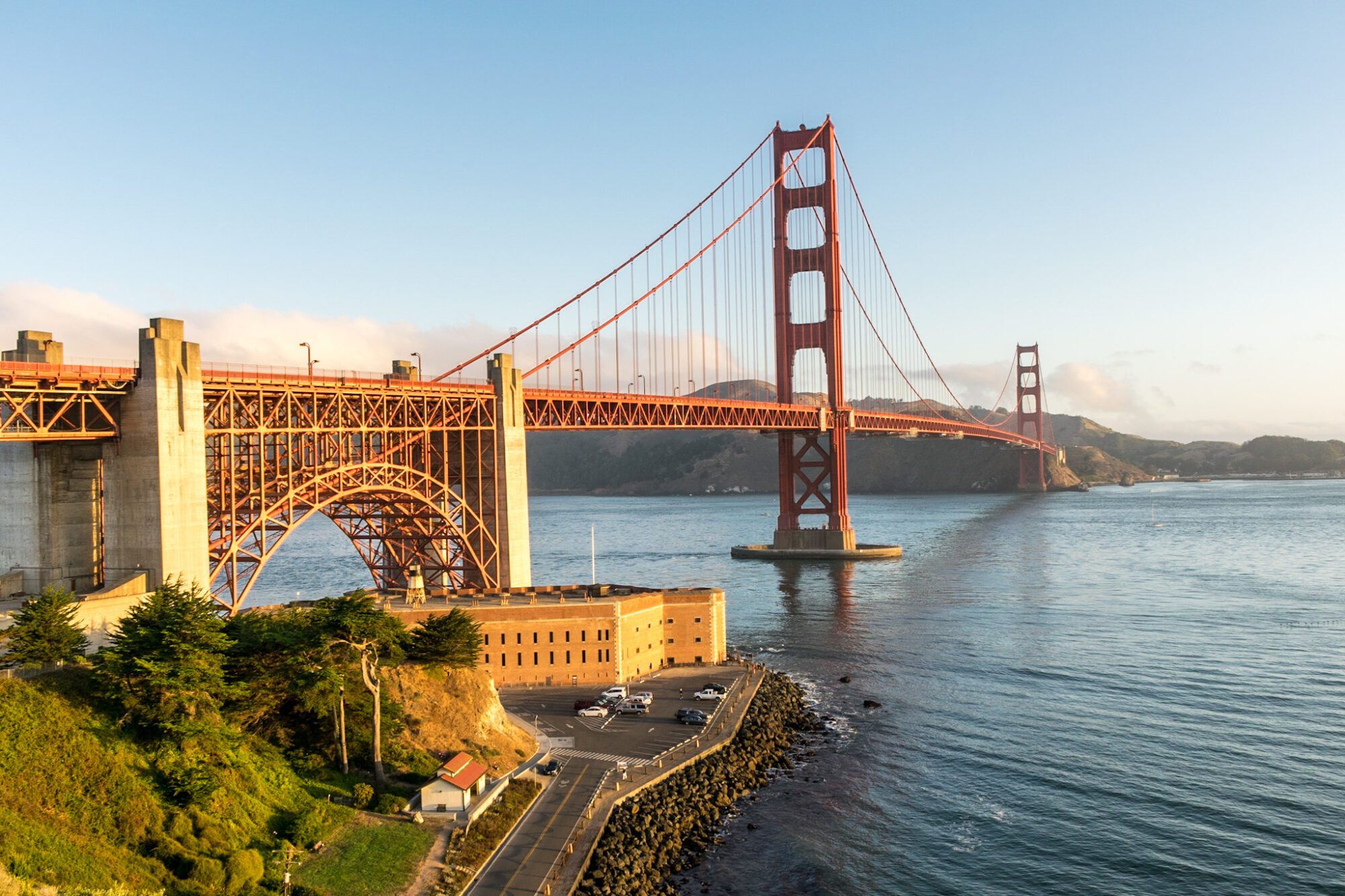 Finally, after a couple of miles of seeing the bridge get closer and closer, you'll have finally made it to the Golden Gate Bridge Toll Plaza.
What's the first thing you imagine when you think about visiting San Francisco? Most people would immediately say the Golden Gate Bridge.
What they don't tell you in all the travel guides is that the Golden Gate Bridge is actually a little bit miserable on most days. The location of the bridge means that it's often foggy, windy, and cold. There's a good chance that it's one – or all – of those things when you visit, so make sure to bring plenty of layers!
A note: At least half of the time, the Golden Gate Bridge is covered by fog. Did you know that the fog in SF has a name? It's Karl. Karl the Fog. If you have a clear day during your time in San Francisco, take advantage and head to the bridge. Fair warning – even though it's sunny downtown, it might be foggy at the Bridge.
When you're at the bridge, there are a few places we'd make sure to hit for great photos.
The Main Viewpoint: Go here for the classic view of the bridge.
The Cypress Trees View: Go here for the bridge framed by a couple of photogenic trees.
The Batteries: Definitely do some exploring of the batteries (that's the old bunker-ish things) too, which are a unique aspect of this part of California.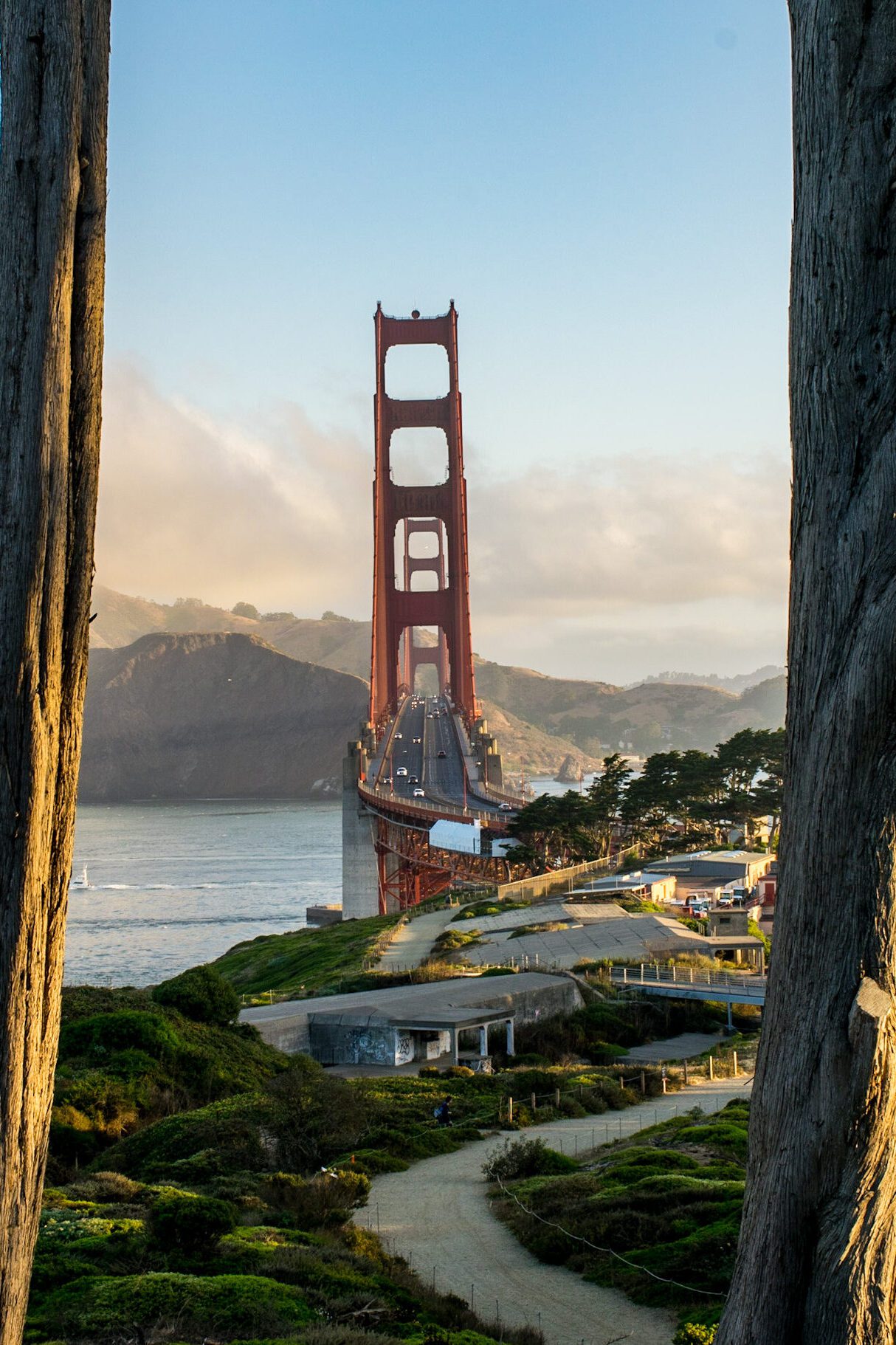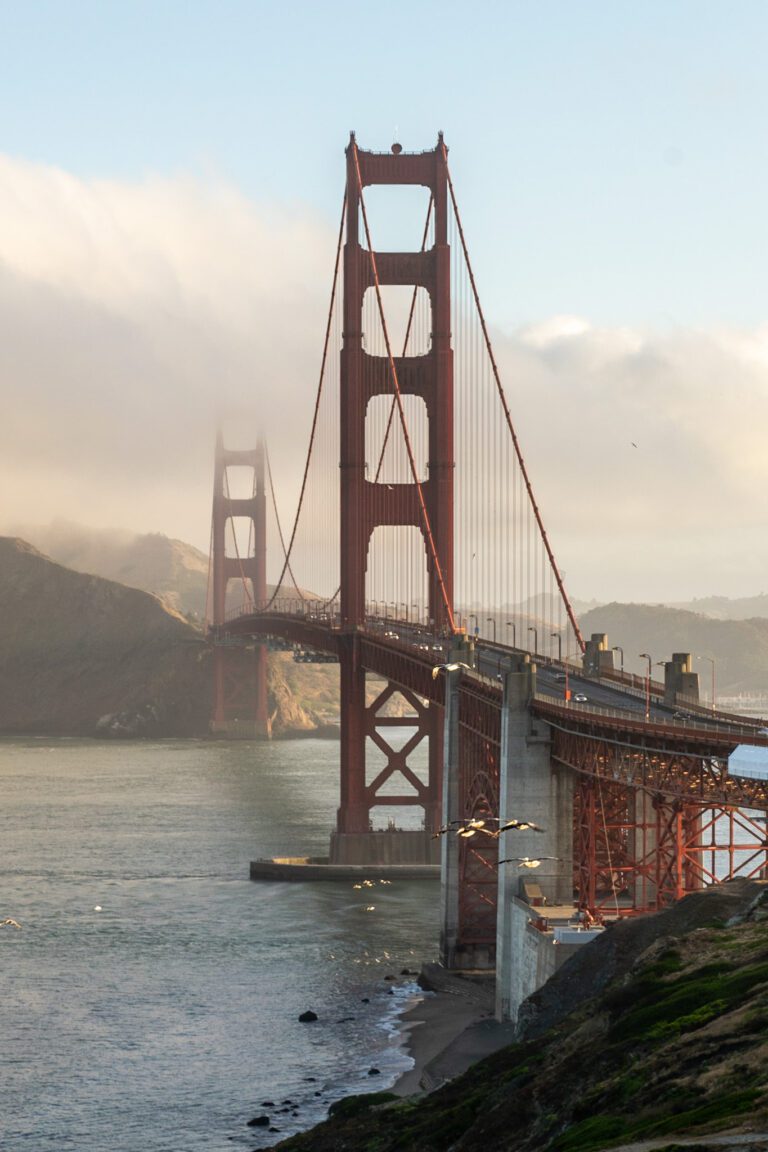 Another cool spot to see the bridge is from below, which you can do at Fort Point. It's a 0.7 mile downhill walk from the toll plaza, and if you don't have a car, you can plan on catching a Lyft to your next stop from here to avoid having to walk back up the hill.
Day 3: NoPa and the Mission District
On your third day in San Francisco, spend your day walking through some of our favorite neighborhoods in San Francisco – NOPA and the Mission – with plenty of time for food along the way.
Breakfast + Coffee in NoPa
NoPa means "north of the panhandle," and is a charming residential neighborhood on the eastern edge of Golden Gate Park. It's the place to go to see old Victorians, and you'll find them all over the streets (though the most famous are the Painted Ladies, which were featured in Full House).
This area is a great place to start your day, which, SPOILER, is going to be full of food. The main thoroughfare in this part of the city is Divisadero Street, and there are a couple of places worth noting in terms of breakfast, brunch, and coffee.
First, coffee. Sightglass Coffee Roasters is probably my top coffee shop in San Francisco, and they have a location right on Divisadero Street. Alysha loves Matching Half Cafe (who serve coffee beans from Andytown, another great coffee roaster in San Francisco) for their chai.
If you're in the mood for a more hearty brunch, head to Brenda's Meat & Three. The sister restaurant to Brenda's Soul Food, which is a famous brunch spot in the Tenderloin, this place has essentially the same menu with a better location and much smaller lines. They serve "French Soul Food" inspired by the owner's experience growing up in Louisiana. Get the beignets and the biscuits and gravy (definitely not gluten free, for my Celiac friends – this is not the place for us, sadly, but my family and friends all love it!).
If you're more in the mood for pastries, there are two great options in this part of town, which is where Matt lived for four years before we moved in together. Again, neither has gluten free options, which is why Matt makes other people do the hard work of eating delicious croissants and various other pastries to help him evaluate.
B Patisserie: A bakery that has been written up over and over again, this place is on the same street as Brenda's, so if you're really hungry, you can combine the two into one, super rich brunch extravaganza. Their take on French pastries is a little more modern, combining classic French techniques with more innovative flavor combinations. They have a huge selection of pastries that changes constantly, but know that they do sell out of the most popular items so go early, if you can.


Arsicault Bakery: This place (technically in the Inner Richmond, a ways away) was right on our route to our local farmers market every weekend, and I never once saw a line here until one Sunday morning shortly after Bon Appétit wrote them up as one of the best new bakeries in the country in 2016, specifically calling out their croissants. Now, there's a line that wraps around the block every weekend morning, and they consistently sell out of their buttery croissants by noon (if not earlier). There are plenty of other options too, like Pain au Chocolat and some savory options, but you should definitely try the croissant at least once.
Alamo Square and the Painted Ladies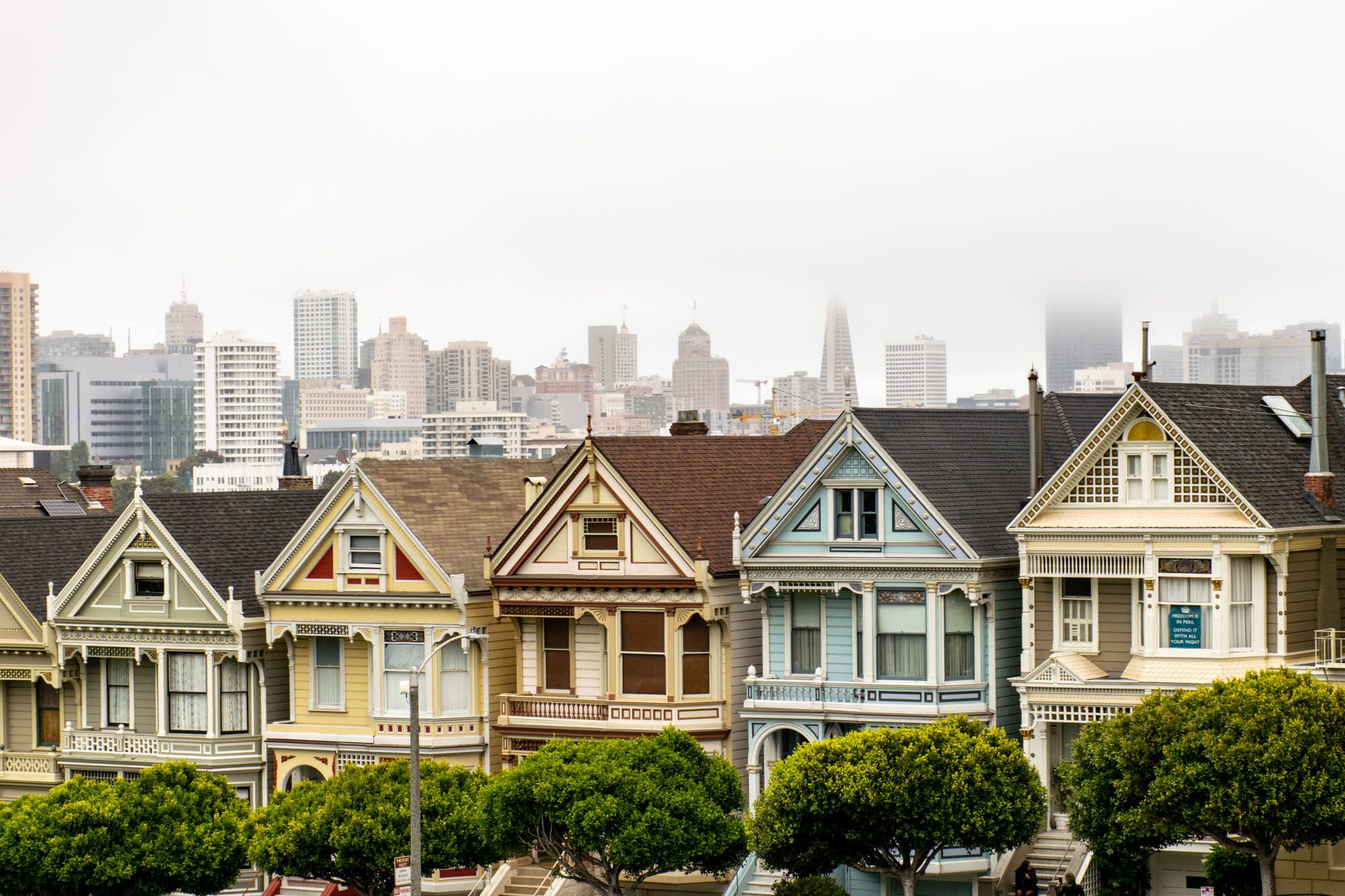 After breakfast and getting your shopping fix, stroll up to Alamo Square and the Painted Ladies, made famous by the TV show "Full House."
Once you get off Divisadero Street, you'll start to realize that Victorians are actually a fairly common thing to see in this part of the city, and you'll wonder how these happened to get famous.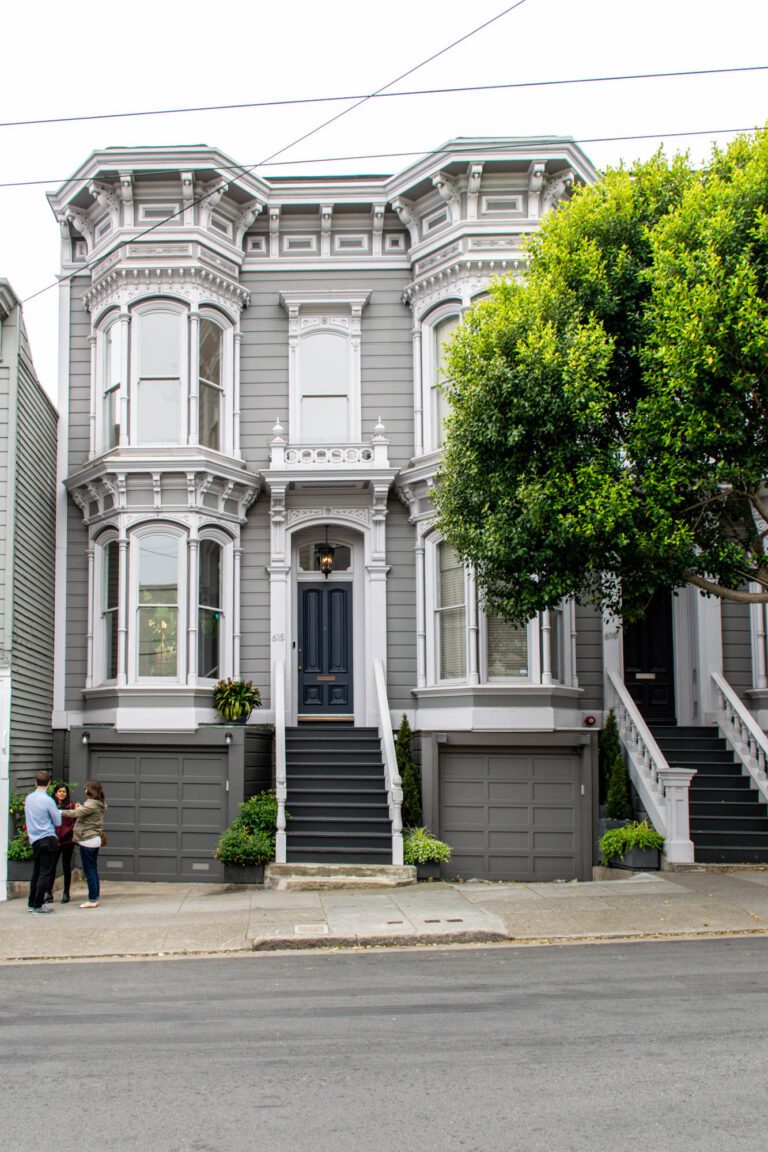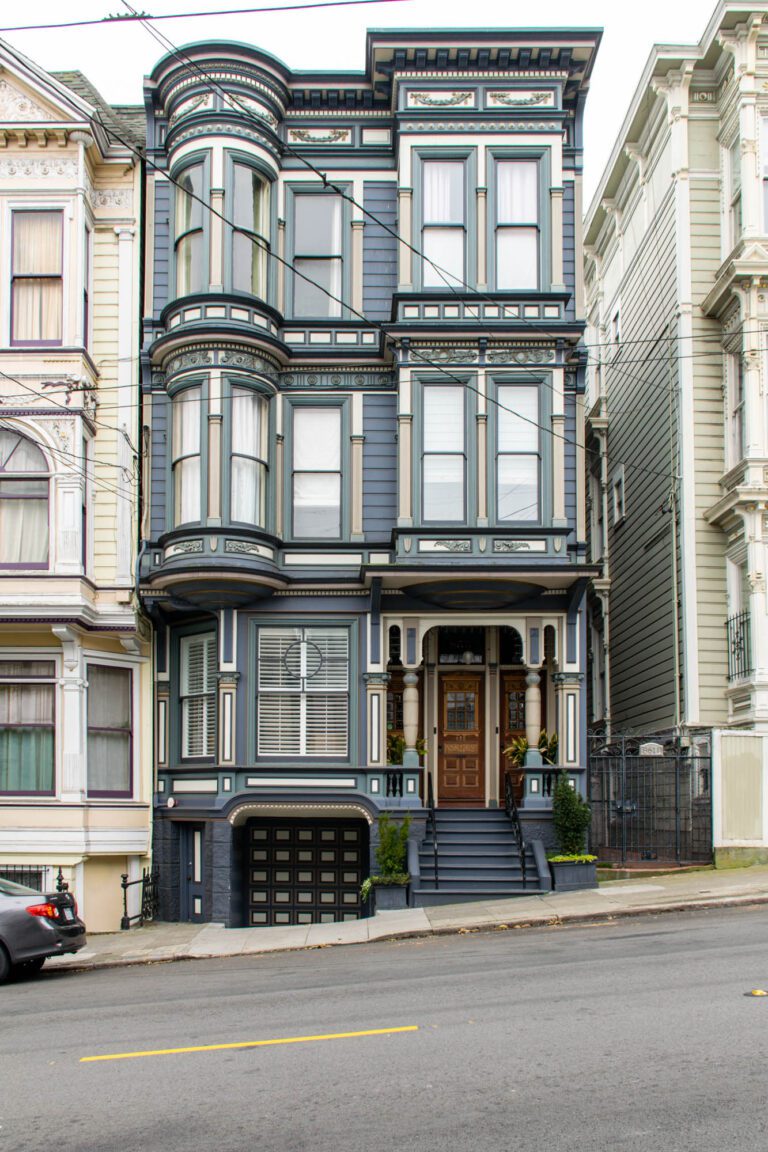 It's mostly because of the view from Alamo Square, the park across the street, where you'll have a nice view of the Ladies in the foreground, with the San Francisco skyline in the background.
Did you know this is the most photographed spot in all of San Francisco? If you're there on a weekend, hit up the Lady Falcon Coffee Club truck in the middle of the park for another cup of joe. This time, from a local female-owned and operated business.
Corona Heights Park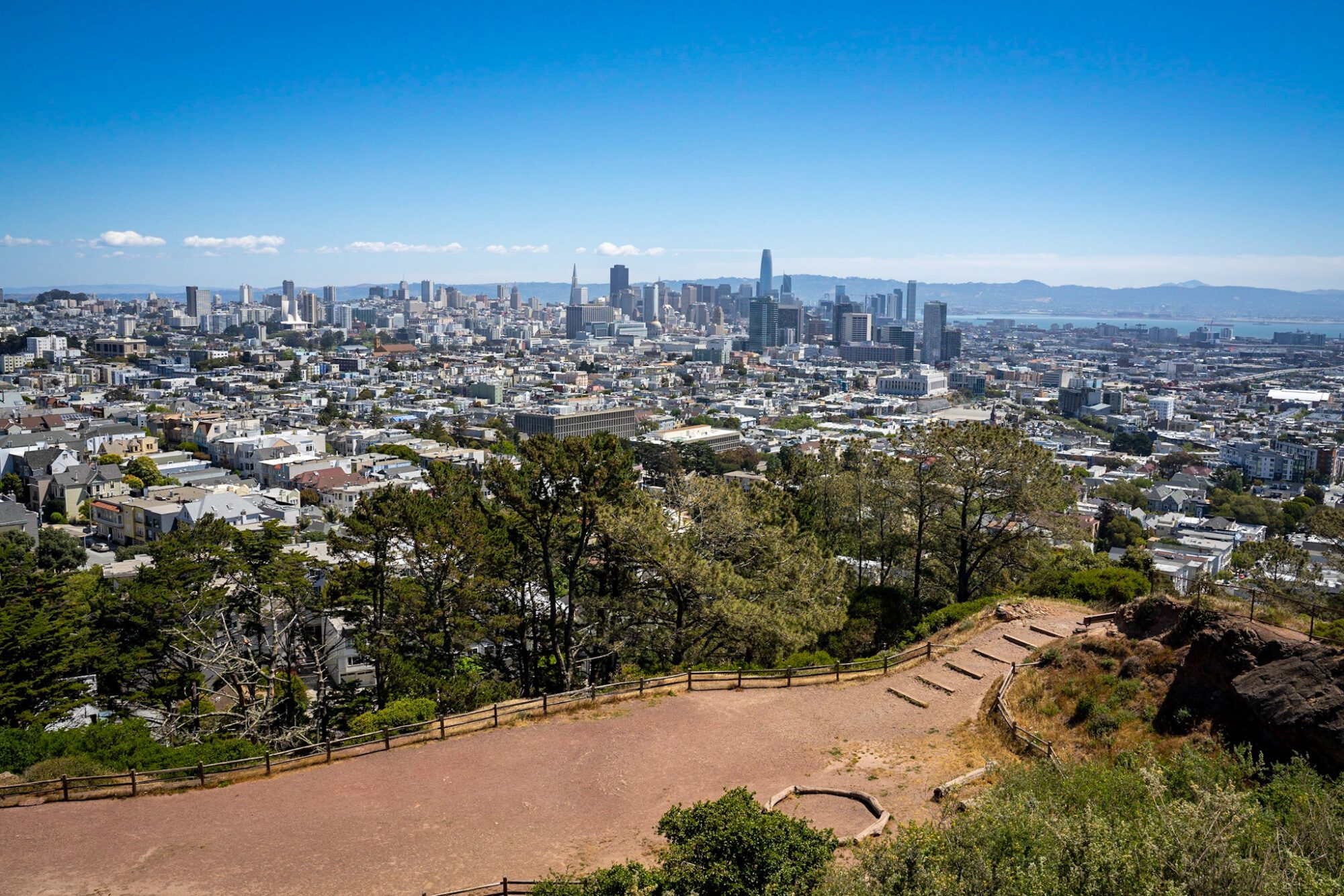 Most people will send you up to Twin Peaks, which is no doubt an excellent view of the city, but it's constantly packed with tourists looking for that picture perfect view of the downtown San Francisco skyline with Market Street acting as a great leading line in the foreground.
However, we'd point you to a much less visited spot – Corona Heights Park – where you get a similar view without all the crowds.
You can find it here on Google Maps.
From there, walk down into the Mission District, where you'll be spending the rest of your third day in the city.
The Mission District
The Mission District is easily one of our favorite neighborhoods in San Francisco for a few different reasons.
First is the weather. San Francisco locals know that the city is full of different microclimates, and the Mission is consistently at least 5 degrees warmer and free from the fog that descends on the rest of the city. We've been in situations where it's 48 degrees, foggy, and windy at our house in Nob Hill, and a mile away in the Mission it's 65 and clear blue skies.
Second is the food and drinks. There is no better neighborhood to eat your way through than the Mission. From famous bakeries and ice cream spots (there are two!) to taquerias and Burmese food, the Mission basically has it all.
Last, but certainly not least, is Mission Dolores Park, which is probably the best park in San Francisco after Golden Gate Park.
For those reasons, we think that the Mission is a must-see on your trip to San Francisco. Here's what we'd do with your time in the Mission.
However, you should know that it's one of the fastest-gentrifying areas of the city, and it shows. You'll pass by people from all walks of life in the Mission, which is evident when you walk down Valencia Street and see brand new hipster coffee shops and home goods stores next to Mexican grocery stores and taco shops that have been there for decades.
It's worth remembering that the Mission – which is San Francisco's oldest neighborhood where you'll find the oldest remaining building in the city – has traditionally been home to the Latino community in San Francisco. Until recently, that is, when rapidly rising rents have pushed out residents who have lived there for decades in exchange for tech workers and hip brunch spots and fancy cocktail bars.
We're not going to solve gentrification here, and completely recognize that part of the reason we love spending time in the Mission is the bars, restaurants, and shops that are a direct result of that gentrification. Instead of trying to solve it, we'd encourage you to read this piece in the SF Chronicle about the Mission's history and how it is changing to understand the issues facing the neighborhood.
Valencia Street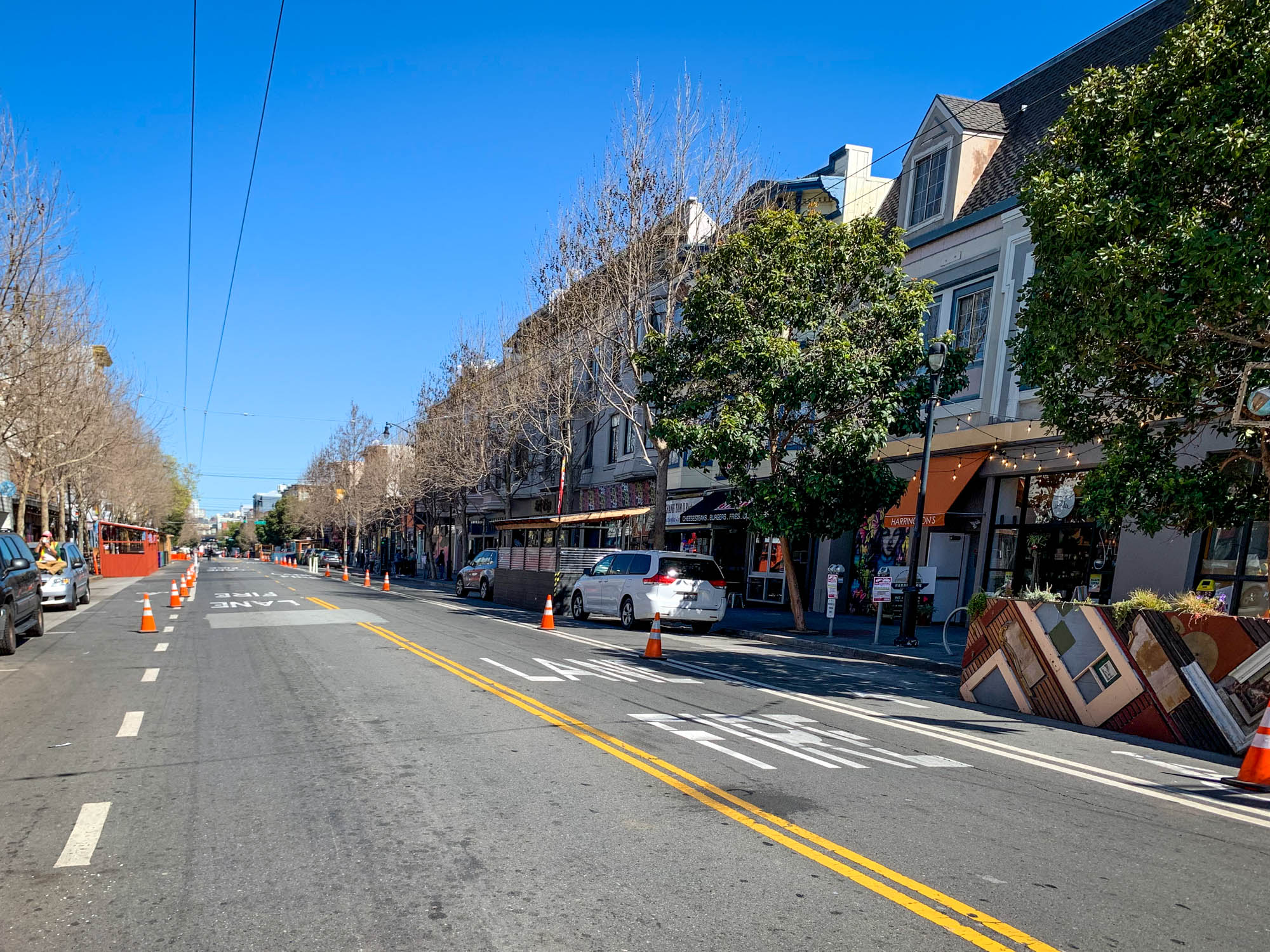 Valencia Street is one of the best shopping streets in the city. If you're looking for trendy clothing boutiques and upscale home goods stores, there's no better place to look.
Here are some shopping highlights:
Of course, there's also a ton of great places to eat and drink on Valencia. We'll cover a couple of spots on Valencia below in the "eating in the Mission" section, and we'll focus on coffee, tea, and hot chocolate here.
For coffee and drinks, our favorite spots are the European-style hot chocolate (the thick, rich kind) at Dandelion Chocolate, great coffee at Ritual Coffee Roasters, and the matcha at Stonemill Matcha.
It's also well worth stopping at Clarion Alley (here on Google Maps), a vibrant collection of murals that features bright colors and biting commentary on current social and political issues.
In particular, you'll find a lot of commentary on the immigrant experience in San Francisco and the United States as a whole, and on rising inequality in a city where the gap between the richest and poorest residents continues to grow at an alarming rate. More information on the project here.
Mission Dolores Park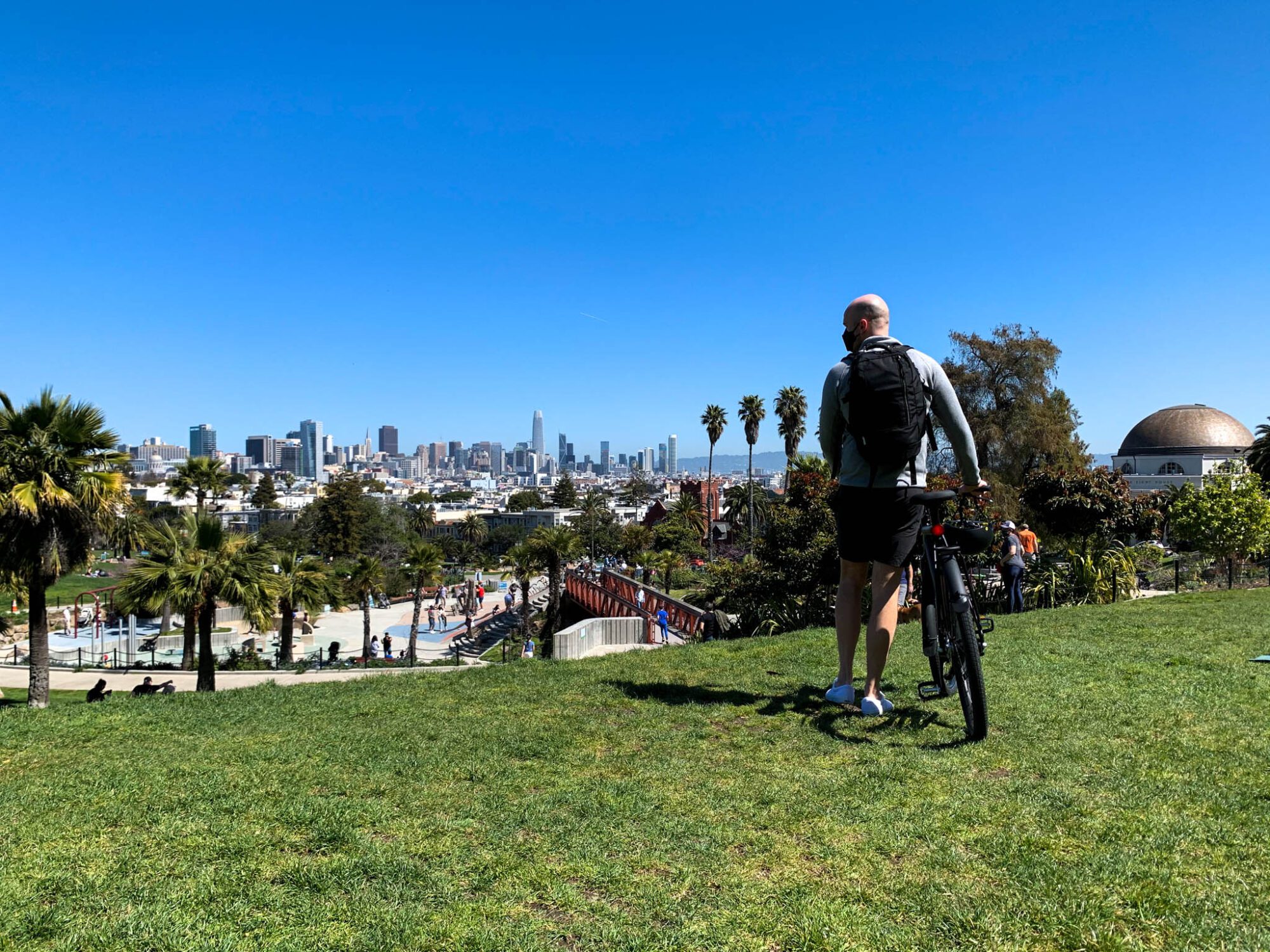 Mission Dolores (or the proper name, Mission San Francisco de Asís) which is a few blocks north of the park that is named after it, is the oldest intact building in the city.
It was built wayyyy back in 1776, when the Catholics showed up with a mandate to evangelize the indigenous people who had called California home for millennia. A tale as old as time. You can see the original mission next to the newer, bigger, more opulent basilica at the corner of 16th and Dolores.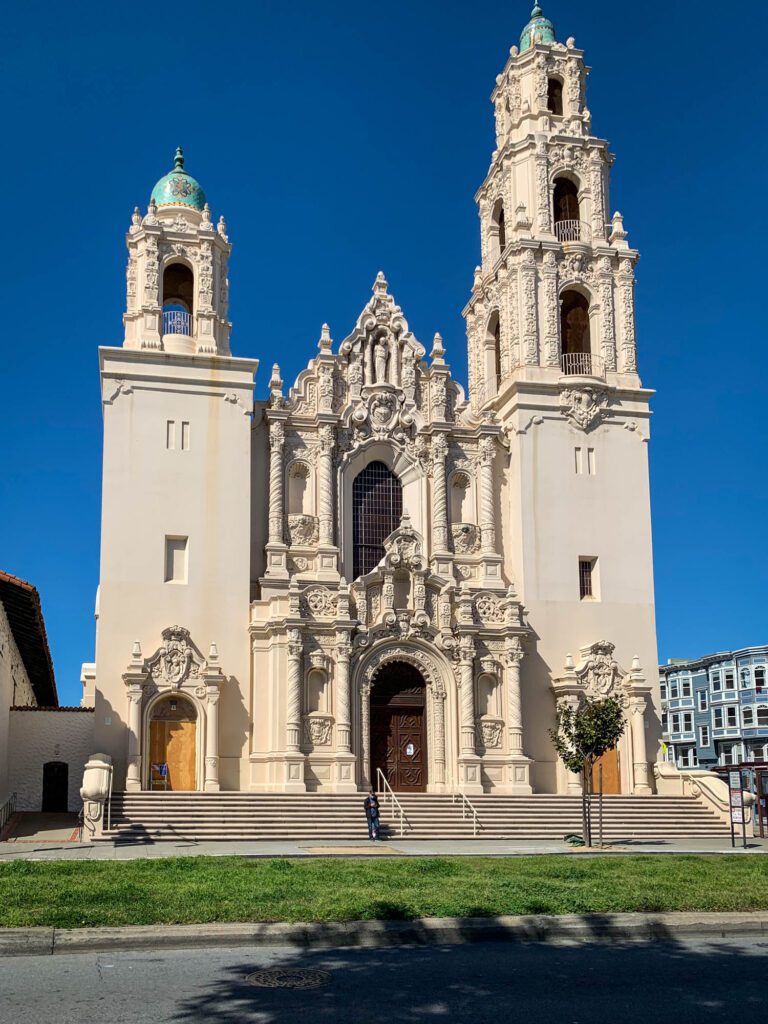 Mission Dolores Park, on the other hand, is one of the most popular parks in the city, especially on warm, sunny days, when you'll find thousands of people flocking to the park with their picnic blankets and boozy beverages, clad in the smallest possible amount of clothing, to enjoy the sights and sounds of the Mission.
This is a fun place for a picnic lunch or picnic happy hour, and you can grab supplies at nearby Bi-Rite Market which has a good selection of wine, beer, cheese, crackers, and whatever else you're craving.
Kitty corner from the park is one of Alysha's favorite places in San Francisco – Bi-Rite Creamery, which is probably the best ice cream in the city.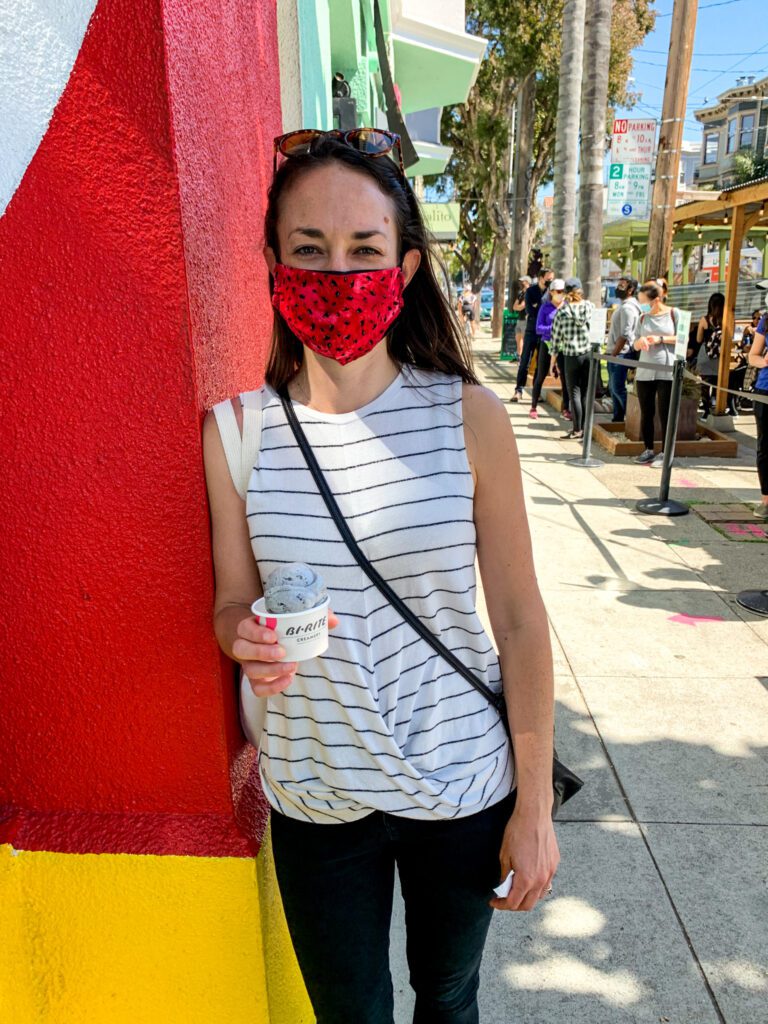 Dinner and Drinks in The Mission
From affordable taquerias to more upscale restaurants, the Mission has a great range of food and drinks to enjoy. We'd recommend staying in the neighborhood for dinner and drinks, where you'll have a smorgasbord of choices.
Where to Eat in the Mission
Tartine: This bakery on the corner of 18th and Guerero is Instagram and Netflix-famous (and just about every other form of media too). This small, cozy bakery is the original location, where you'll find all sorts of delectable, definitely NOT GLUTEN FREE treats like croissants and other kinds of pastries alongside life-changing breads. Alysha has a list of places that she will eat gluten (most of the time she doesn't because I have Celiac Disease, and it makes life easier for both of us) and this is on it. They have a bigger, more brunchy space a few blocks away called the Manufactory, too.
Taquerias: The Mission is probably most famous for its taquerias. Go to La Taqueria for Mission style burritos, and Taqueria El Farolito for tacos. Of course, there's a nearly endless number of different options in the area – here's a guide for you to find the perfect taqueria for yourself.
Burma Love: Sister restaurant of Burma Superstar, which is one of our favorite places to eat in San Francisco (and was right near my first apartment in the city). If you've never had Burmese food, this is the place to do it. Get the tea leaf salad (duh) and the chicken curry.
Pica Pica: Venezuelan-style arepas, stuffed with everything from spicy chicken, slow braised beef, and sweet plantains. We LOVE this place, and it's 100% gluten free. Get a cachapa too, which is like a sweet corn crepe filled with similar fillings as the arepas. Oh, and definitely get the orange spicy cream sauce too.
Pizza in the Mission: Alysha loves Little Star Pizza, a San Francisco institution, but when we asked our friends who lived in the Mission what their go-to pizza spot was, they responded with Cellarmaker Pizza, which is a bit further south and is a place to get both pizza and beer (Cellarmaker Brewing is the brewery that owns it). Other great options are Flour + Water Pizzeria and Delfina.
Where to Drink in the Mission
The Mission, while lively during the day, really comes alive after dark. Here are our favorite places to grab a drink in the Mission, though there are a bunch of great options that we either haven't made it to or completely forgot about.
ABV: Our absolute favorite cocktail bar in the city. Hands down.
Monk's Kettle: Across the street from ABV, this is a bar focused on beer – specifically Belgian beers – and they also happen to have a great cider selection.
El Techo: Rooftop margaritas with excellent views over San Francisco. Need we say more?
Urban Putt: The scene of our second or third date in San Francisco, this is a bar with an extensive San Francisco-themed mini golf course.
Day 4: Choose Your Own Adventure (2 Day Trip Options)
On your last day, we'd recommend getting out of the city on a day trip. Since we've already covered the fact that you definitely shouldn't rent a car if you can avoid it, we'll give you some options for a car-free day trip, which is going to involve booking a guided tour in some cases.
Option 1: Wine Tasting (in a Charming VW Bus!)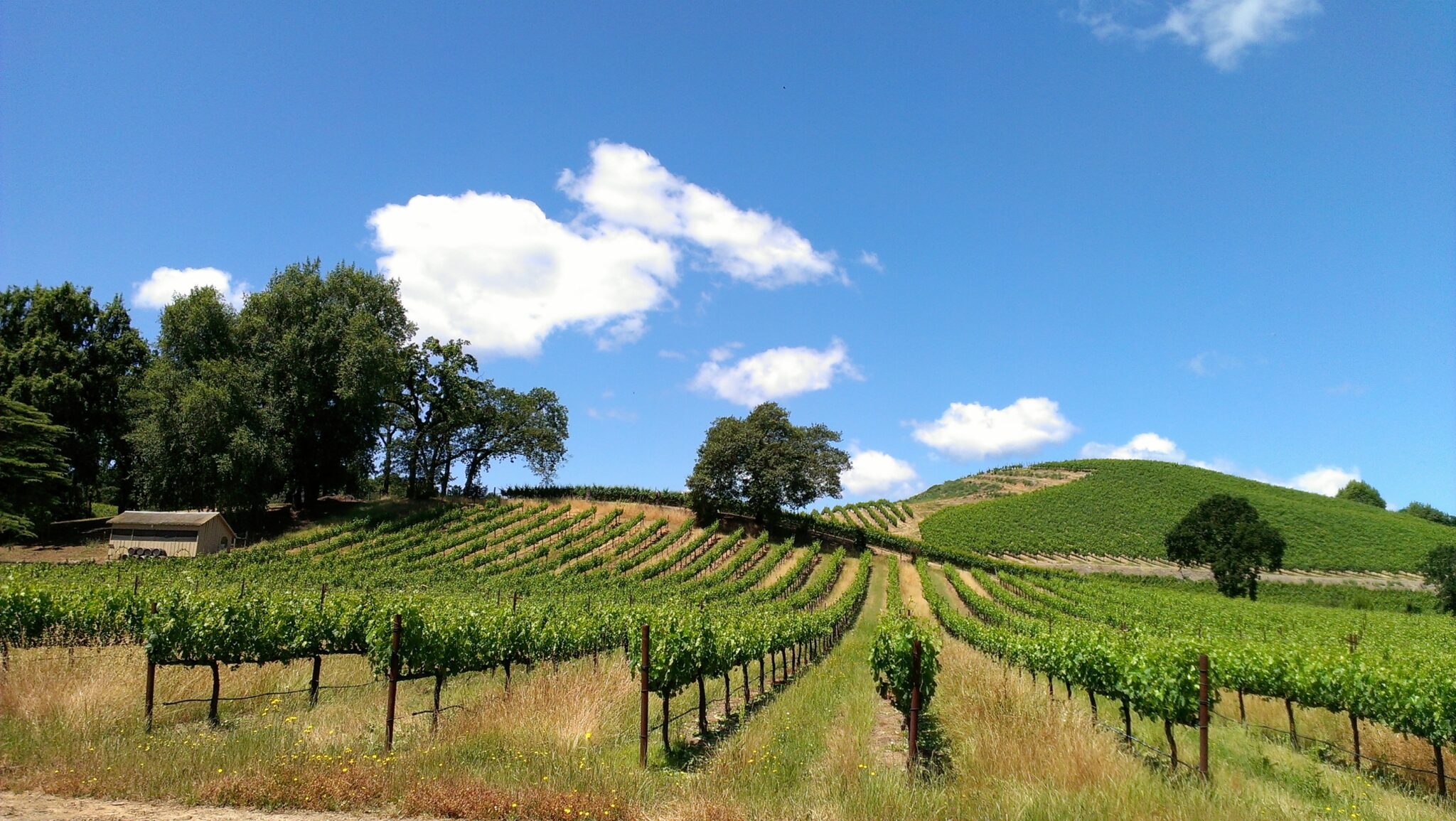 Some of the most famous wine country in the entire world is just an hour or two north of San Francisco. Napa Valley is the most famous, and also the most expensive and crowded.
We opt to head to Sonoma, which is a less famous but equally interesting wine region adjacent to Napa where you'll find significantly cheaper tastings that don't require advance reservations (in most cases).
We're assuming you don't have a car, which means you're going to need to hop on a guided tour if you want to do some wine tasting. Which, if we're being honest, is probably the best approach to enjoy the wine without having to worry about drinking and driving.
As soon as we saw this wine tasting tour in a vintage VW Bus, we knew it had to go on the list. Note that this tour DOES NOT include tasting fees or lunch, just the transportation to and from San Francisco and between wineries.
An alternative would be this small group Sonoma wine tour, which DOES include wine tasting fees at three wineries (but not lunch) and also includes a stop on the way home at Sausalito and the Golden Gate Bridge.
Option 2: A Hike in Marin County + Muir Woods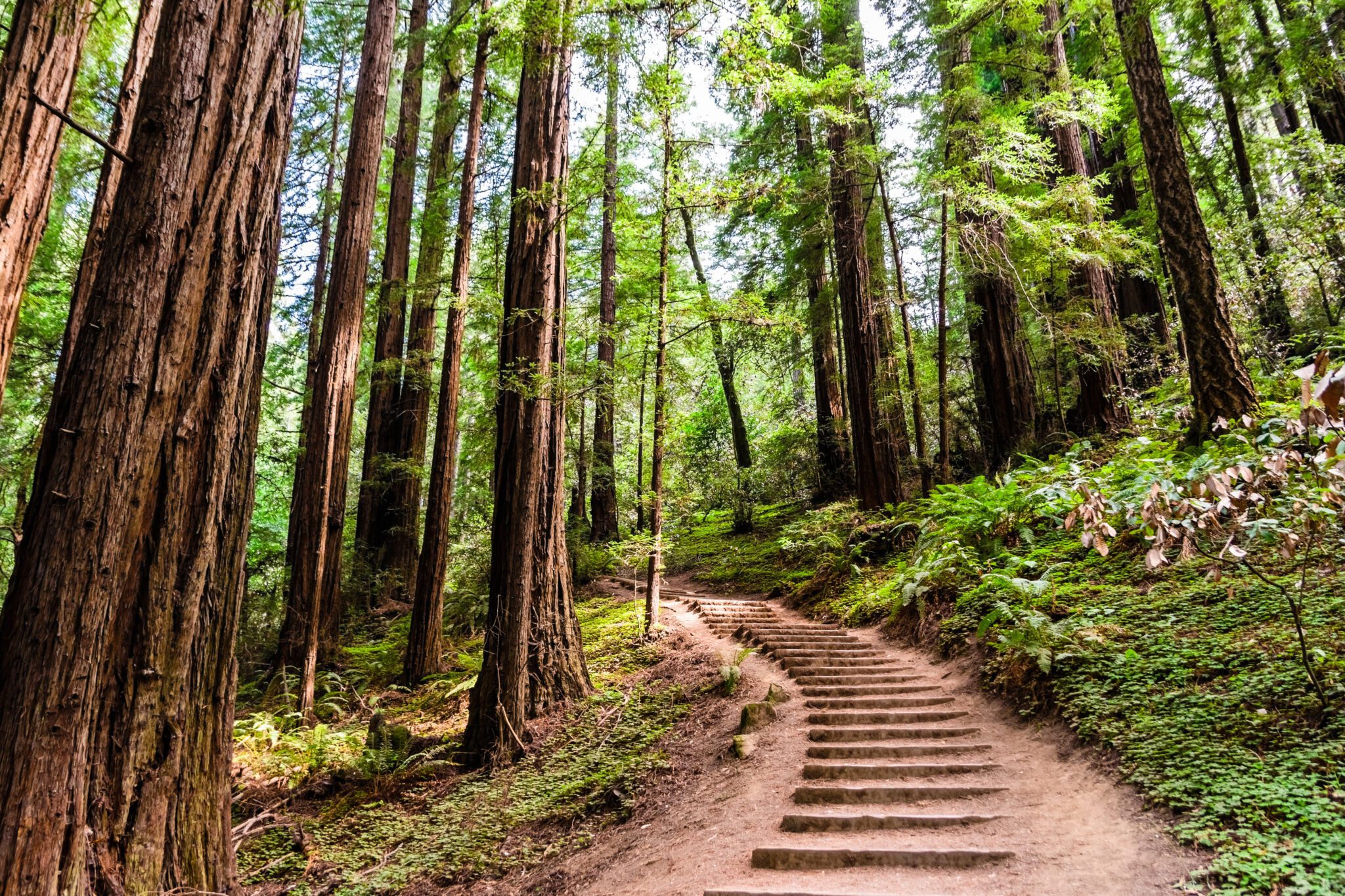 Our first recommendation would involve renting a car (or getting a Zipcar) to explore north of the city, which we realize isn't possible for everyone since we literally told you DO NOT RENT A CAR at the top of this guide. Don't worry – we have an alternative tour that you can join if you're car free.
Marin County, which is where Alysha grew up, has some of the best hiking in the Bay Area (plus the redwoods). A perfect self-drive half day itinerary would look something like this:
Grab breakfast on your own and drive over the Golden Gate Bridge into Marin.


Stop at Equator Coffee on Highway 1 for some tasty coffee.


Stop at Muir Woods to see the towering redwoods of Northern California – note that you will need to make a reservation in advance for parking or the shuttle (runs weekends and holidays only).


Hike either Tennessee Valley Trail (SPECTACULAR coastal views) or to the peak of Mount Tamalpais (views across the Bay Area and to the city on a clear day).


Stop at Flour Craft Bakery (100% gluten free!) in Mill Valley on the way back for some lunch – get the blackberry earl grey scone and thank us later.


Drive over the Golden Gate Bridge back into the city. You pay on the way back into the city, and you don't need to stop – they'll mail you the bill.
If you don't have a car, this is going to be a little bit harder to pull off. In that case, we'd recommend focusing on Muir Woods instead, which is basically the only place where you can find a guided tour. Here's a highly rated guided tour that would be at the top of our list (plus it includes a stop in Sausalito).
If you want a combination of the first two day trips, we'd recommend booking this guided tour that takes you to Muir Woods in the morning for some redwoods, then up to wine country for the afternoon.
What to Do with Less Time in San Francisco
Have less time in San Francisco? Here's an overview of how we'd spend one, two, and three days in San Francisco. There's a ton of overlap with the itinerary above, so you can still use those detailed sections to plan your trip!
One Day in San Francisco
Lucky for you, we have an entire guide to spending one day in San Francisco!
Here's the short version. If you've only got a day, we'd recommend heading over to that post, which has you covering the Golden Gate Bridge, the Ferry Building and North Beach, and the Mission in an action-packed day.
2 Days in San Francisco
With a couple of days in San Francisco (or a weekend), we'd follow days 1 and 2 of the main itinerary above basically as written, but we'd add dinner and drinks in the Mission District after the Golden Gate Bridge.
So your first day would be the Ferry Building, North Beach, Chinatown, and Nob Hill with an optional trip out to Alcatraz in the evening.
Your second day would focus on the western half of the city, starting with brunch in NoPa / at Zazie, then meandering through Golden Gate Park out to Ocean Beach, ending with a walk on the Lands End Trail for sunset at the Golden Gate Bridge. Then head to the Mission District for dinner and drinks.
3 Days in San Francisco
This one is easy! Follow days 1 through 3 of the itinerary above as written! Unfortunately, that means no day trips from San Francisco, but three days gives you a nice amount of time to explore the city itself, and you can save the other stuff for your next trip.
The Best Time to Visit San Francisco
There's no real bad time to visit San Francisco, because the weather is mild year round thanks to its location on the coast and doesn't really change that much. It might swing 10-15 degrees Farenheit between summer and winter, but overall, it's pretty steady over the course of the entire year.
You're probably thinking about coming to the Bay Area over the summer. It's California! The weather will be great, right?
Wrong. Ish.
Between June and August, San Francisco turns into the fog capital of the world. It's very, very different from the weather in Los Angeles, which is the reference point that most people have for California weather. There's a reason that you see so many "I <3 SF" sweatshirts around the city, and that reason is that people end up needing to buy an extra layer when they show up expecting 90 degrees and get 55 degrees and foggy.
That being said, it often clears during the day and it's very much a pleasant place to be. Just pack a few extra layers than you think you will need.
The best time to visit San Francisco are the shoulder seasons, particularly September and October. That's when you'll get warm, clear weather, and crowds will be slightly thinner as kids go back to school.
Spring in San Francisco is great, especially if you get outside of the city and get to experience the blissful two weeks a year (I joke, it's more like four) where the hills around the city are actually green. Before they turn brown for the other 11 months of the year.
Winter in San Francisco is a good time to visit if you're on a budget. Unlike other places in the country, there's no chance of snow or really, really cold weather in San Francisco. It does get more rainy in the winter, but you also get beautiful blue days in between the rainy periods. Crowds will be thin and prices will be lower (though it's still San Francisco, so it's not exactly cheap).
How to Get to San Francisco
San Francisco International Airport (SFO) is the closest airport to the city. That's where you should fly into.
You might find some flight deals into Oakland International Airport (OAK), which is a little further outside the city, but is doable. Sometimes I actually prefer flying into Oakland because it gets FAR less fog, which means fewer flight delays.
San Jose (SJC) is a solid hour outside of the city without traffic, and I wouldn't fly there unless you're coming to Silicon Valley.
How to Get into San Francisco from SFO
When you fly into SFO, I would take a Lyft or Uber to your accommodations. BART, the public transportation option, is ~$10 per person from the airport and will take about an hour. You can usually get a shared Lyft/Uber for under $30, and it's way faster (unless there's a ton of traffic).
Getting Around San Francisco
Parking in San Francisco SUCKS. Do not rent a car for your whole trip. You will regret it.
Instead, use a combination of buses and Lyft to make your way around the city.
San Francisco has a bus system called MUNI that covers a huge portion of the city. It's cheap, relatively reliable, but it does sometimes stop twice a block, and it can take a LONG time to get from one end of the city to the other.
We also have an underground rapid transit system called BART that connects certain parts of the city and Oakland, Berkeley, and beyond. It's good for connecting the Financial District to the Mission, but that's about it in terms of the itinerary below.
If you are in a hurry trying to see as much as possible in just a weekend, we'd recommend Lyft to get around the city. It's fast, convenient, and you just have to download an app on your phone! They even have something called Lyft Line that is basically a carpool that matches people heading in the same direction to split costs.
---
San Francisco is one of the most beautiful cities in the world. Between the towering Golden Gate, easy access to the Pacific Coast, and its proximity to world-class outdoor activities, everyone should visit San Francisco at least once.
Headed to San Francisco? Plan the perfect trip with our other San Francisco Travel Guides
Planning a trip to California? Don't miss our other California travel guides!
Share this post on Pinterest!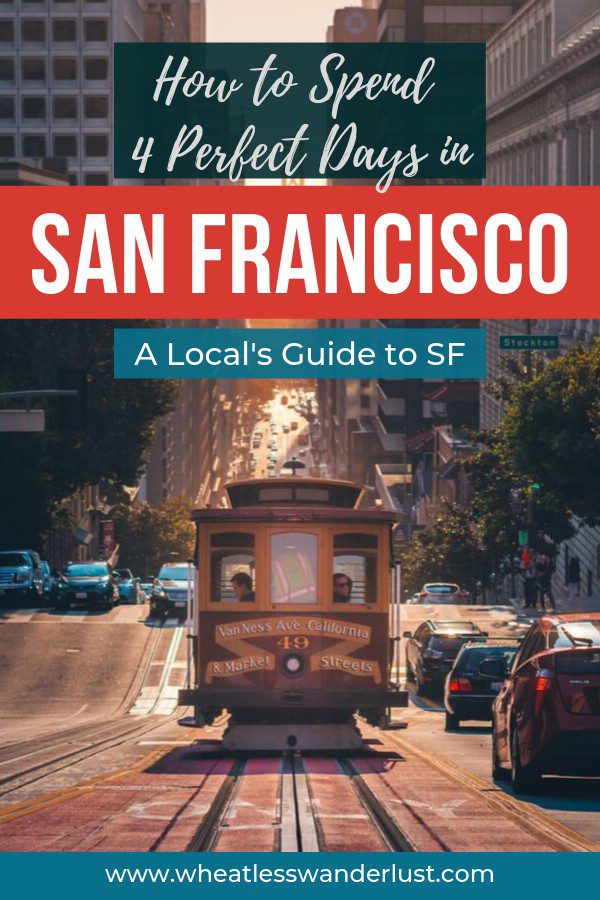 ---