Gluten Free Portland: A Complete Guide for Celiacs
It's no exaggeration to say that Portland, Oregon is the most Celiac-friendly city in America. I've had the pleasure of living in the Pacific Northwest for a good chunk of my adult life, and have made the trip from Seattle at least five times to explore the very best gluten free Portland restaurants and bakeries. Sure, there are other cities in the running for most Celiac-friendly city in America (I see you, New York City and Denver), but when I think about some of the best gluten free food experiences I've had in my decade of traveling with Celiac Disease, a lot of them happened in Portland.
Note: We spent a week in Portland over the summer of 2020, then lived there for a month in the winter of 2021, and confirmed that we still LOVE Portland both as a city, and as one of the top gluten free travel destinations in the USA.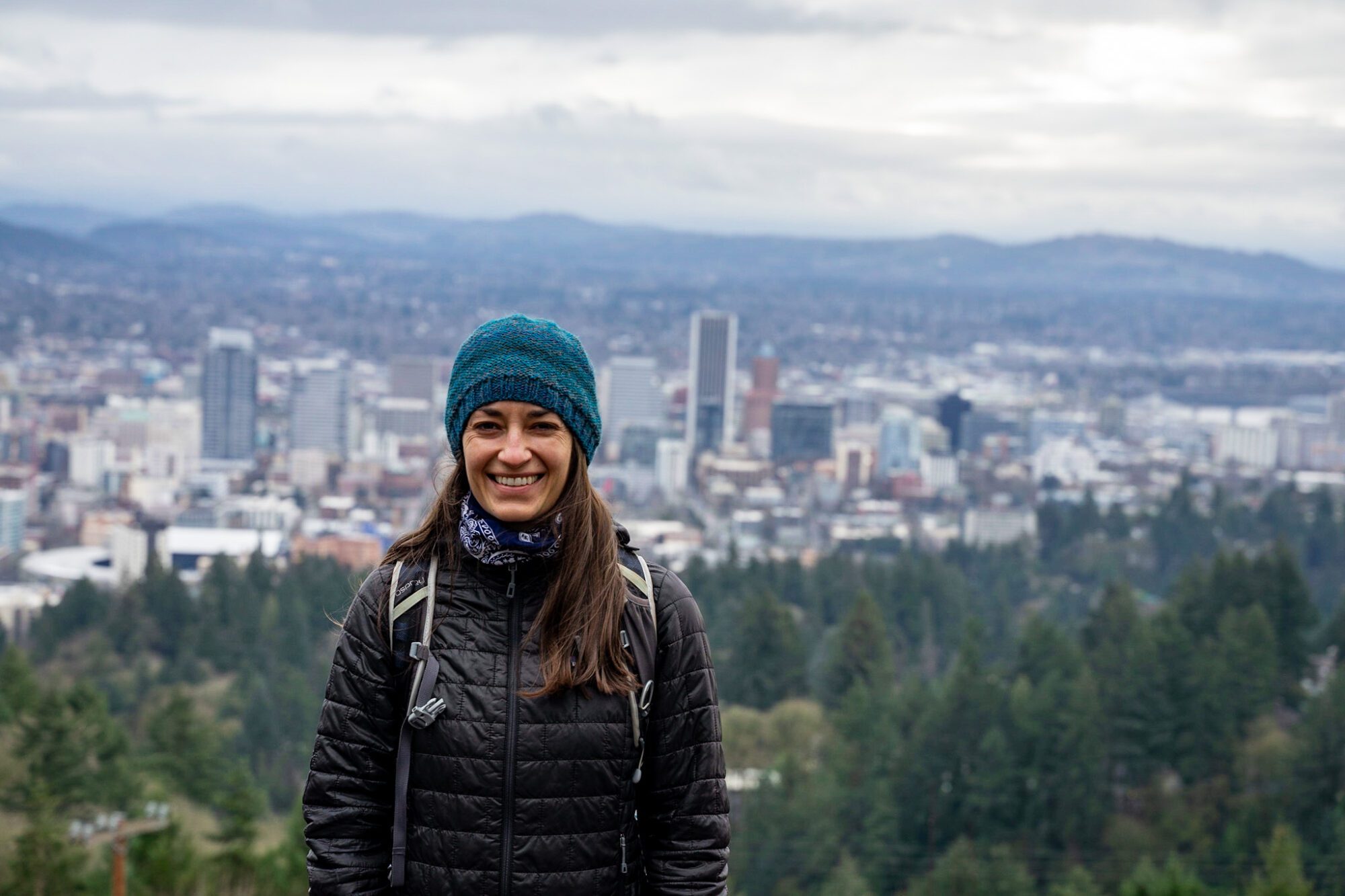 Disclaimer: Some of the links below are affiliate links, which means that if you click on one and purchase something, I make a small portion of the sale at no additional cost to you. It goes without saying that I would never recommend something I wouldn't use or do myself.
A Complete Guide to the Best Gluten Free Restaurants in Portland
Like I said, Portland has so many fantastic gluten free restaurants that it can be a little overwhelming. That's a refreshing problem to have as a Celiac, isn't it?
Here are my favorite gluten free restaurants in Portland based on my time living in the Pacific Northwest with Celiac Disease. And my numerous trips back since.
The Best Dedicated Gluten Free Restaurants in Portland
Here are the top 100% dedicated gluten free restaurants in Portland, Oregon. These places should be on every Celiac's list when they visit.
Did I miss a dedicated gluten free place? Let me know!
Don't have time to read the whole thing? Here are my top 5 gluten free Portland restaurant picks!
Ground Breaker Brewing
Groundbreaker Brewing makes 100% gluten free craft beer in Portland, where they have a taproom and gastropub with a dedicated gluten free kitchen. I have written about them before and I make sure to stop in every single time I visit Portland. It's surprisingly hard to find 100% gluten free beer (as opposed to gluten reduced) here in the Bay Area.
Luckily, Ground Breaker Brewing, a gluten free brewery in Portland, has me covered whenever I'm up in the Pacific Northwest. If you love beer and have a hard time finding Celiac-safe beer where you live, make sure to stop by Groundbreaker (and bring an extra suitcase to bring some home with you).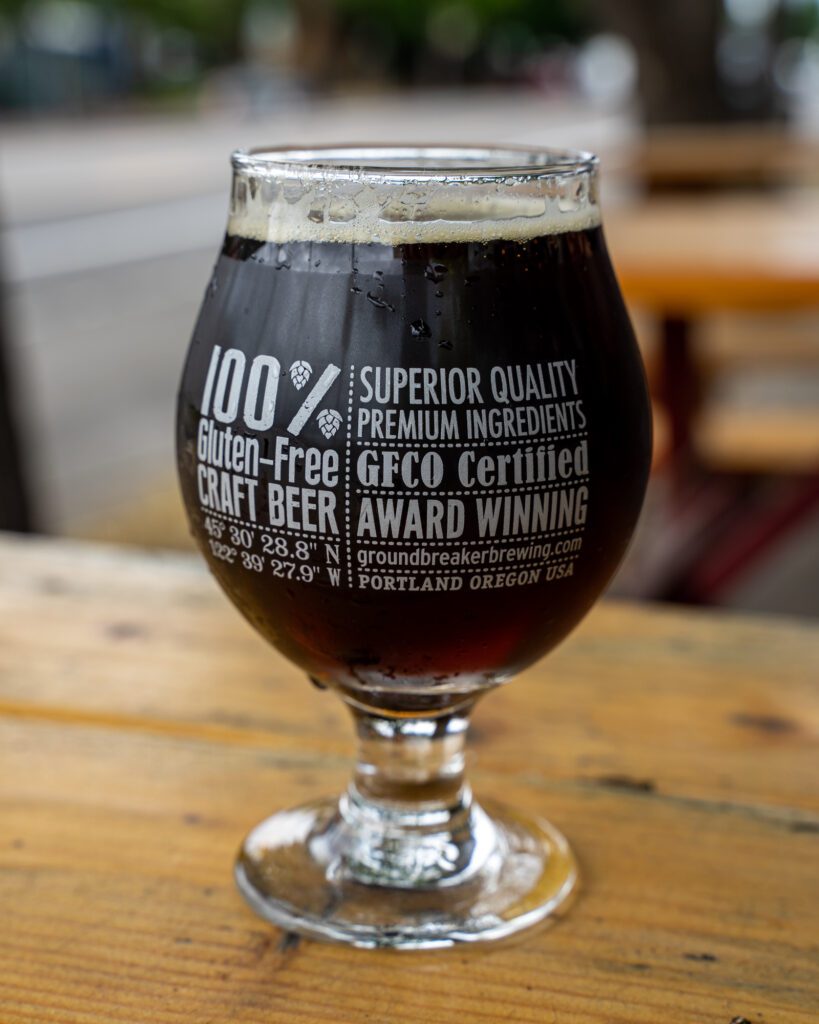 …Seriously. I check an extra bag when I fly home from Portland to bring back some delicious gluten free beer and cider. Highlights include the sourdough cornbread, the pizza, and the Cubano sandwich on the food side, and the Dark Ale and IPA No. 5 on the gluten free beer side. They have a bunch of small batch experimental beers on tap.
Tacovore PDX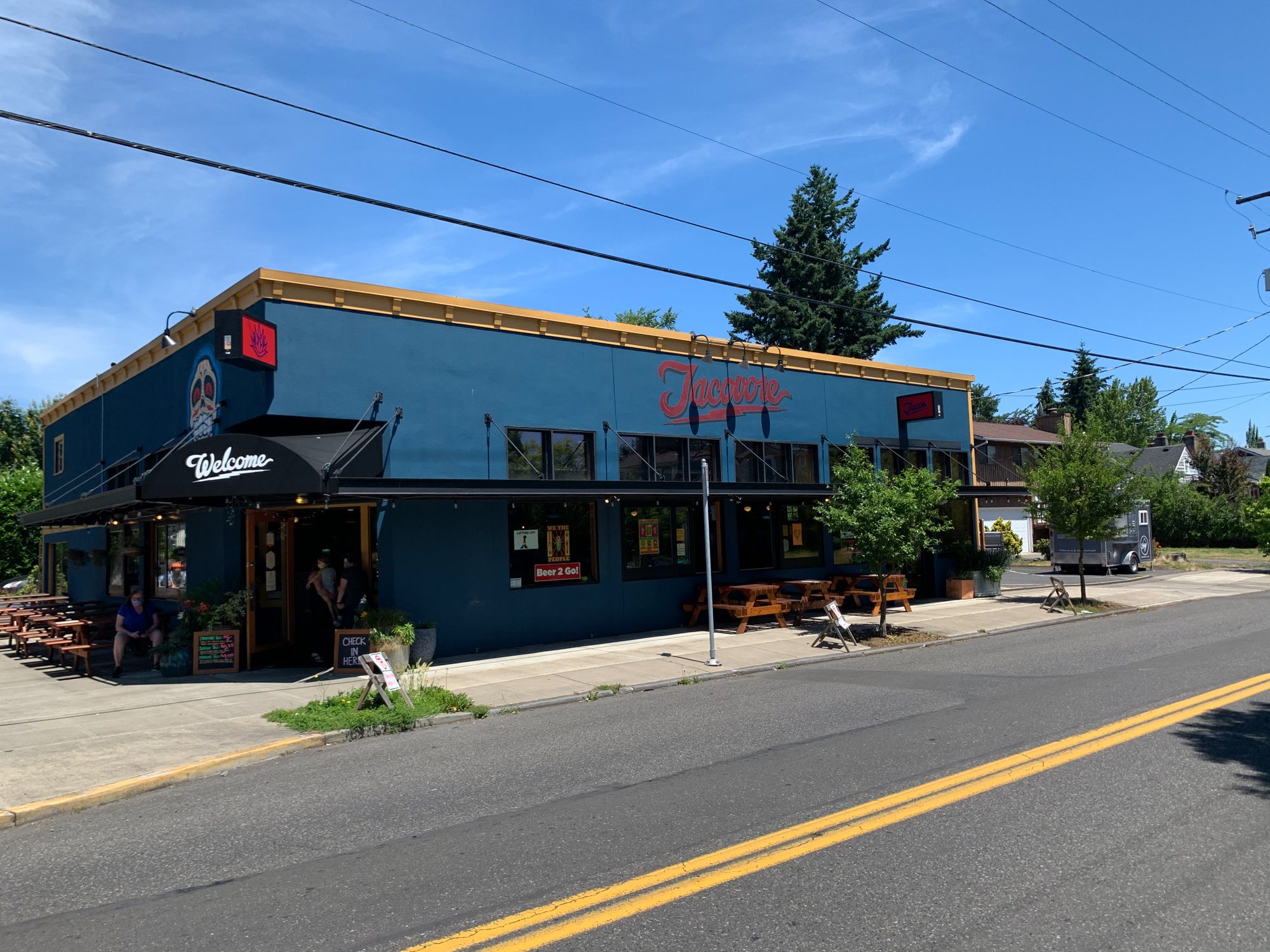 This past trip was my first time at Tacovore – a dedicated gluten free taco spot in Portland – and it didn't disappoint. The pork special taco was the standout (highly suggest you order one of the daily specials!).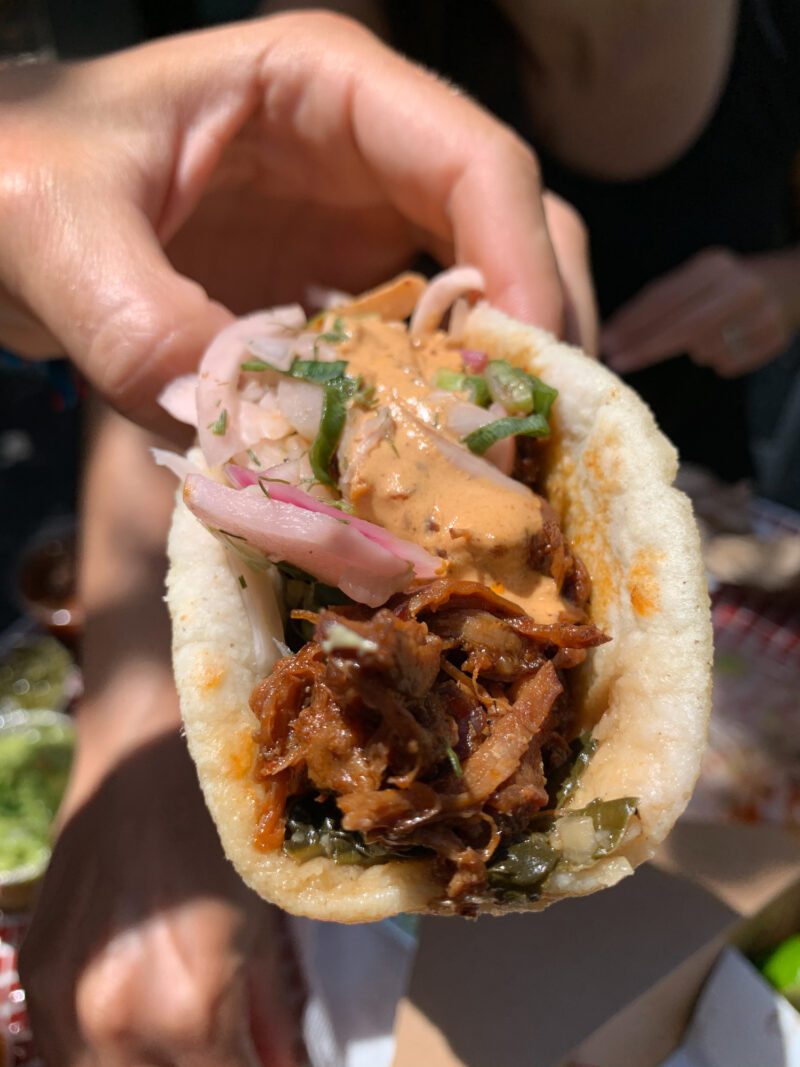 They've also got locations in Eugene and Corvallis if you happen to find yourself in one of those nearby places (IMPORTANT NOTE: the other two locations ARE NOT dedicated gluten free).
Desi PDX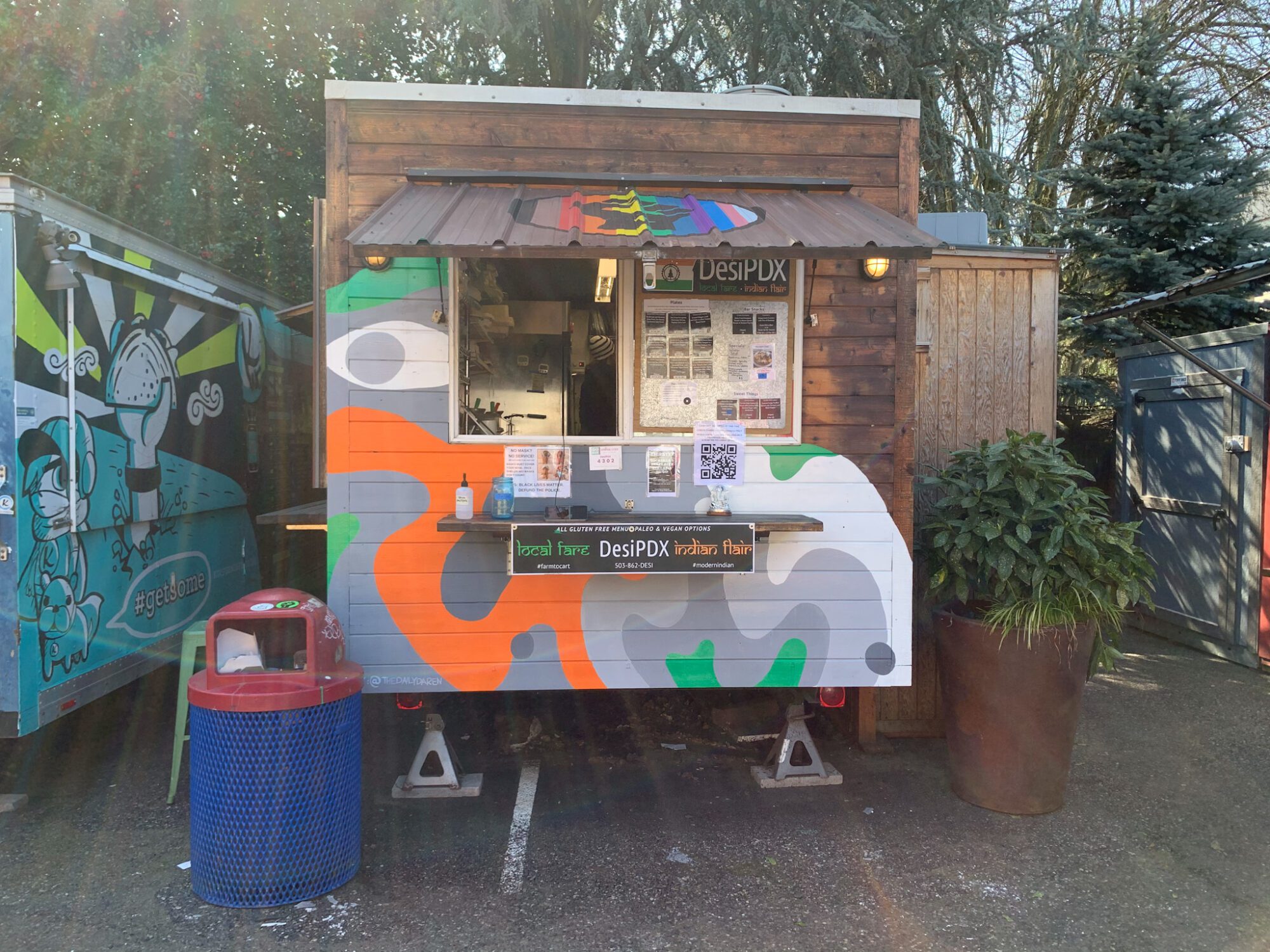 This last time I was in Portland, I had the pleasure of making it to Desi PDX, a gluten free street food cart along Mississippi St north of downtown. I've been eyeing this place for a while now, but it's just far enough outside the downtown area that I hadn't made it there. Now that I have, I can confidently say that you should too.
Update 2021: We've now been three times, and can't wait to go back. GET THE CARDAMOM CHAI CHICKEN.
It's at the north end of Mississippi street, which is an easy bus (or Lyft) ride from downtown Portland. It's inside a little food court of various street food carts, so there will be plenty of options for your gluten-eating friends if needed. I couldn't decide between the pork masala and the Chai Cardamom chicken. So I got both. The pickled veggies on top sealed the deal – this is one of the best gluten free restaurants in Portland.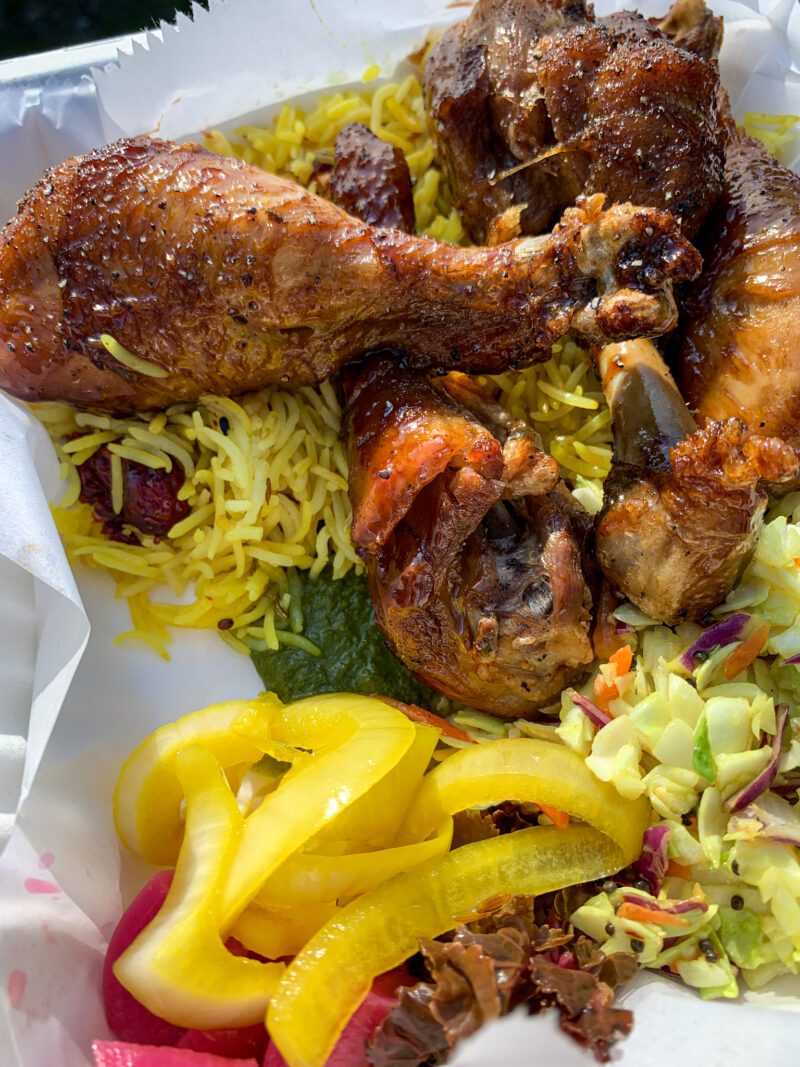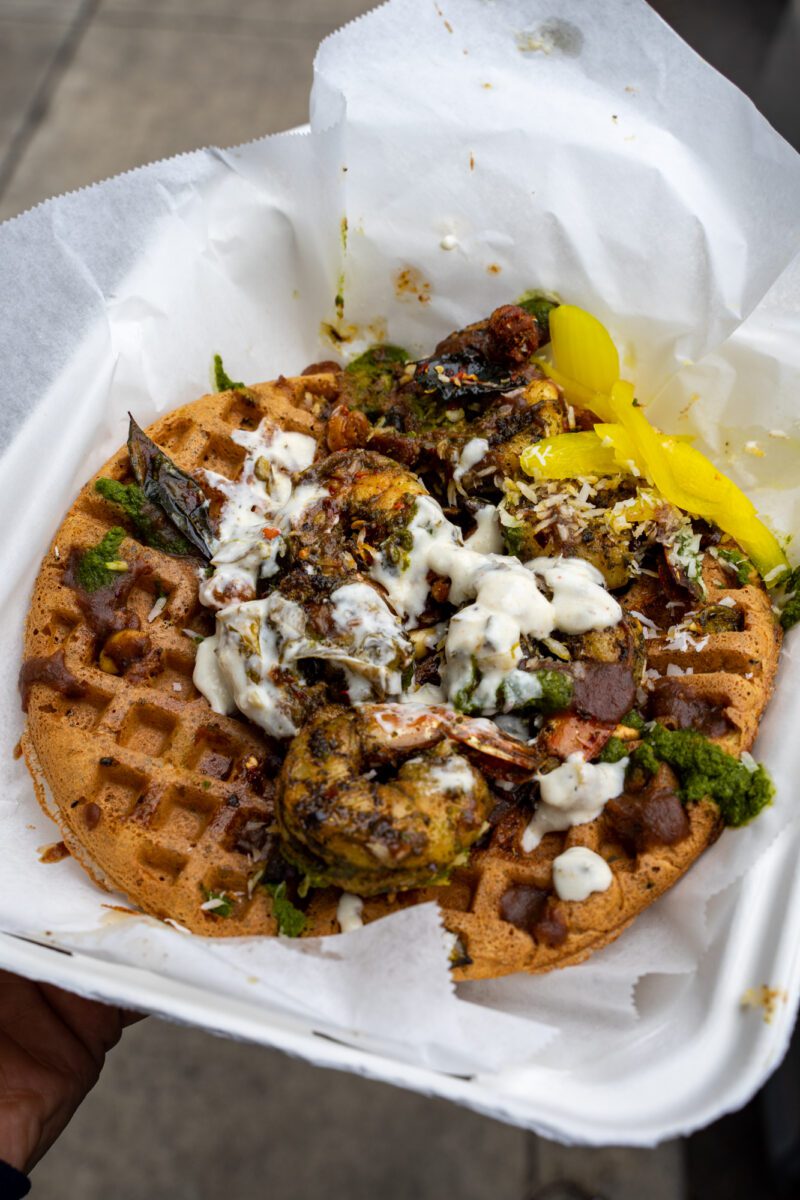 Pollo Norte
Pollo Norte serves up juicy, flavorful rotisserie chicken. Authentic Mexican style. Alongside the chicken, you'll get handmade corn tortillas, roasted cabbage soaked in the juices of the chicken (yum), and your choice of super fresh salsas (mild to spicy – get the green one). Amp up your meal with one of their sides – beans, rice, and potatoes.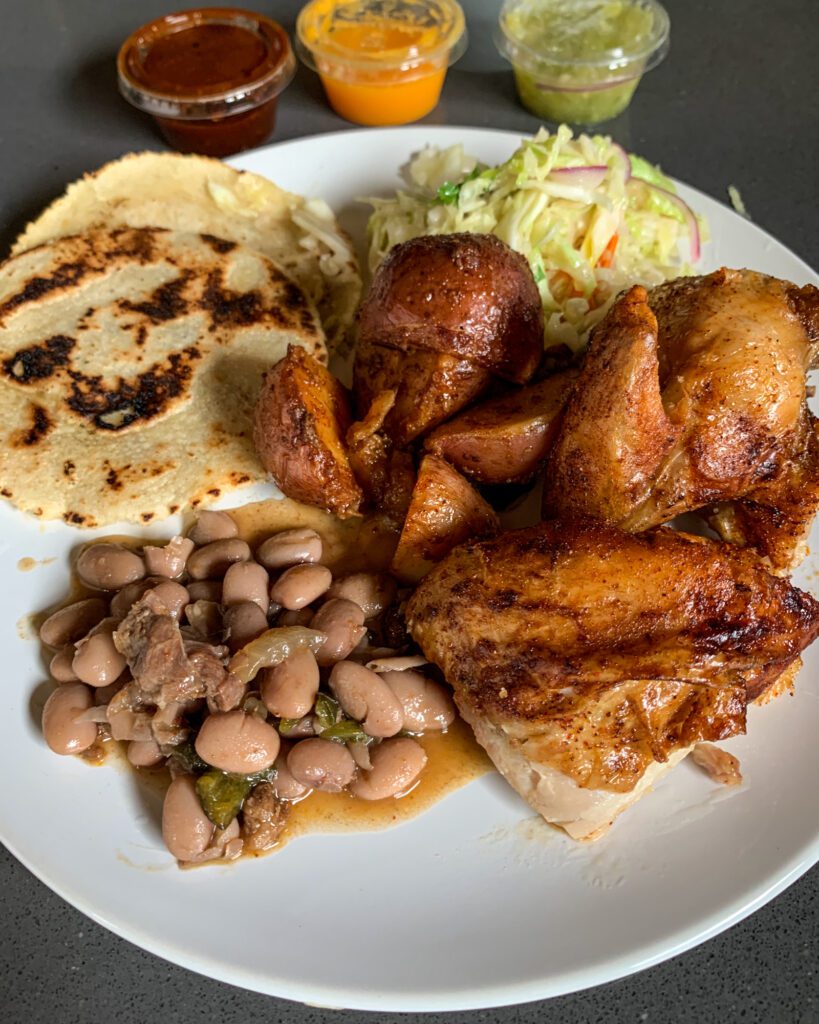 We went here three times over the course of a month in Portland – it's super good and affordable too. You can get a meal for two for about $20, including all the sides.
Everything except the beer on draft / in bottles is gluten free.
Verde Cocina
Verde Cocina has a bunch of different locations in the city (four, to be exact) and they blend local Northwest ingredients with classic Mexican flavors and dishes. Oh, and they're a 100% gluten free restaurant – no gluten in the kitchen, although they do serve beer. It's not the best, or the most authentic Mexican food we've ever had, but it's pretty good, and worth a stop if you're craving pozole or enchiladas.
I've been to the one in the Pearl District, which is probably the one you're going to end up at too. A little on the expensive side, but the food is seriously phenomenal. They also have a full bar. Which is always a plus. Get the house margarita, you won't be disappointed.
Schilling Cider House Portland
Schilling Cider is one of my favorite gluten free places in Seattle, but at that location they don't serve food. At their Portland Cider House, just east of the river, they have 50+ taps of cider, and a 100% gluten free kitchen that serves up unsophisticated bar food – and I mean that in the BEST possible way. Think corn dogs, chicken wings, fully loaded tater tots, risotto balls, and more. It's AMAZING.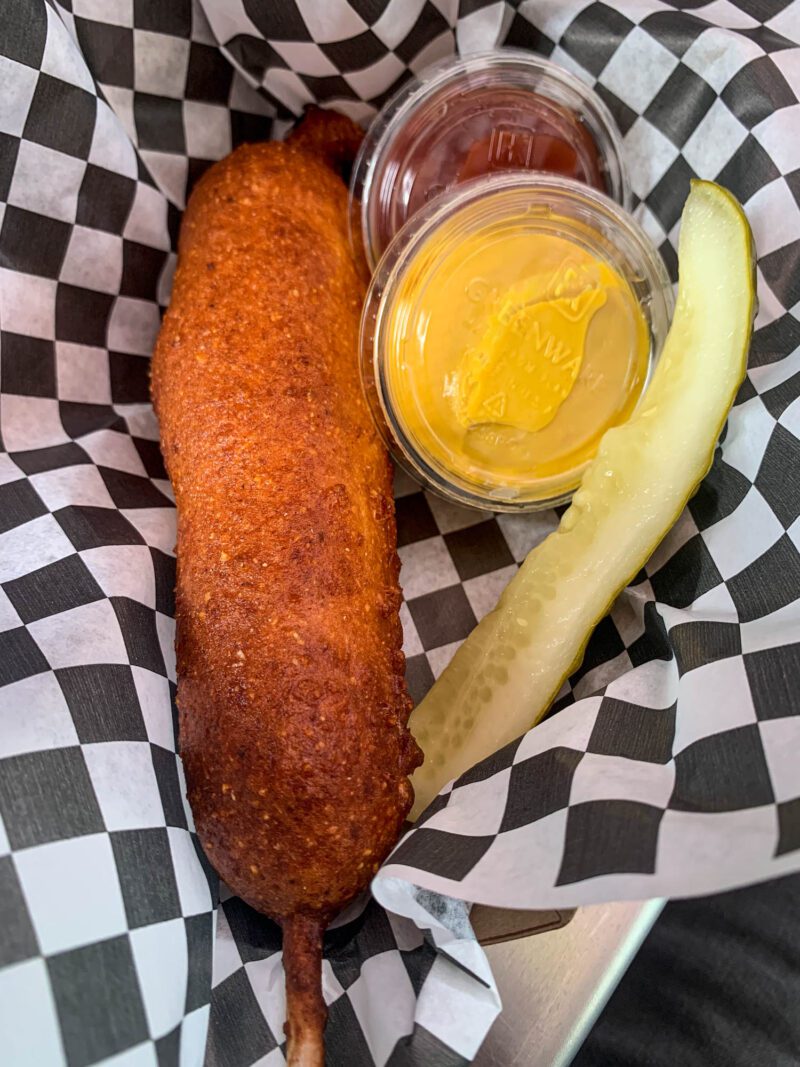 I love cider, and think you will too. Their menu is color-coded to help you pick a cider to suit your tastes, and the staff is super helpful in that regard too. From bone-dry, to sickeningly sweet (in my opinion, anyway), there's something for you.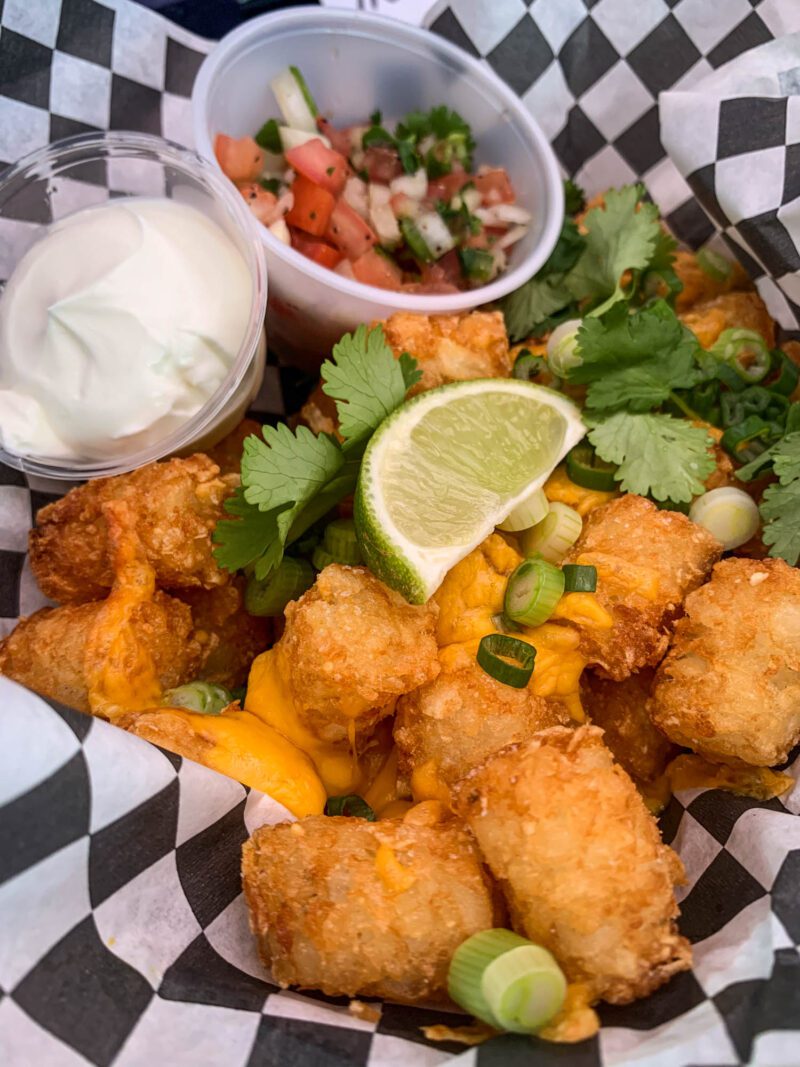 ---
Mestizo PDX
We tried Mestizo – 100% gluten free – for the first time when we lived in Portland for a month recently, and it was pretty solid. In addition to being 100% gluten free, they have tons of options for vegans and vegetarians too.
We got the lunch specials – banana blossom tacos and fish tacos – which are a solid deal and come with two tacos and some yucca fries. There's also a bowl on the lunch menu, but we opted for the tacos.
The funny part was that after biting into them, we could not, for the life of us, tell which one was the vegan taco and which was the fish. Which is generally a good sign (we figured it out eventually, but it took a solid minute or two of examining the fried items).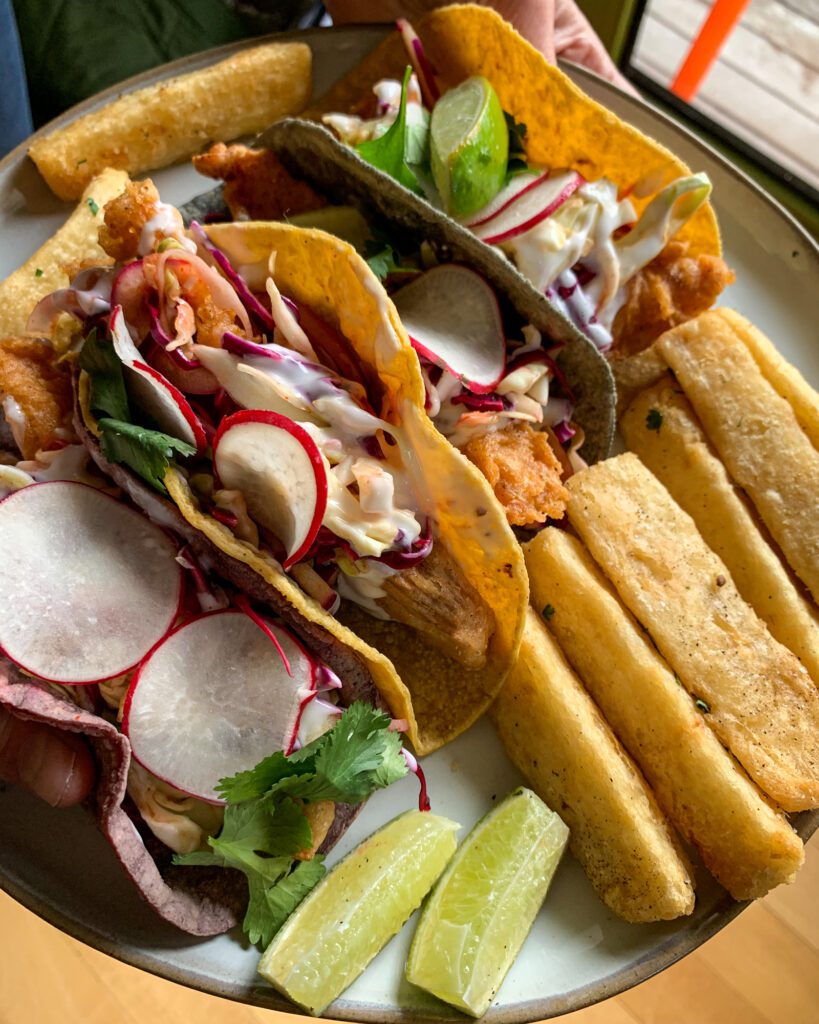 The yucca fries and plantains are also fantastic, because of course they are.
The dinner menu has far more options, including some delicious looking vegan options.
Dedicated Gluten Free Bakeries in Portland
There are an astounding number of 100% gluten free bakeries in Portland. Here are our favorites.
New Cascadia Traditional
If you only make it to one gluten free spot in Portland, it should definitely be New Cascadia. The first thing that stands out about New Cascadia, the first 100% dedicated gluten free bakery I came across in Portland a few years ago, is their bread products. Baguettes, sandwich bread, rustic Italian loaves, dinner rolls, even Challah! All of their gluten free breads actually feel like eating real bread! AND YOU CAN GET IT SHIPPED TO YOU! Their bagels are the best gluten free bagels I've ever had. Period. Last time I was in Portland, I brought home a loaf of sandwich bread, a 6 pack of dinner rolls, and a pair of baguettes. It's that good.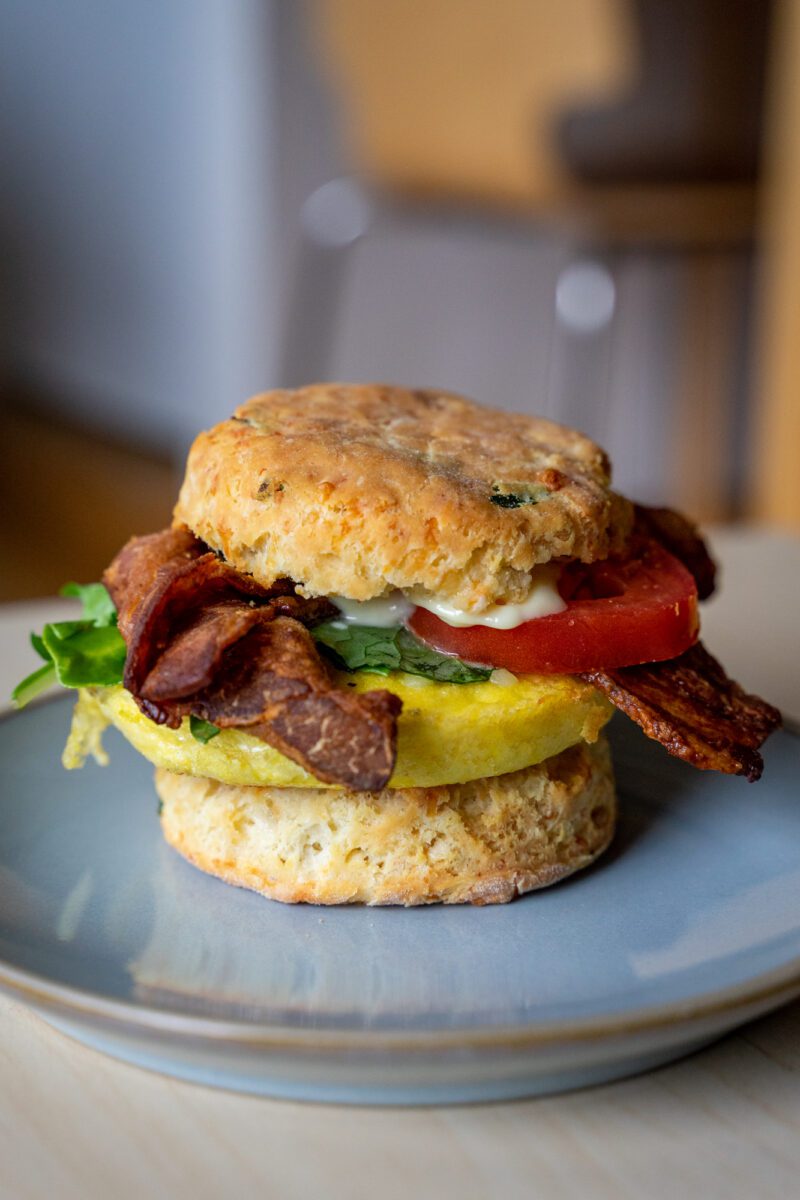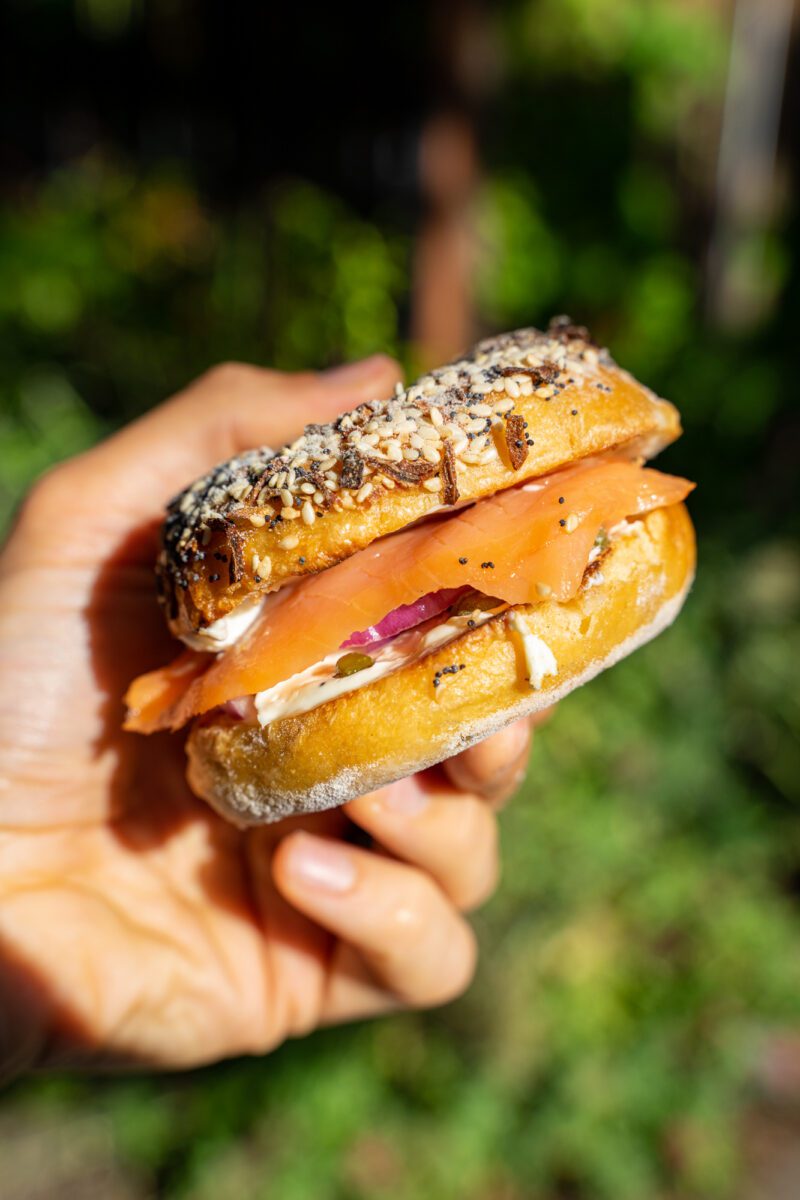 The second thing that you should do is come back for breakfast and order the biscuit breakfast sandwich and pick up some brioche donuts that will both change your life.
The third thing you should do at New Cascadia is come back for pizza night. When Alysha asked me what I wanted to do for my birthday, which fell around the time we were in Portland in late June, I had my answer ready. PIZZA NIGHT AT @newcascadia!
Little did I know that the pizza I ordered was roughly three times the size of my head. Think Costco pizza size. If you're in Portland on a Thursday, Friday, or Saturday, I HIGHLY recommend you call them early in the day and get yourself a pizza to enjoy that night. It was incredible, and the best part was that we ate pizza for like three days straight.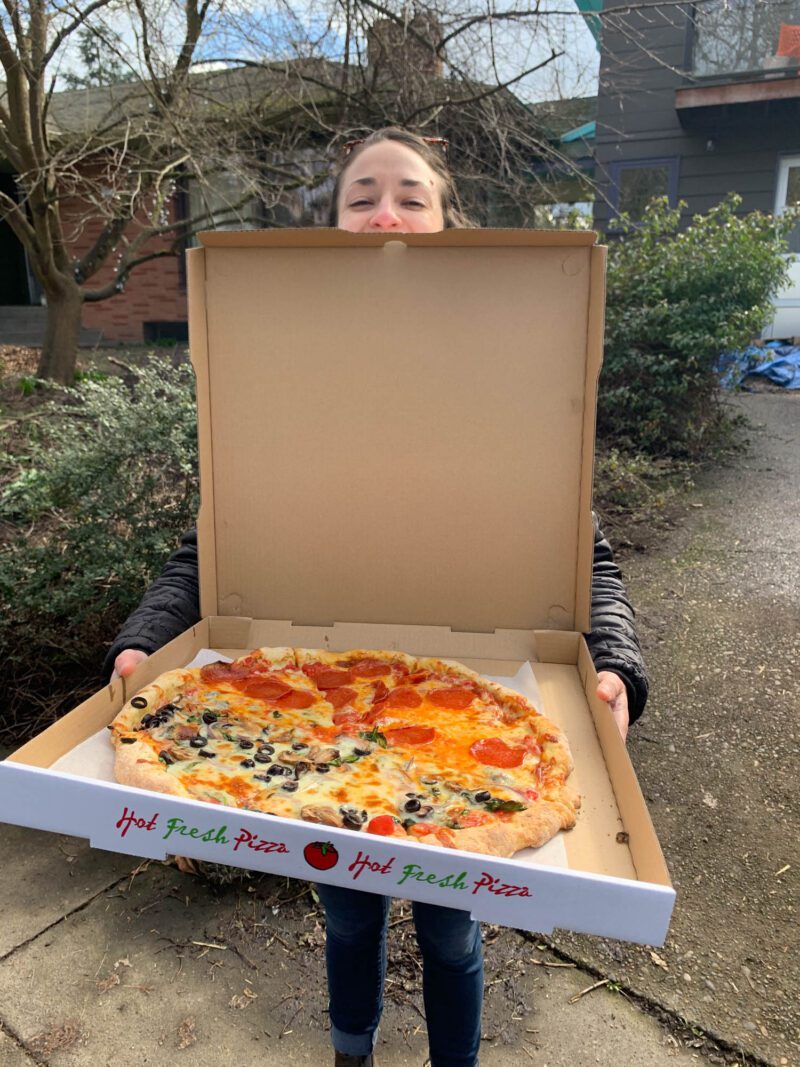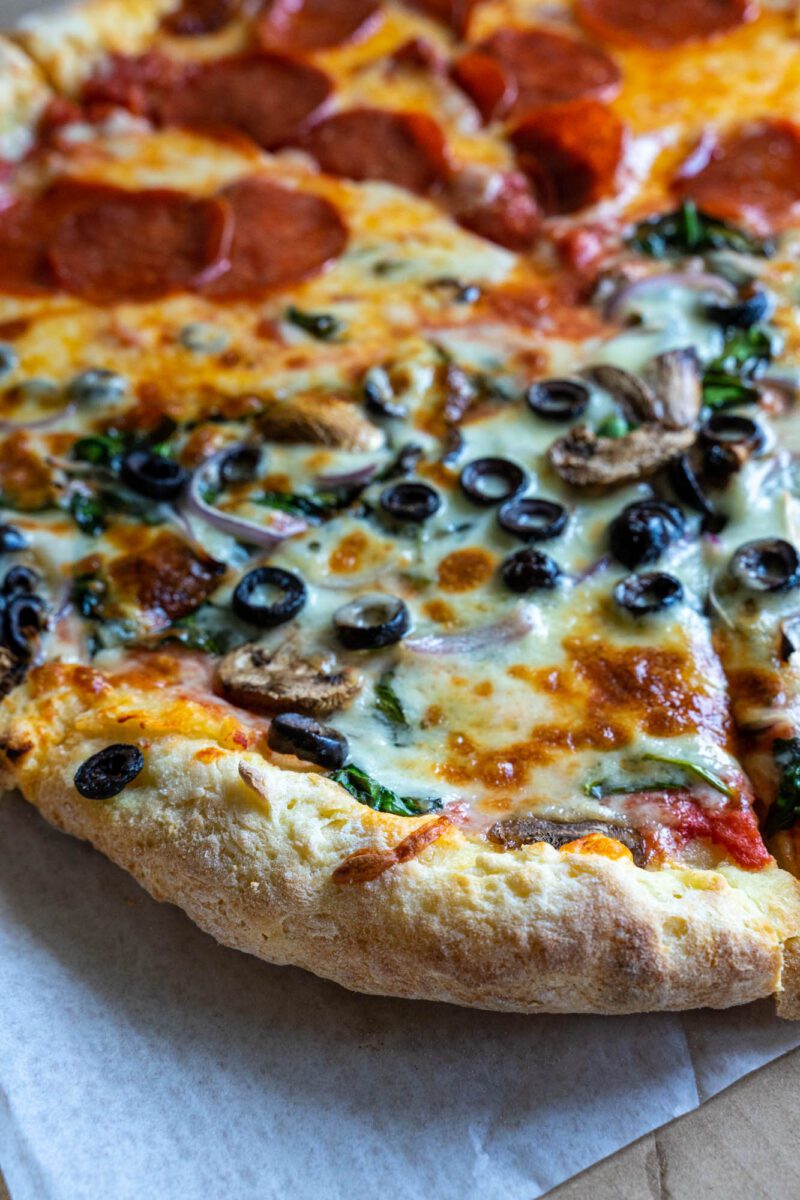 They also have a variety of other baked goods, like cinnamon rolls and scones, or even pie and pizza crusts, and they sell out FAST so make sure to go first thing in the morning to get the best selection.
Again, I don't mean to sound repetitive, but MUST STOP for Celiacs exploring gluten free Portland. And again, bring an extra suitcase.
Petunia's Pies and Pastries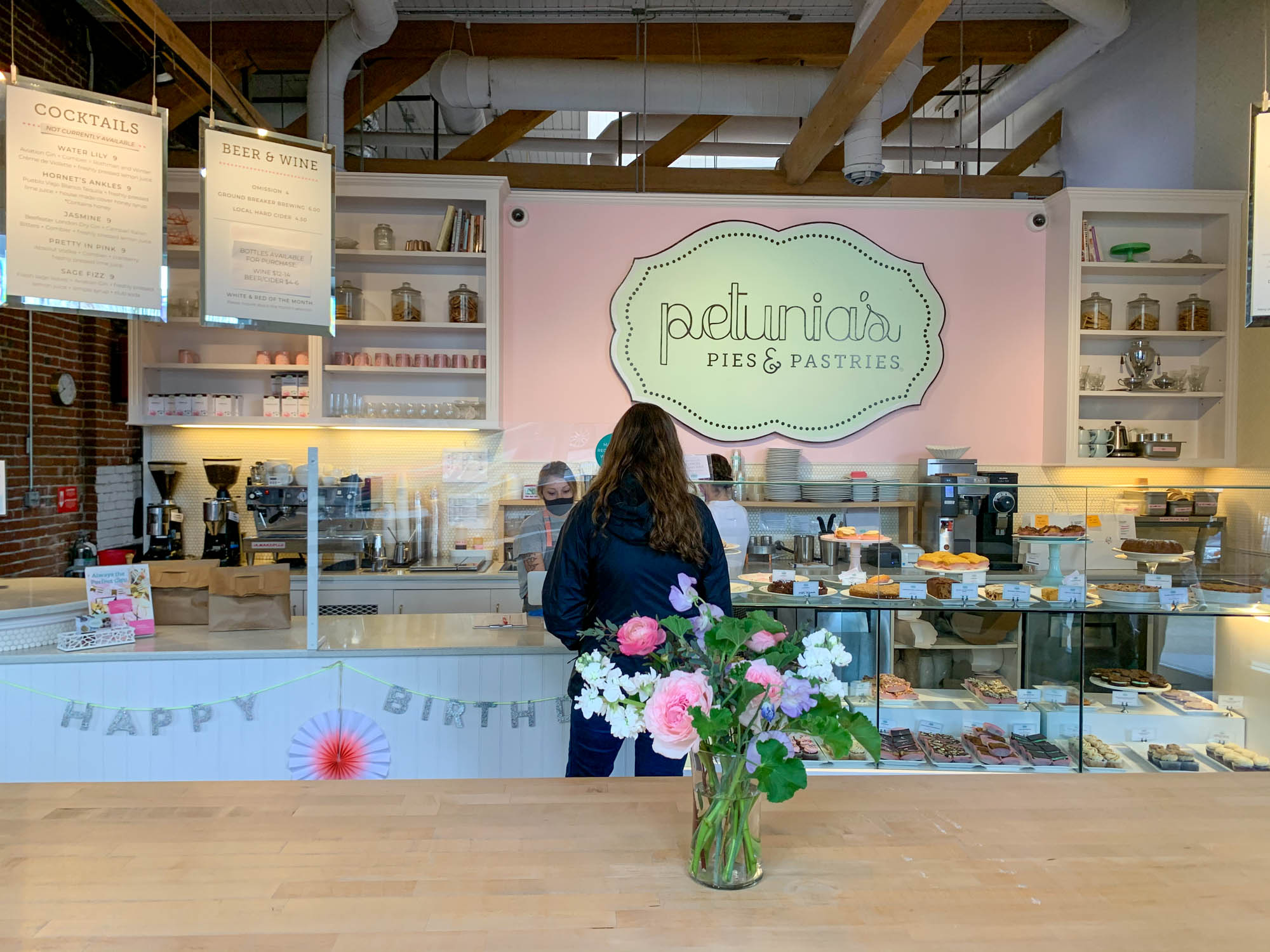 The first time I visited Portland years ago, I was lucky enough to stumble upon Petunia's, a gluten free bakery in downtown Portland near Powell's books. On that trip, I distinctly remember going to both Voodoo and Blue Star Donuts with my wife, and eating exactly zero delicious donuts. Then, it all changed when I walked into Petunia's.
They have a variety of gluten free baked goods and other gluten free goodies, from the best gluten free donuts in Portland (weekends only!), to cakes, pastries, ice cream, and homemade waffle cones. Now, I stop by every time I'm in town for one of their iced cake donuts, and some treats for the road. It's centrally located, so there's no excuse for not adding it to your Portland itinerary.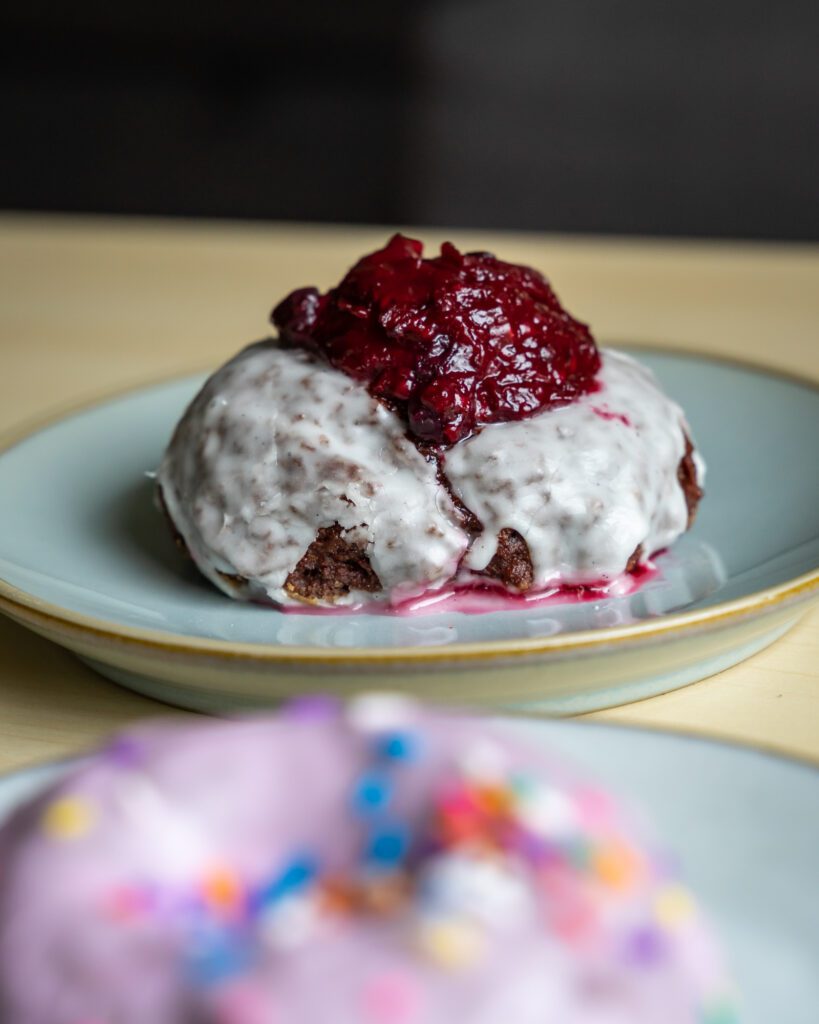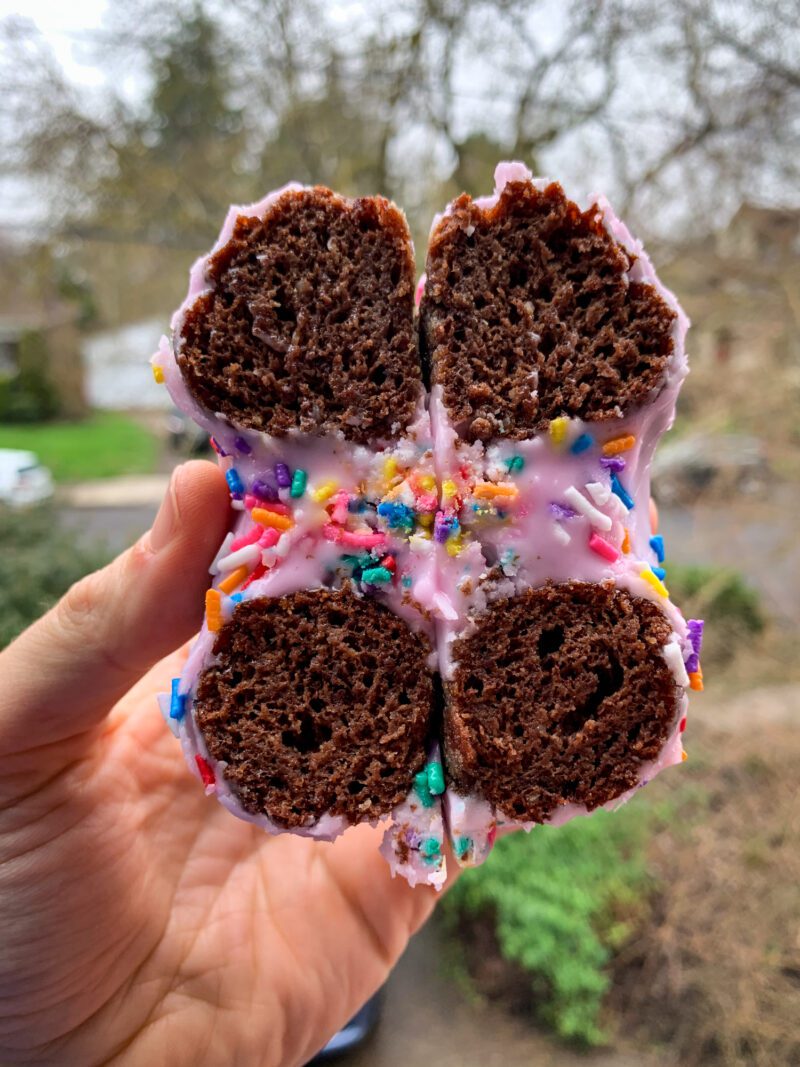 Kyra's Bakeshop
Kyra's Bakeshop is a 100% gluten free bakery started by a four-time winner of Food Network's Cupcake Wars – and she did it with gluten free cupcakes! Similar to a lot of gluten free entrepreneurs, she was fed up with the lack of good baked goods out there, so she started making her own.
Their cupcakes, whose flavors rotate roughly every week, are phenomenal. Which is no surprise, given her credentials. We really enjoyed the Raspberry Cheesecake cupcake we tried – the frosting was perfect.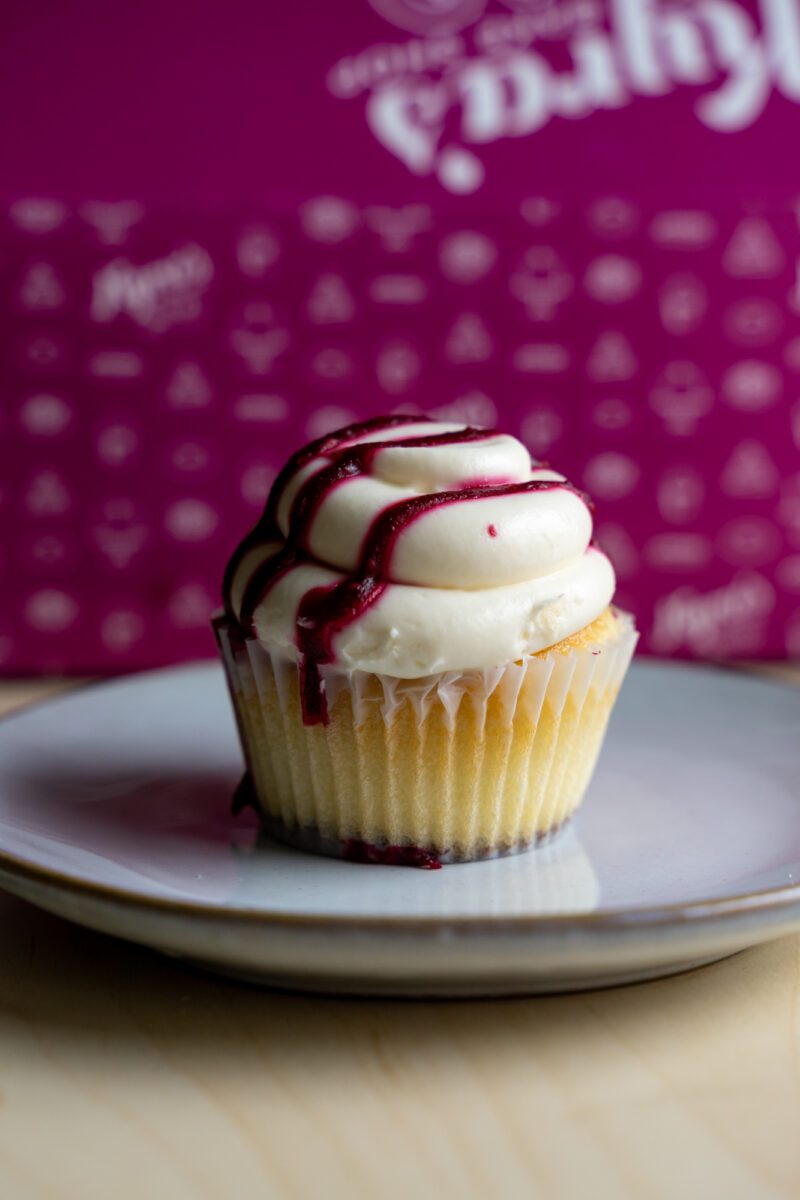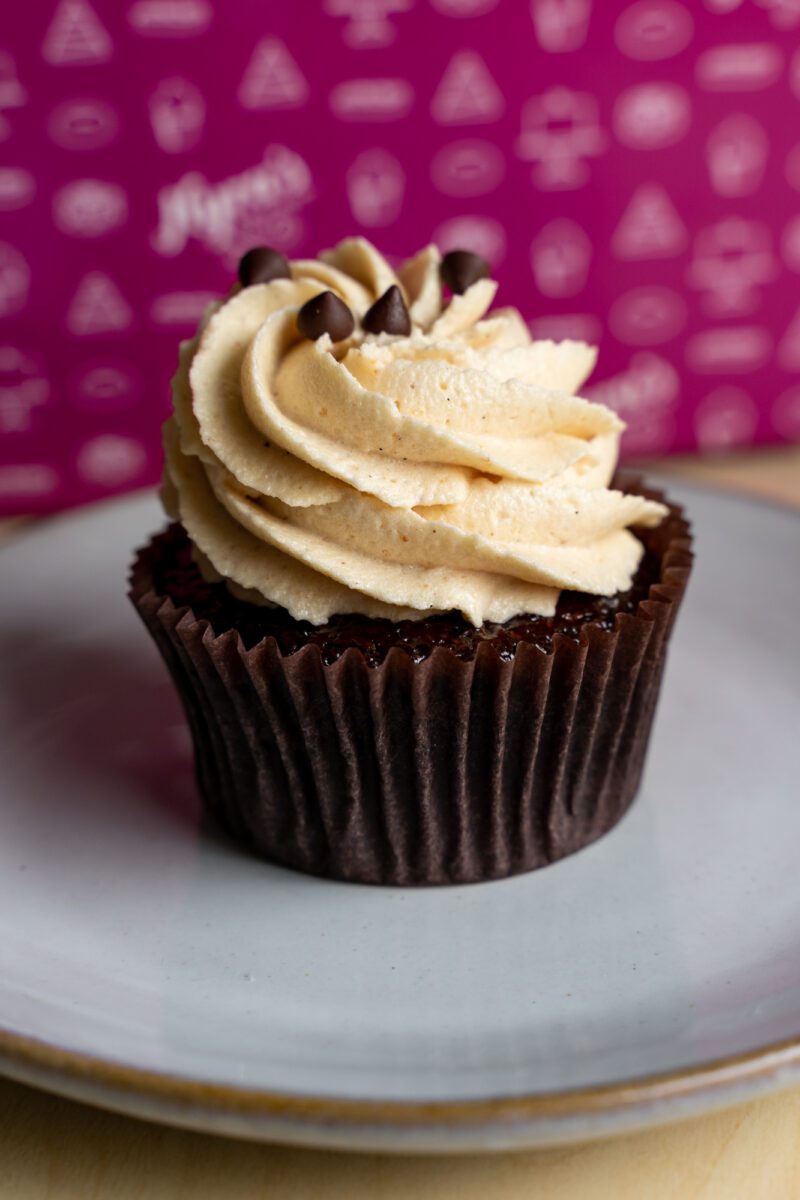 They also make donuts, cinnamon rolls, and plenty of other baked goods. But the cupcakes are the highlight, at least for us (we've heard good things about their cinnamon rolls too).
Gluten Free Gem
It's also worth checking out Gluten Free Gem, which is a little bit out of the way, but is well worth a visit. They have certified gluten free (by GFCO) baked goods, including donuts (and brownies, cookies, custom order cakes and pies, coffee cake, scones… the options are seemingly endless!).
Their savory scones and coffee cakes are to die for. And their gluten free quiche looked amazing. You can find their baked goods at New Seasons Market, a local grocery store chain, if you can't make it out to the bakery itself.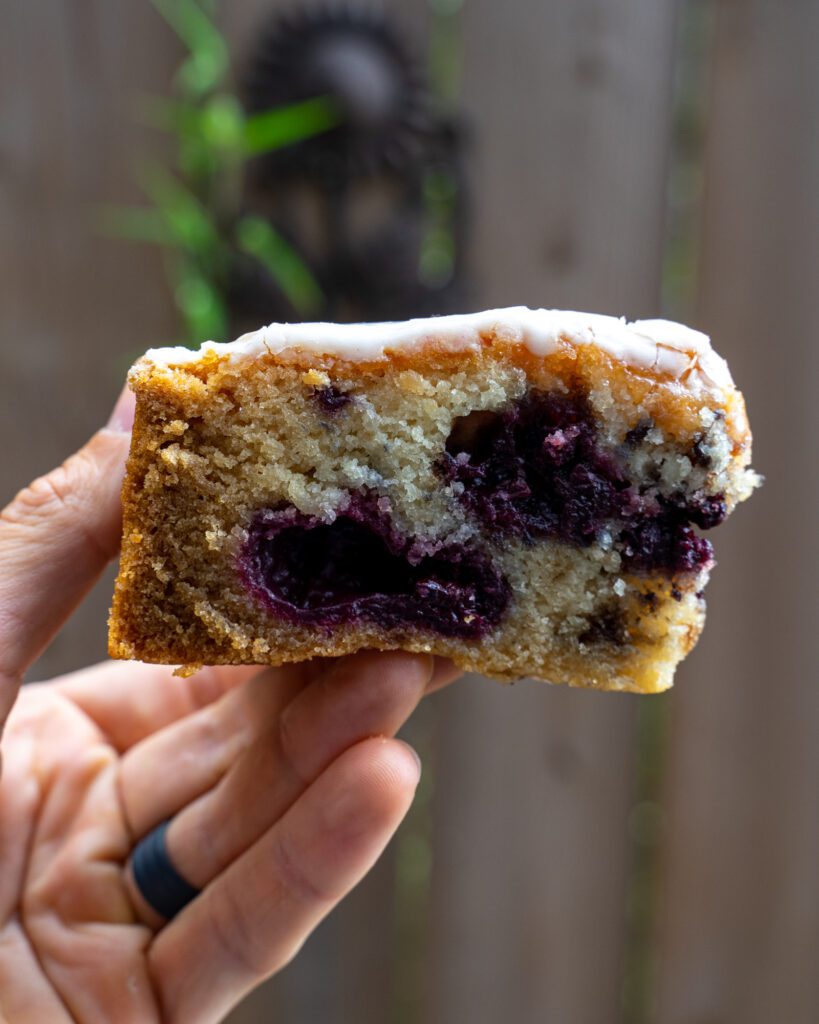 The Five Gluten Free Breweries in Portland
I'm so excited about the number of options for gluten free beer in Portland that I wrote a whole separate post about it!
There are five gluten free breweries within an hour of Portland – three are inside the city limits, the other two are in McMinnville (about an hour west).
Groundbreaker Brewing
I mentioned them above for their food, but Groundbreaker is one of the OG gluten free breweries in the country. You can find their beer in stores across the country, but they have them all (including the hard to find seasonals) at their pub in Portland. Plus, they usually have a fun experimental beer or two on tap. Last time, I got their "Ginger #5" which is their IPA no. 5 brewed with a "shit ton of ginger."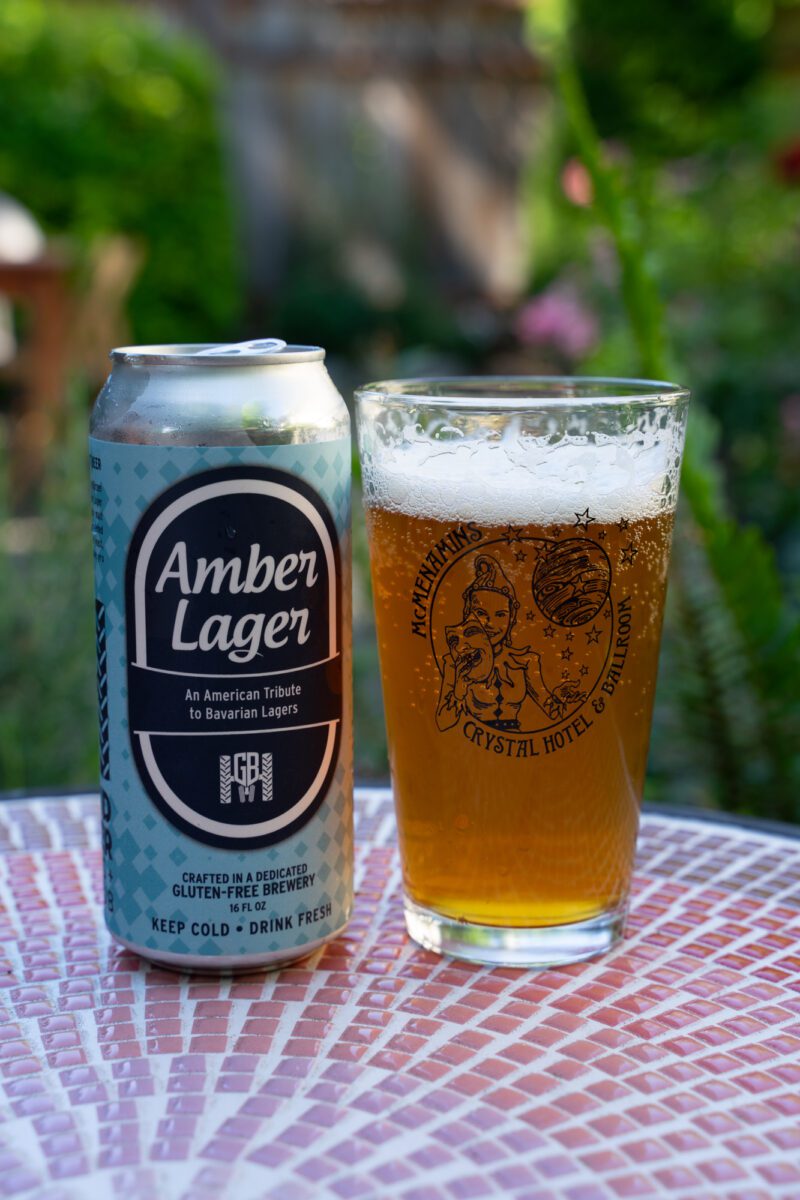 Mutantis Brewery and Bottle Shop
A newcomer, this one was started by a former Ghostfish Brewing (a highlight of eating gluten free in Seattle) head brewer who moved to Portland and started Mutantis to do small batch, more experimental beers for a local audience. Not only do they make fantastic beer (the Guava IPA and Vanilla Stout I had were great, and Alysha liked the Passionfruit Sour), but they also have a tap for each of the other gluten free breweries in Oregon, along with their beer in bottles and cans. Truly a must-stop for gluten free beer lovers!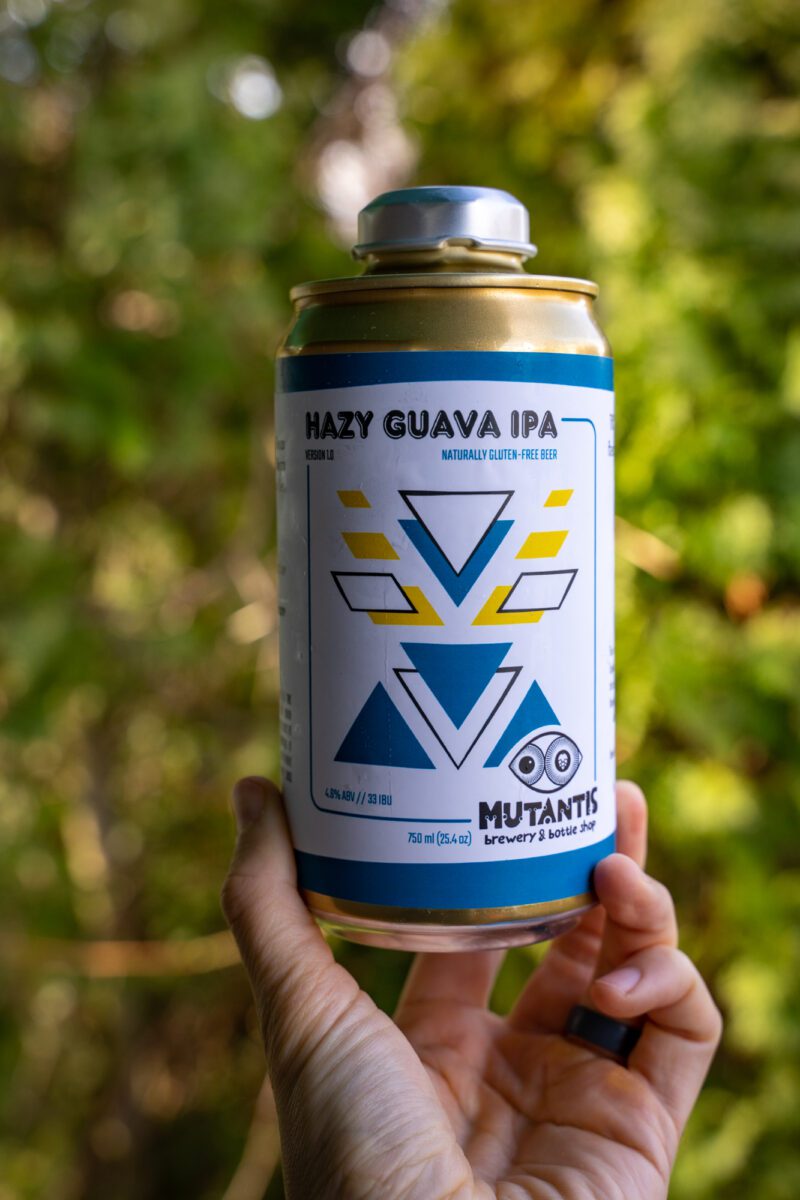 Moonshrimp Brewing
Moonshrimp is a more small-batch, experimental gluten free brewery in southwest Portland. They have a "beer window" where you can pick up their beer, or you can find it at places like New Seasons Market and Market of Choice.
Bierly Brewing
I'm happy to see Bierly, who is over in McMinnville, thriving. They're opening up a new taproom right on Third Street in the heart of downtown McMinnville, and their range of gluten free beers is really starting to expand. I tried their Irish Red and a super hoppy IPA while we were in Portland last, both of which were seasonals, and really enjoyed them. Their flagship stout is also fantastic.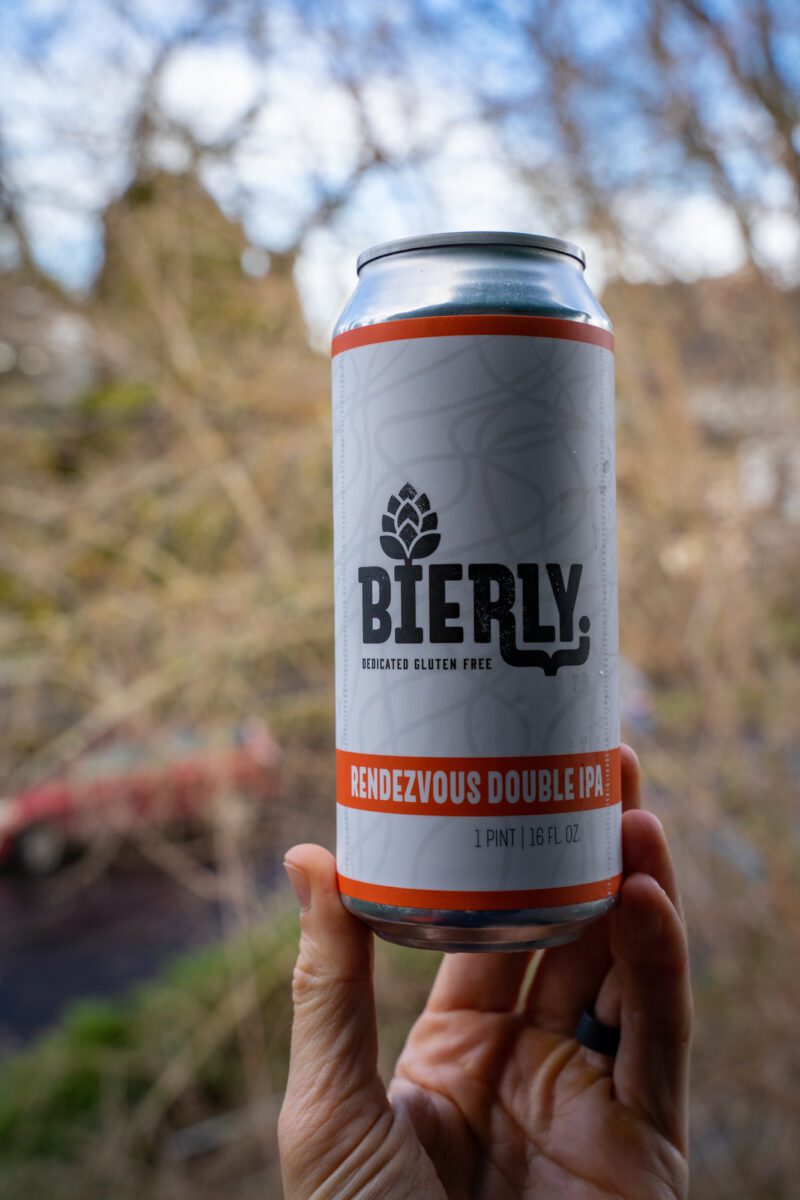 Evasion Brewing
First of all, Evasion Brewing uses a lot of gluten free oats in a lot of their beers, which means I'm out. However, they don't in their blonde, which also happens to be the base for their "This is My Party Shirt" – a summery combination of beer, lime, hibiscus, and agave that is a perfect encapsulation of both my ideal drink and outfit (every day is party shirt Friday, in my book).
100% Gluten Free & Plant-Based Ice Cream in Portland
There are two 100% gluten free AND plant-based ice cream spots in Portland that are a must, particularly on warm summer days.
Little Chickpea
Plant-based (based on the name, I bet you can guess what they use), and 100% gluten free, Little Chickpea is part ice cream shop, part gluten free bakery harnessing the power of chickpeas for both. Super interesting ice cream flavors – like Szechuan Strawberry and Mint Matcha – make this a must-stop for ice cream lovers who don't tolerate dairy particularly well (like me). Plus, waffle cones. YUM.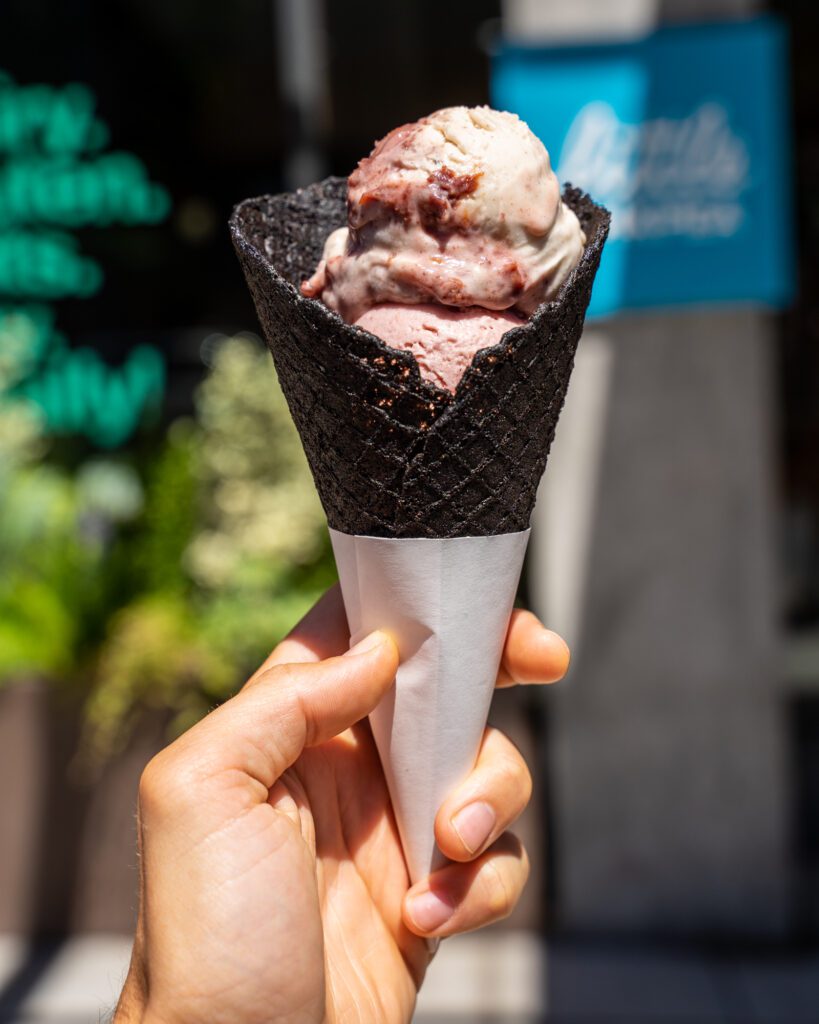 Kate's Ice Cream
Kate's Ice Cream is a newer company that currently has a "speakeasy" ice cream spot on the eastside that is open only on weekends. We stopped by one day on a long walk and I kid you not – in a blind tasting, I don't think I'd be able to tell the difference between their plant-based mint fudge ice cream, and other regular ice creams out there. It was fantastic. They have a second location coming this summer (TBD where in Portland that will be), and you can also find pints around Portland at both New Seasons Market and Market of Choice.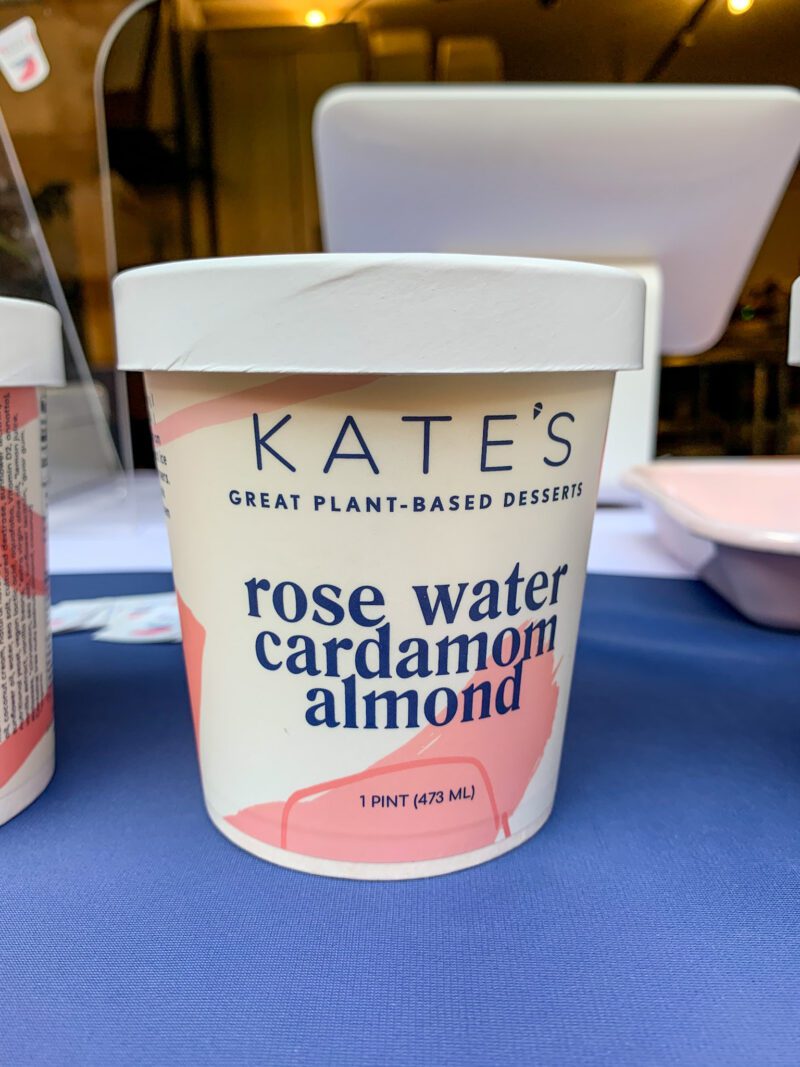 Other 100% Gluten Free Restaurants in Portland
Harlow and Prasad: Vegan and 100% gluten free sister restaurants. They serve things like grain bowls, juices, smoothies. VERY PORTLAND. Harlow is a great brunch spot on the eastern side of the river. Get the vegan mac & cheese and biscuits and gravy!
Butterfly Belly: 100% Gluten Free Asian restaurant near downtown Portland. Super central and pretty small. Come for the pho!
Whole Bowl: A chain around Portland that serves one thing – bowls with brown rice, black and red beans, avocado, cilantro, black olives, Tillamook cheddar, sour cream, salsa and Tali Sauce. You can get normal or large, and they have vegan options. I like the idea of a super simple menu – I know I've been hit with paralysis by huge gluten free menus (I usually just end up ordering one of everything).
Tiny Moreso: This place was a surprise. In a good way. It's 100% gluten free and 99% vegan (some eggs and some honey), and their vegan & gluten free cheesecake is amazing (technically, it's under the brand Rawdacious, which operates out of the same space). That's our pick for what to order – get the 4-pack sampler to try all of the rotating flavors they have when you're there. We loved the pistachio and the cherry, if they happen to have either of those, get it!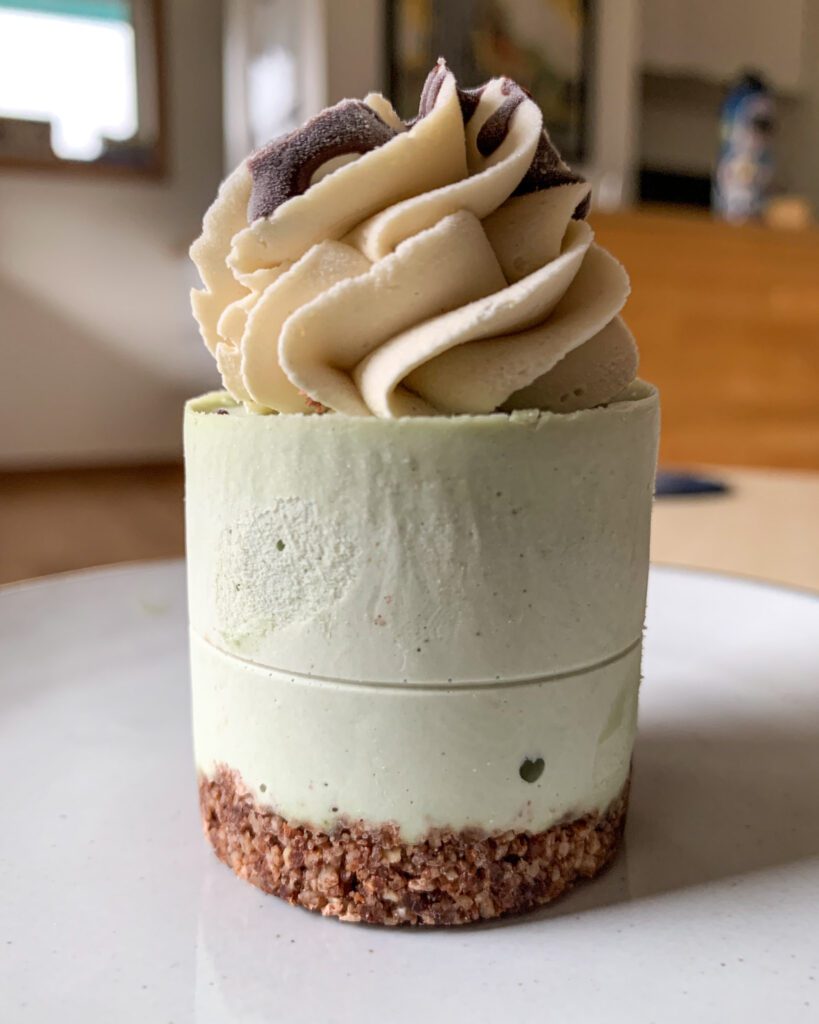 Zilla Sake: We're not huge sushi fans, so we haven't quite made it here just yet. However, it is 100% gluten free, and they have a full menu featuring sashimi, nigiri, sushi rolls, and some rotating small plates that, now that I'm looking at them, looks like we missed out.
Bang Bang: We got takeout from Bang Bang, and it wasn't the best thing we've ever eaten. Some of their small plates are creative and pretty good, but it was fairly hit or miss. They do have good cocktails and a nice cider and wine selection, so my suggestion would be to focus on small plates and drinks. The drunken wings were good, and so was the cauliflower.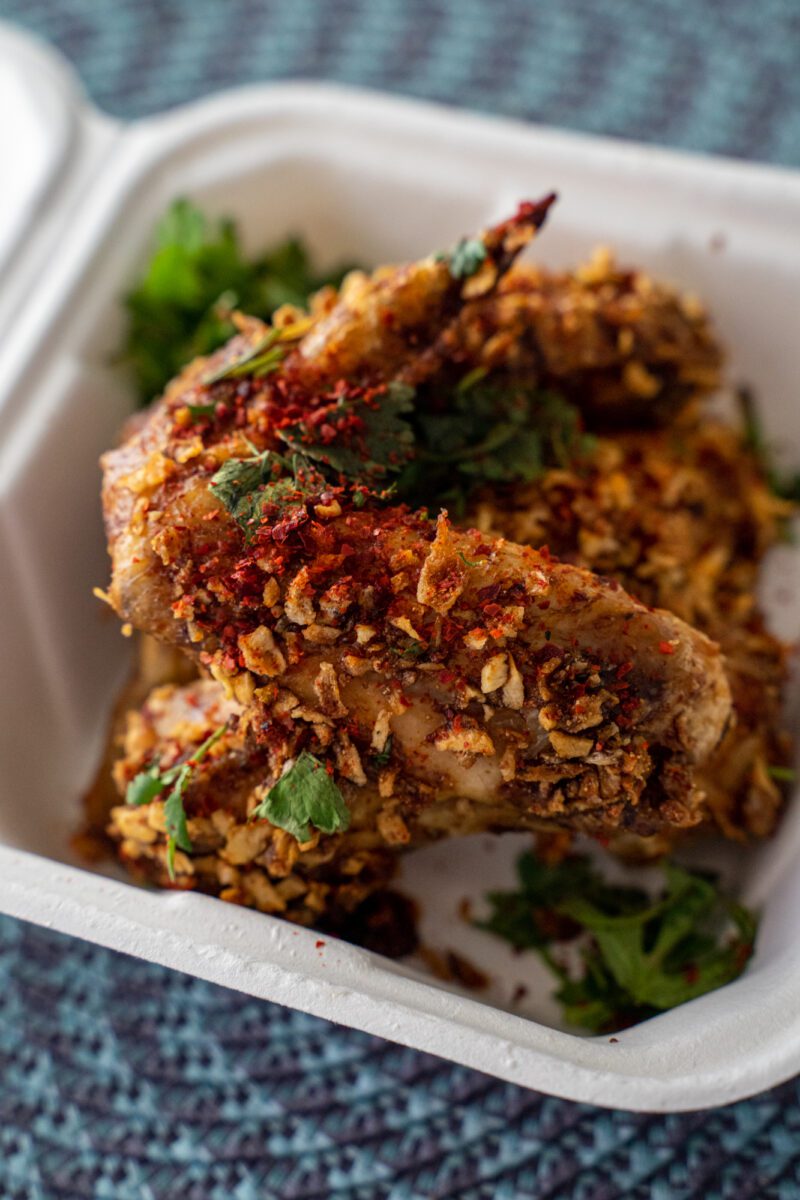 ---
100% Gluten Free Spots Outside of Portland
There are two spots worth mentioning here that aren't in Portland, but are worth the journey. Both are about an hour outside the city center, give or take fifteen minutes based on traffic. Both are 100% gluten free and were highlights of our recent trips.
Bigwig Donuts (Salem)
100% gluten free donut holes – need I say more? Bigwig Donuts is in downtown Salem, which is a bit of a trek, but it makes a great stop on the way back from Silver Falls State Park, which is one of our favorite day trips from Portland.
They have rotating flavors of their donut holes, so you'll have to check the menu the week of your trip. They generally have a few staples – like cinnamon sugar – and some more adventurous flavors like the amazing lavender earl grey. You get to mix and match flavors, so you can try them all if you'd like!
You buy them by the dozen, so come hungry!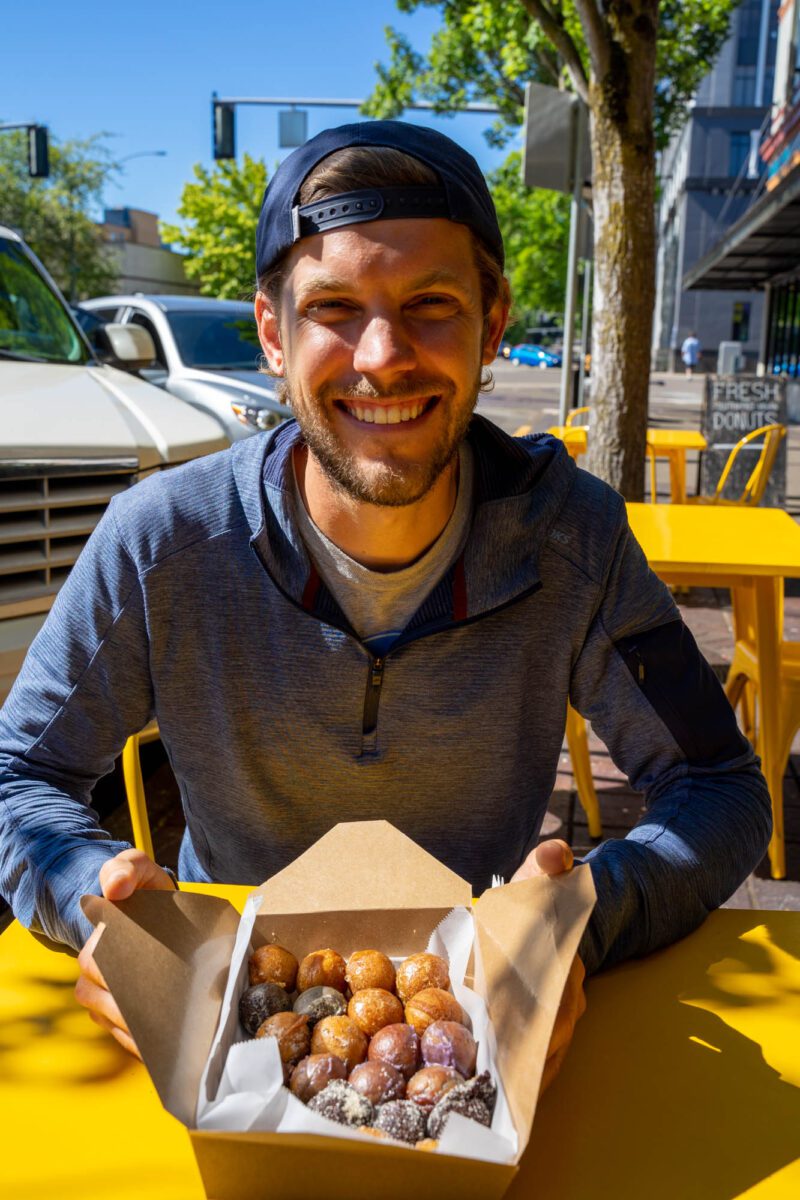 Bierly Brewing
Bierly is one of FIVE dedicated gluten free breweries in Portland, but that's actually not the reason they're on this list. They're here for the donuts, which are a weekend-only thing they do at their location in McMinnville, a small town about an hour west of Portland (another good day trip!).
They have three flavors every weekend – the old fashioned is the best, especially straight out of the fryer! – and a rotating flavor that changes by the week. When we were there, it was a birthday cake donut celebrating the birthday of the founder, JP.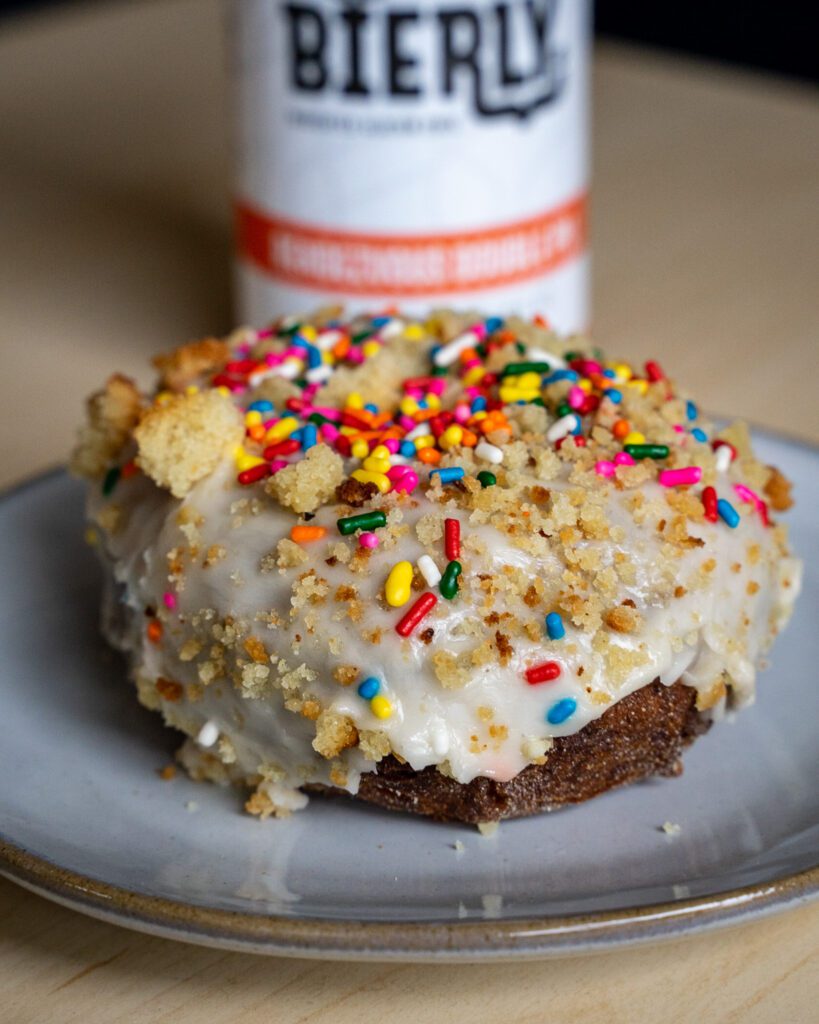 Get your donuts (they also have soft pretzels) and enjoy one of their great beers in their taproom. We drove there from Portland for the day, and we'd do it again in a heartbeat. The donuts are that good.
Gluten Free at the PSU Farmers Market
The PSU Farmers Market is, without a doubt, the best farmers market I've ever been to. There
are A TON of gluten free spots to check out at the market, which spans several blocks near Downtown Portland.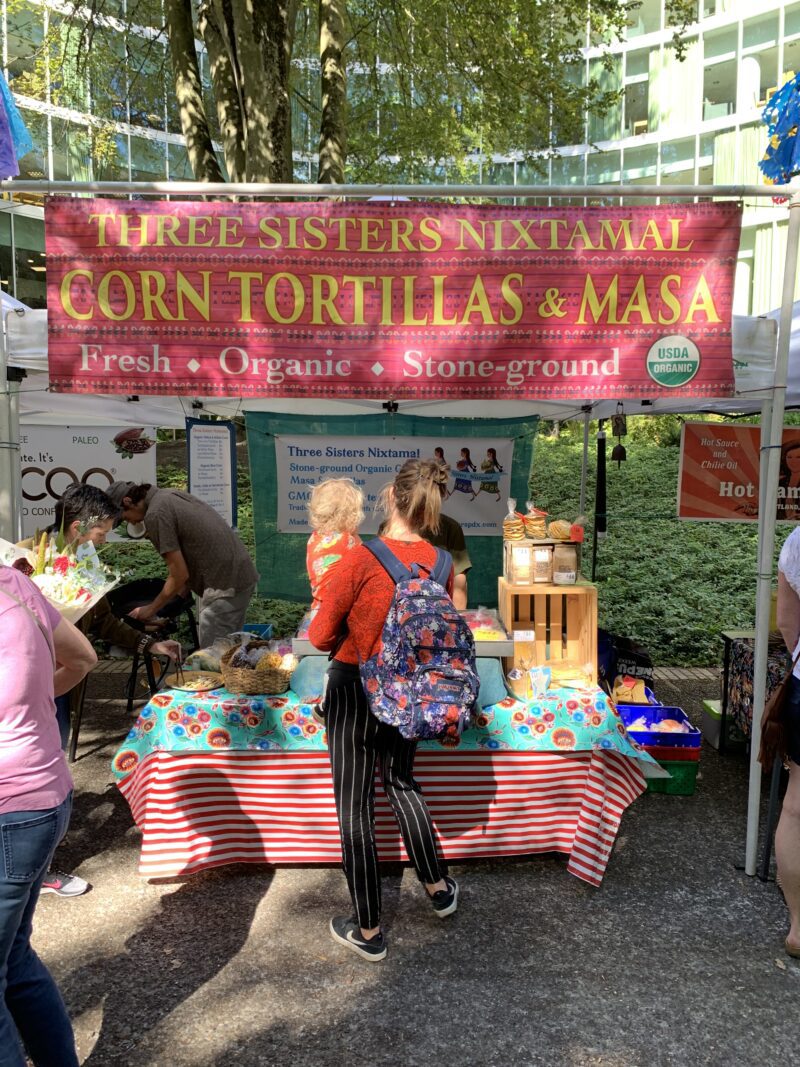 Celiac-Friendly Gluten Free Restaurants in Portland
These restaurants, while not 100% gluten free, should be on every Celiac's list when you're exploring gluten free Portland.
In my experience, they do a great job of explaining and preventing cross-contamination. HOWEVER, your experience may vary.
Do not, under any circumstances, take an internet stranger's word for it. Even mine. You need to be super clear with them about what you need. Ingredients and processes in restaurants change all the time. I would reach out to them ahead of time via email to make sure they can accommodate you.
Anyway, here's the list.
Tasty & Alder: Gluten Free Brunch Restaurant in the Heart of Portland
Tasty & Alder is a phenomenal brunch spot in downtown Portland. No reservations, so get there early to put your name in and expect to wait ~1-2 hours for brunch. Some nearby places to explore while you wait: Powell's Books, Petunia's (gluten free bakery across the street) and Heart Coffee Roasters. It is 100% worth the wait. Order the Bim Bop Bacon & Eggs and the Polenta n Sugo.
RIP – they closed in 2020.
Taquería Los Puñales
I went back and forth with the owner of Taquería Los Puñales to confirm what is and isn't gluten free, and he laid out in super clear terms what was off limits. Which, in this case, is only the tres leches cake, which is made off site and brought in, so there's relatively little risk of cross-contamination (not to say none, but at least there's no flour tortillas being cooked on the same grill!). The mole also "may contain traces of wheat," so I'd avoid that too.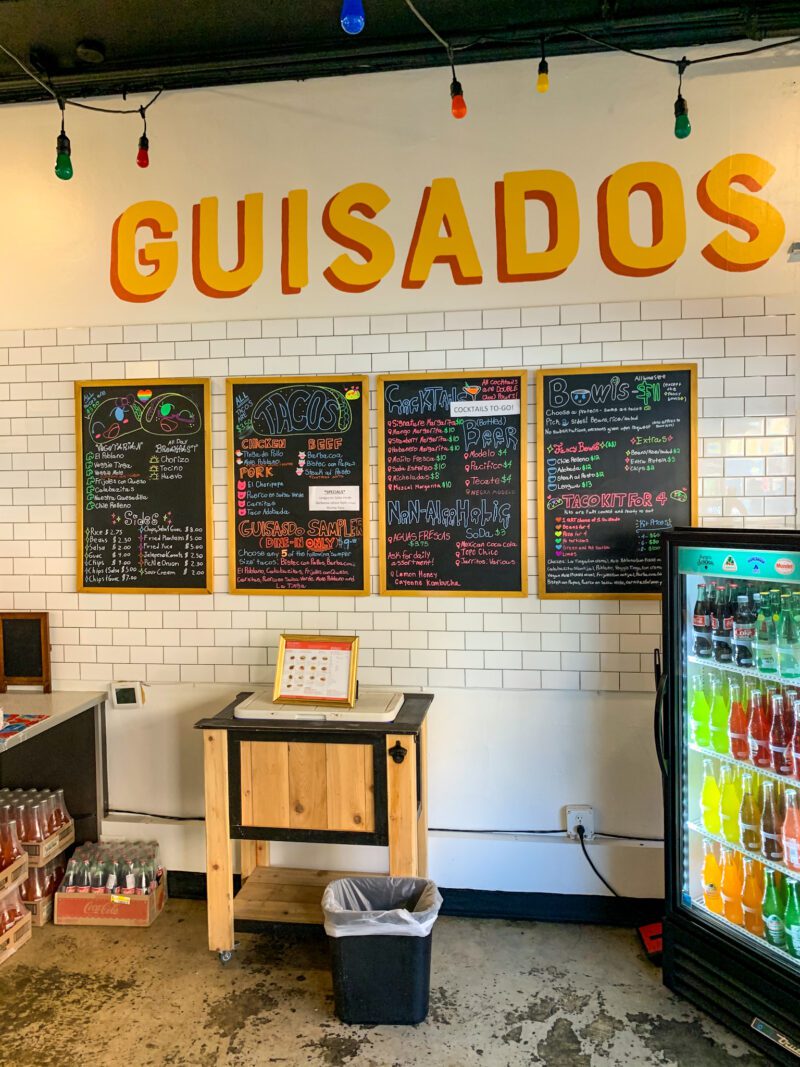 They make tacos de guisados, which we fell in love with first in Mexico City, then in Los Angeles at Guisados. Rather than being filled with grilled meat or roasted pork (in the case of tacos al pastor, at least), the fillings here are slow braised and absolutely packed full of flavor. All tortillas are handmade corn tortillas.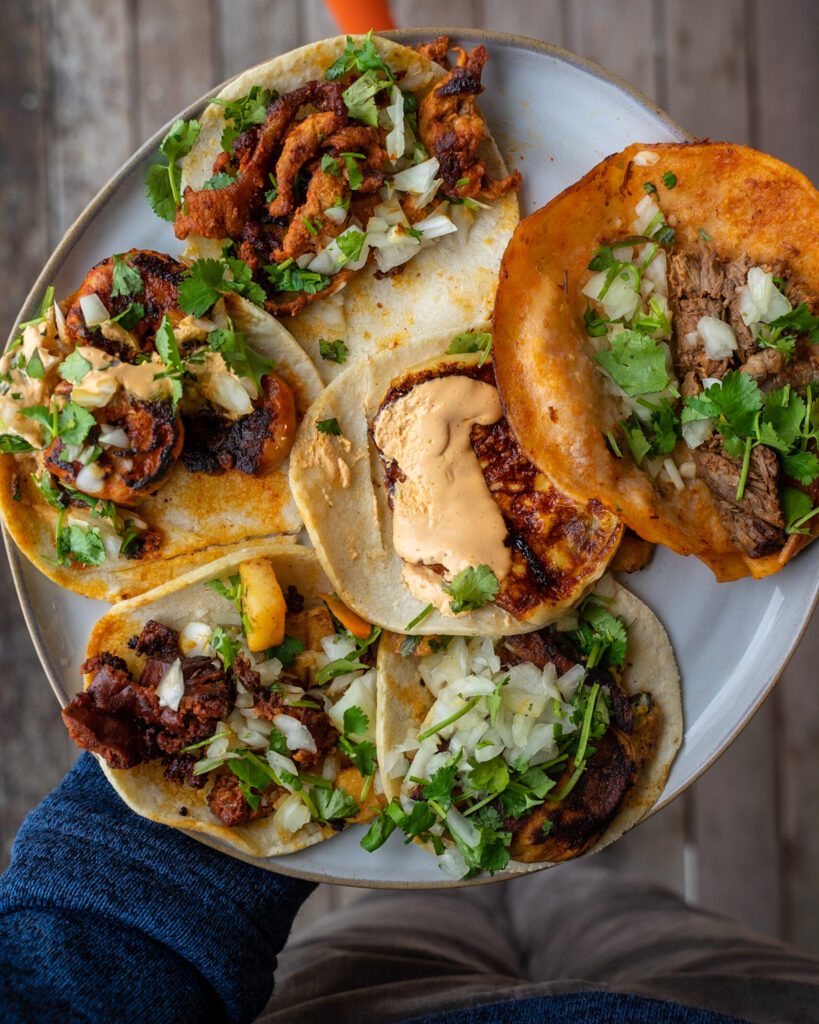 And they have a gluten free chile relleno! Which I don't think I've ever seen before. The standouts for us were the quesadilla, the chorizo y papas (called "El Choripapa" here), and the barbacoa Jalisco style.
They also have sides like chips and salsa, plantains, and great cocktails.
Teote
Teote serves up delicious Latin American street food, like Arepas and plantains. It's a very cool spot on the east side of the river with an upstairs back patio with fire pits, a full bar, and a 100% gluten free kitchen.
However – it is worth noting that they call their menu gluten friendly and say that some ingredients may contain gluten. Avoid the chorizo, which is brought in and it's unclear whether it is gluten free or not.
NOTE ABOUT THE LOCATION DOWNTOWN IN PINE ST. MARKET: They have a location inside Pine St. Market downtown, but they serve burritos made on flour tortillas. Don't order the tacos, which are grilled on the same surface. The arepas are made in a separate part of the kitchen, but they do handle gluten in that facility.
Overall, this is a great spot for gluten free travelers in Portland (aside from the Pine St. Market location). Arepas have become one of my favorite food groups, and Teote is a great place for you to be introduced to them.
Plus, Mezcal.
They have a second location called the Mezcaleria with a limited food menu. And a huge menu of Mezcals. Cool spot to try some of the smoky Mexican spirit.
Andina
Located in the Pearl District, Andina is a more upscale restaurant than some of the others on this list, and they serve up some of the best Peruvian food I've had in the United States. They have an extensive gluten free menu, complete with a pretty wide variety of tapas, mains, and desserts.
It's a great place to celebrate a special occasion, or to just enjoy great food and a nice ambiance.
They also have a great happy hour menu, which is always a plus for me! Don't forget the Pisco Sour (a traditional Peruvian cocktail)!
Where to Stay in Portland
I always recommend staying in an Airbnb with a kitchen when you are traveling as a Celiac. It's nice to know that even if you can't find safe gluten free food, you always have a fallback option with cooking in your Airbnb's kitchen.
That being said, you'll have no problem finding gluten free food in Portland.
My favorite area to stay in is just East of the river (somewhere around Hawthorne and Division Street, or in the Alberta Arts District). The East side of the river feels much more like a residential neighborhood, with some great strips of shops and restaurants that are well worth a walk down. Explore Mississippi, and the Southeast parts of Hawthorne, and Division streets for a treat.
I have personally stayed at all four of these Airbnbs, and can 100% recommend them for your trip.
Modern Hawthorne Guesthouse – Close to Everything (Loft Studio): Beautiful, light-filled modern loft a block away from Hawthorne, one of the best streets to explore in Portland. We loved our stay here, including summer evenings out on the patio.


Modern Alberta Arts Apartment (1 Bedroom): We stayed here on our last trip, and LOVED the Alberta Arts District. It's a little further out from Downtown Portland, but there are so many incredible restaurants and things to do along Alberta Street. This apartment is a perfect base for exploring the area.


If you have a bigger group, we have also stayed at this Comfy Buckman Neighborhood Home, which has three bedrooms and is in a great spot to explore the area, and this Industrial Three Bedroom Apartment, which is a few blocks away.
Heading to Portland? Don't miss my full guide to the Best Places to Stay in Portland with a MUCH deeper look at where to stay in Portland. and my guide to the 12 Coolest Hotels in Portland and the 14 Best Airbnbs in Portland might be useful too.
---
Have I convinced you that Portland is the best city for Celiacs in the country? There are so many incredible options that you won't be able to hit all of them in a single weekend. Guess you'll have to book your return trip!
More Pacific Northwest Travel Guides